Amazon's rise fuels fewer bricks and more clicks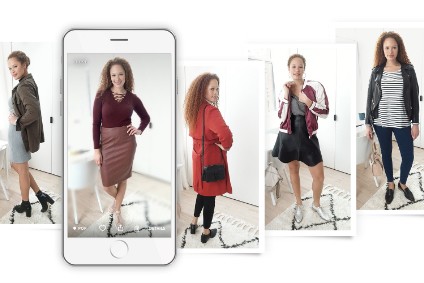 The new Amazon Echo Look app lets users preview outfits, mark favourites and compare styles
While all retailers appear at risk of losing some market share to online giant Amazon, analysts suggest some are more vulnerable than others.
According to Cowen & Company, department stores have been at the highest risk of losing share to Amazon over the past two years as a result of declining physical store visits, while off-price retailers have done a better job of not losing additional share thanks to increased visitor growth.
Its latest Consumer Tracker Survey data shows retailers it covers such as TJX, Macy's and Home Goods have the highest percentage of shoppers who also visit Amazon. And the biggest share losers to Amazon over past two years include K-Mart, Kohl's and Macy's. Indeed, Macy's shoppers most often visit Amazon and other department stores.
But analyst Oliver Chen has also identified a number of "super stocks" that are "more un-Amazonable" than others – including luxury goods firms and deep-discount companies.
'Super-Premium' luxury stocks like Tiffany & Co and LVMH offer an "extreme brand, store and vertical integration focus," he says; while 'Super-Value' stocks such as Costco, Wal-Mart Stores, Ross Stores and TJX benefit from low prices, deep value, and "a treasure hunt in-person experience."
The survey results indicate department store shoppers most often visit other department stores, although visits to off-price retailers have significantly accelerated over the last two years – indicating share loss for department stores.
The data also suggests the demographics of the off-price channel skew younger than both department stores and the overall population while, by comparison, the oldest shoppers were at department stores.
The findings support the analyst's optimistic view on growth of the off-price channel – although in a separate note in April it suggested online penetration of apparel is likely to increase to 35-40% from 20%.
"In our view, the three most significant problems in retail include declining physical store visits, the rise of Amazon, and the transformation of consumer preferences," Chen wrote in an introduction to the report 'Retail's Disruption Yields Opportunities – Store Wars!'
"Declines in traffic have been a multi-year issue; however, we believe this problem has accelerated and become more volatile given the rise of mobile phone use as well as share gains at Amazon – and the battle amongst online stores of traditional retailers. Market segmentation given lower barriers to entry, particularly in apparel, has also pressured market shares at larger apparel retailers."
Its prognosis is backed by gloomy figures released earlier this week (30 May) that show traffic at US apparel retailers in May fell 3.4%, compared with April's growth of 6%. Year-to-date apparel traffic is down 4.2% according to Cowen & Co research.
Chen also notes the consumer is in the driving seat: "The consumer wants and demands ease, value, and selection. If you do not offer this, the shopper will get this combination somewhere else. Retailers across the spectrum have struggled to properly calibrate inventory supply and demand given the shift in power."
A speedy solution
All of retail should be rethinking the management of supply chain and speed
All of retail should be rethinking the management of supply chain and speed. "We view speed as dependent upon two factors: speed of delivery and fulfilment to the consumer; and speed in a retailer's procurement of goods and services.
"Global fast-fashion businesses built around the premise of speed to market have leapfrogged American retailers as they can deliver more trend-right product with a better allocation of depth and breadth. Consumers have generally moved away from key item shopping where the hoodie, polo, or graphic tee once reigned supreme."
In Cowen's view the best retailers manage a product portfolio like a stock portfolio – with both diversification and uptrend and downtrend methods of planning depending on attractiveness of demand. Testing, reading, and reacting to selling trends is the hallmark of optimising the retail struggle to match supply and demand.
And radical transformations are especially necessary at department stores, "which must reinvent the buying model to reduce lead times from as much as a year to a quarter or two; otherwise, product markdown risk will persist and store traffic remains at risk given miss-execution of trends.
"We do think many retailers understand this situation; however, structuring – incentivising – and creating an organisation which fosters test- read-and react and more agile inventory management is difficult; meanwhile, changes in how customers shop has happened more quickly than expected."
The future of retail?
Looking into the future, there will be fewer bricks and more clicks ­– but online and physical stores both have important roles, analysts believe.
"We believe 35-40% is the maximum penetration level achievable for online sales as a percent of total revenue for apparel. We expect higher online penetration at items more replenishment driven, less fashion sensitive, less new, and not super-premium.
"Retail with a higher mix of customers who use cash as tender and those retailers with average cheque sizes under $30 have partial competitive moats versus online competition given the cost of shipping boxes and a need for a credit card.
"Proprietary and original brands and content continue to rise in importance as differentiators given retailers need to have original content to drive customer traffic; meanwhile, product needs to be original in order to offset price matching and visibility, which is a significant risk factor given the rise of online. Promotions have been a multi-year problem given price comparison shopping, competition versus less expensive faster fashion alternatives, weather risk, and misalignment of inventory supply versus demand.
"Overall, we believe stores will remain important as retail remains all about immediate gratification, and the ability for consumers to try on multiple products and walk out of the store with their purchase remains a compelling advantage for traditional stores. However, disappointing experiences with checkout, service, or inventory management will push shoppers online."
Amazon's fashion fortunes
With an estimated US$22bn in gross merchandise apparel sales last year (direct sales of clothing plus commission collected on sales by independent merchants on its site) Amazon has a 6.6% share of the market. And by 2021, Cowen & Co has forecast Amazon will account for just over 16% of US apparel sales.
The online retail giant has been expanding its presence in apparel through the addition of new own-label fashion lines, most recently launching Find, a range of men's and women's wear priced from around US$27 for a pair of women's jeans.
Ranges also include Amazon Essentials, its men's and women's basic apparel; Buttoned Down, its men's dress shirts; and Ella Moon, its line of women's bohemian-style casual clothes. Most recently, it launched a line of women's intimate apparel, and in April filed a patent for on-demand apparel production.
Job postings on the retail giant's website have also sought brand managers to "build authentic activewear private label brands that have compelling and unique DNA and deliver amazing consumer valued innovation."
Its latest tool to bolster its fortunes in the fashion market is Amazon Echo Look, a new $200 version of its Echo-branded smart speakers that allows users to take full-length photos and videos that can be used to create fashion lookbooks or shared with friends.
The photos can also be used in Amazon's Style Check service, which combines machine learning algorithms with advice from fashion specialists makes recommendations on an outfit based on fit, colour, styling, seasons and current trends.
And a companion app launched last week allows Echo Look owners to view live previews from the Look's camera, take a picture, survey their outfits, mark favourites and compare styles.
The technology has several key roles to play. On the one hand there is future potential for it to take measurements, work out user's sizes, and make recommendations based on the products on Amazon's website. But perhaps more importantly, it could become a source of valuable data for Amazon on its shoppers, and the styles that appeal to them, which could in turn be used to provide visibility into upcoming trends.
Create sourcing plans that work
Find new apparel sourcing destinations, assess trade flows and manage tariffs. All in one place.
Oops! This article is copy protected.
Why can't I copy the text on this page?
The ability to copy articles is specially reserved for people who are part of a group membership.
How do I become a group member?
To find out how you and your team can copy and share articles and save money as part of a group membership call Sean Clinton on
+44 (0)1527 573 736 or complete this form..