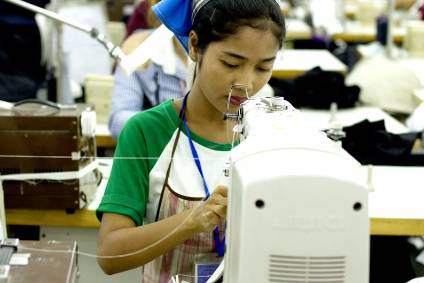 The move towards "net positive" supply chains is gaining momentum – with Nike, Levi Strauss and Walmart among those companies taking concrete steps to not only reduce their environmental footprint but to restore and rebuild the resources they need to thrive in the long term.
This "transformative vision" to improve the environment by improving supply chains worldwide is covered in a new report that explains what the net positive movement is, core strategies, progress made, and what all this means for complex, global supply chains.
'A Revolution in the Making: The Quest for Net Positive Supply Chains' has been produced by the Wharton School of the University of Pennsylvania, its Initiative for Global Environmental Leadership (IGEL), and logistics business CHEP.
And as the report illustrates, net positive supply chains do more than reduce a company's carbon footprint: They restore and regenerate natural resources with a net result that benefits the environment, society and the companies involved.
With that "net positive" result as a global goal, 'A Revolution in the Making' begins with the concept that being less bad is no longer good enough.
"If you are an organisation that depends upon natural resources or an organisation where social cohesion is critical to the operation of your business, simply minimising impacts isn't going to sustain your operation long-term," explains Sally Uren, CEO of Forum for the Future. "Net positive is about rebuilding those assets you're totally reliant on as a business."
As a global non-profit, Forum for the Future created the Net Positive Group (NPG) in 2013 to address sustainability challenges and promote progress. Since then, it has come together with BSR and SHINE (Sustainability and Health Initiative for NetPositive Enterprise) to create the Net Positive Project, a global collaboration to create robust resources to define the net positive concept, and enable more companies to take up a net positive approach.
Four principles for creating net positive supply chains
The concept of a net positive supply chain is relatively straightforward: When the system's impacts (good and bad) are added up, the net result benefits the environment, society and the companies involved.
However, putting the concept into practice is another matter. Simply determining how much progress has been made is fraught with challenges, particularly when it comes to weighing the impact.
So to provide a clear set of guidelines companies can embrace, the advice has been boiled down to four key principles for creating net positive supply chains:
Materiality: Focusing on what matters most;
Transparency: Sharing progress openly and honestly;
Systems thinking: Influencing change across entire systems;
Regeneration: Creating long-term, sustained and absolute impact.
But regenerative thinking also relates to the importance of collaboration – and Nike is one of a number of companies looking for new ways to work with suppliers and each other.
Nike's sustainability achievements include reducing waste by 3.5m pounds over four years, incorporating recycled material in 71% of its products, and turning 30m pairs of used footwear into basketball courts and track fields.
"But these are incremental steps," according to Cyrus Wadia, the company's vice president for sustainable business and innovation. As he explains in the report, to reach both its business and sustainability goals, "we need disruptive innovation and that doesn't happen in a silo."
Speaking at an annual Circular Economy 100 summit, Wadia emphasised the need for collaborative action. "We advocate for a system-wide approach, because we can't do this alone. The problem is much bigger than Nike. For us to be successful on this journey, we need elements of the system outside of Nike to come with us."
Companies collaborating with suppliers
In 2014, Levi Strauss & Co launched a collaborative financing programme with its garment suppliers in developing countries. Many of these small vendors struggle to find affordable financing, and when funds are scarce, cost-cutting efforts often lead to shortcuts that compromise workers' health and safety as well as the local environment. As a supplier's performance declines, so often does its access to affordable financing.
To help reverse this downward spiral, Levi's partnered with the International Finance Corporation (IFC), a part of the World Bank Group, to provide reliable financing to its suppliers at rates far lower than they could get on their own. Levi's programme gives the small companies the stability they need to do their best work and the financing they need to improve working conditions and environmental performance. It also eliminates late payments – another financial strain on vendors that endangers compliance.
By treating its vendors as valued partners worth supporting, Levi's encourages the small companies to do all they can to meet the company's environmental, health and safety standards, which are spelled out in its Terms of Engagement (TOE) agreement. The programme also gives the vendors a powerful incentive to do better by linking their financing rates to their TOE scores. The higher their score, the less they pay for financing. And the rates continue to drop as the suppliers continue to improve, replacing the previous downward spiral with a virtuous cycle.
The collaborative programme gives suppliers the reliable cash flow they need, while helping Levi's move closer to net positive.
Walmart has also found innovative ways to engage its suppliers in its sustainability efforts. In 2016, the retail giant set an ambitious goal: to reduce greenhouse gas emissions in its supply chain by one billion metric tons by 2030.
To enlist the help of suppliers, Walmart launched Project Gigaton. Companies that join the project, by setting emissions-reduction goals and reporting annually on their progress, are given access to resources and information that can help them get started or advance their existing work. Those who shine can take advantage of "significant recognition opportunities."
In particular, Walmart will use its prodigious public relations platform to share success stories throughout its organisation, supplier community and the public.
What next?
None of the companies profiled is likely to reach its net positive goal in the near future, the report asserts. Many are still working to understand the challenges they face, after which they'll start forging strategies to overcome them. But all are making progress – setting goals, developing and implementing plans, diligently tracking how they are doing, evaluating specific efforts and sharing their growing knowledge and expertise with others.
And both Forum for the Future and the Ellen MacArthur Foundation are developing valuable tools companies can use and assembling coalitions that can accomplish tasks no single company ever could.
"A Revolution in the Making: The Quest for Net Positive Supply Chains" looks at why Being Less Bad is No Longer Good Enough; Collaboration is Key to Net Positive Results; Four Principles for Creating Net Positive Supply Chains; and Net Positive Supply Chains: How far have we gone? How much further do we need to go? The special report can be downloaded here.