Apparel supply chains under increasing scrutiny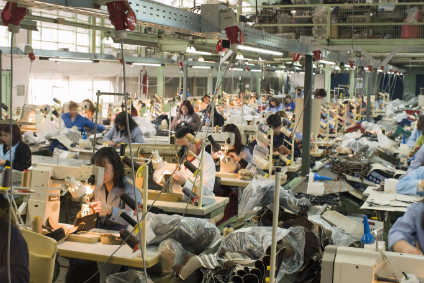 Companies need to do due diligence and quickly, and be prepared for questions from investors or the press
Clothing and textile executives attending a New York conference have been told they need to take special care when assessing their supply chains to ensure they are not tainted with human rights abuses – because not only may the reputational risks be severe, but criminal liability may follow.
Ryan Lynch, the head of corporate social responsibility at BSI, the British standards organisation, told the 31st annual Apparel Importers Trade & Transportation Conference in New York last week that the most obvious example at present are the claims highlighted in an October report from Washington DC-based think tank the Center for Strategic and International Studies (CSIS), that forced labour may well be present in China's Xinjiang province. This region produces more than 80% of China's cotton.
CSIS described conditions – denied by the Chinese government – of forced labour and other mistreatment of more than one million Uyghurs and other Muslim ethnic and religious minorities in Xinjiang, alleging it is "the largest-scale detention of religious minorities since World War II. Forced labour has now become an integral part of the government's efforts to 're-educate' Muslim minorities."
Clothing and textile companies whose supply chains extend into Xinjiang need to take care, warned Lynch. "I've seen this referred to in the media as cultural genocide," he told the event organised by the American Import Shippers Association (AISA) and the United States Fashion Industry Association (USFIA). The US still imports more than 30% of its apparel from China, despite the ongoing trade war, so the risk of clothes including Xinjiang cotton is high. According to Lynch, such disclosures pose increased reputational and compliance risks to companies, to say the least.
Companies need to be aware of allegations about "forced labour camps and prison labour and gross human rights abuses that are coming to the surface" - Ryan Lynch, head of corporate social responsibility at BSI
As a standards-setter, Lynch said clothing and textile companies who boost their reputations though their use of international and national standards can be directly impacted by such revelations if they are following standards that integrate the United Nations' Special Development Goals (SDG) into their guidance – notably SDG 8, which covers worker safety and human rights issues. It calls upon organisations following its rules and the standards based on them to "take immediate and effective measures to eradicate forced labour, end modern slavery and human trafficking and secure the prohibition and elimination of the worst forms of child labour, including recruitment and use of child soldiers, and by 2025 end child labour in all its forms."
The Xinjiang revelations cause a real problem for brands and manufacturers who want to follow formal standards linked to SDGs, said Lynch. He added companies need to be aware of allegations about "forced labour camps and prison labour and gross human rights abuses that are coming to the surface," such as "having prisoners pick cotton on the farms they [the Chinese government] operate." Companies need to do due diligence and quickly: "You should prepare your organisation to be asked these kinds of questions."
Sourcing impact
Lynch also warned that such claims can shift supply chains and have an impact on sourcing. The Xinjiang allegations may accelerate the current move of clothing and textile business away from China, exacerbated by that country's ongoing trade war with the United States and the appeal of cheaper competitors like Bangladesh and Vietnam.
But even when new suppliers are emerging away from a known scandal, the need to conduct due diligence remains since the new source countries need to be assessed too. Are they "places where you need to ask are management systems mature enough to respect workers' rights and needs and [conserve] the quality of environmental resources?" asked Lynch. And as business shifts away from Chinese suppliers, "we need to ask how does this impact those workers" in companies losing business, he said, adding that other concerns such as the treatment of migrant workers need to be addressed, "particularly as the labour force shifts."
These questions could be hard to answer and may come from informed interrogators from investors or the press. Moreover, there is an increasing likelihood of government questioners showing up at company offices, judging by the statements made by two Trump Administration officials who spoke at the conference.
"Within the next year or two we'll be conducting criminal cases in the US [over the Chinese forced labour situation]" - Kenneth JF Kennedy, senior policy advisor on forced labour programmes at US Immigration and Customs Enforcement (ICE)
Debbie Augustin, executive director of the US Customs and Border Protection agency's trade remedy law enforcement directorate, said companies should focus on ongoing work to develop automated and other proactive solutions to check supply chains for ethical problems, without putting themselves at a competitive disadvantage through ballooning compliance costs.
"We want to do our part to create a level playing field for US companies by building out our Trusted Trader programme, which will allow automated tracking through a single window," to help companies audit their suppliers, she said.
Criminal charges
It is important that brands do this work, because there are not just civil penalties for companies who are found doing business with wrong-doers, but industry could be exposed to criminal actions by the federal government, should companies be found to have effectively collaborated with rule breakers – it is illegal to import goods into the US made with forced labour, for instance.
"A lot of people think this is going to go away after the next election, but I don't think so. We are under an extraordinary pressure from Congress and the White House," he said, warning companies to do their homework and come clean with any suspicions they may have about suppliers while they have the chance.
"Ninety-nine percent of the media attention has been on civil cases, but lurking in the background are criminal actions," said Kenneth JF Kennedy, senior policy advisor on forced labour programmes at US Immigration and Customs Enforcement (ICE), which also looks at – for instance – whether forced North Korean labour might have been used to make a product sold in the US. "Ours have jail time attached to them," he added, referring to sentences as long as "20 years." "Not to scare you," he told an audience of industry insiders. "But the time to act is now.
"Within the next year or two we'll be conducting criminal cases in the United States [over the Chinese forced labour situation]," he said, warning: "The Department of Justice is willing to prosecute retailers and online retailers, both the company and company officials. Once the action starts, your time is up."
According to Augustin, most of the cases involving forced labour handled on a federal level are based on 1930 legislation which defines the malpractice as "any work for which the individual did not present himself voluntarily." This definition leaves some grey areas: "Late payment. Is that forced labour? Maybe. Maybe not."
However you break it down, the practice is endemic in the supply chain for textiles and apparel, she said. "If your company is doing due diligence, you're going to find forced labour."
Companies attempting this due diligence will have to probe well beyond their immediate network of intermediary suppliers in order to stay out of trouble. "The responsibility goes back to raw materials in terms of knowing your supply chain.
"Does that mean you can get arrested if you find it? No," she advised. "The reality is what you do when you find it. If you walk away from it, then we have a problem."
Create sourcing plans that work
Find new apparel sourcing destinations, assess trade flows and manage tariffs. All in one place.
Oops! This article is copy protected.
Why can't I copy the text on this page?
The ability to copy articles is specially reserved for people who are part of a group membership.
How do I become a group member?
To find out how you and your team can copy and share articles and save money as part of a group membership call Sean Clinton on
+44 (0)1527 573 736 or complete this form..