Asia sourcing must raise its game amid global competition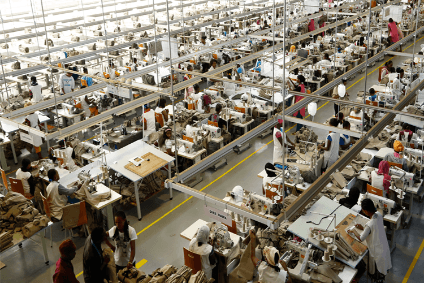 Africa is starting to emerge as an apparel sourcing region
Growing competition across the world for clothing sourcing contracts is seeing China not only being challenged by other countries in Asia, but by sub-Saharan African and even Russian suppliers too. And it is pushing Asian governments to sharpen their industrial policies to try to retain market share, a major international conference has heard.
The 32nd World Fashion Convention organised in Mumbai last week by the International Apparel Federation (IAF) and the Clothing Manufacturers Association of India (CMAI), focused on 'Insights into new opportunities' and heard how rivals to traditional Asian garment exporters are becoming more competitive.
Belinda Edmonds, executive director of the African Cotton and Textile Industries Federation (ACTIF), emphasised that the renewal of the US African Growth and Opportunity Act (AGOA), which gives duty-free access to America for most sub-Saharan African countries, has boosted the region's clothing sector. The trade pact was renewed for a further ten years last year, and now runs until 30 September 2025.
She added that European companies such as Hennes & Mauritz (H&M), Primark and Tesco are now also sourcing from East Africa.
With its high quality cotton, "Africa…is emerging as a significant region in the textile market." AGOA means "we can offer products at a price that is going to satisfy the mass production market in the US. On the other hand, we find a huge appetite for sustainable fibre from Africa and the social and environmental projects that work in some European, especially the Scandinavian, countries.
"So, I see opportunities across the board – Europe as a mass market where price is the king and then socially-driven [clothing] projects that are still affordable," Edmonds told just-style on the sidelines of the convention.
Meanwhile, Alexander Shumsky, executive president of the Russian Fashion Council, said Russia's under-utilised textile and apparel manufacturing capacity offered opportunities for sourcing, with rising Chinese costs making Russian manufacturers more attractive.
"Three years ago we were utilising 40% to 45% of our production facilities; today it is 67%," Shumsky said. "The government is investing a lot of effort to encourage production," he told delegates.
Some of this support is designed to help Russia score export contracts, such as Russian manufacturers supplying EUR6m (US$6.7m) worth of uniforms to the Chilean army this year, he said.
But the government is also encouraging international brands and retailers to manufacture in Russia. "We are trying to ride the global trend of liberalisation. We are trying to revive the once thriving textile sector in the erstwhile USSR. We already have the expertise to produce various kinds of textiles like home textiles, women's wear, inner and outerwear," he added.
Infrastructure and financial support
With this new emerging competition, Asian governments are boosting infrastructure and financial support to retain their sourcing position.
Ashok Rajani, chairman of the Apparel Export Promotion Council (AEPC) in India, told the convention that the Indian government was taking action – a three-pronged approach of augmenting skill, scale and speed to get a larger pie of the global textile and apparel market.
The government, he said, had been focusing on making it easier to do business in India, while offering incentives such as income tax and investment support. He stressed that India had International Labour Organization (ILO) compliant rules for textile and apparel workers, easing the risk of scandal associated with worker exploitation, and Indian strengths in IT and software. As a result, the Indian government and the AEPC want India to sell more than US$30bn worth of apparel exports over the next two years, he said.
"In the light of the growing need to balance compliance considerations and cost factors and given the rising demand of globalised multi-channel marketing, we understand that apparel sourcing has become more complex. We are diligently working towards improving our standards throughout the value chain and adhere to sustainable strategies," Rajani said.
Bangladesh is also looking to grow exports, despite the competition from abroad. Its government and industry is targeting US$50bn worth of clothing and textile exports by 2020-21 (up from US$28bn in 2015-16).
Faruque Hassan, vice president of the Bangladesh Garment Manufacturers and Exporters Association (BGMEA) said: "Doubling our exports in the next five years is an opportunity for all our workers, buyers, investors, manufacturers."
Speaking of new safety, compliance and sustainable growth, he said Bangladesh, the world's second largest exporter of garments, was putting the 2013 Rana Plaza disaster behind it. "Our factories are moving from semi-automatic to fully automatic with sophisticated technology and machinery to produce quality product of diversified style," he said.
New opportunities in technology
As well as considering the increasingly competitive outsourcing sector, the convention also discussed how all manufacturing hubs can benefit from increasingly sophisticated technology.
Moreover, speakers at a panel discussion on 'New Opportunities in Technology' said that unless clothing manufacturers and retailers adopt new innovations, even established brands and manufacturers could be under threat.
Vonita Samtani, vice president of strategic channel partners at Worth Global Style Network (WGSN), said data analysis was especially important. "Mass optimisation…will be a transformational change that will affect your business because information that comes through data analysis can be used by various departments…for instance, procurement, finance visual merchandising and not just marketers any more."
And such innovations are as important in emerging markets as in developed countries. Simon Fernandes, regional director for apparel industry consultancy Alvanon, said of Indian manufacturers: "I have found a tremendous hunger here [among suppliers] to be able to standardise." He added that Alvanon was exploring opportunities to conduct surveys on Indian customer body types, which vary widely among India's 1.25 billion people.
Fred Lemoine, Hong Kong-based vice president of Weave Services (part of TAL Group), pointed out that India needed to streamline its supply chain and logistics to unleash its apparel manufacturing potential.
And Philippe Ribera, software innovation director for France's Lectra, and an IAF board member, said that 3D imaging will soon be replaced by augmented reality.
His advice to delegates who might be tempted to ignore such technologies: "It is time to change your company, your mindset and your people." At a time when technology is being used to develop a T-shirt that can warn wearers they are at risk of developing Alzheimer's disease, textile manufacturers can ill afford to ignore such developments.
Create sourcing plans that work
Find new apparel sourcing destinations, assess trade flows and manage tariffs. All in one place.
Oops! This article is copy protected.
Why can't I copy the text on this page?
The ability to copy articles is specially reserved for people who are part of a group membership.
How do I become a group member?
To find out how you and your team can copy and share articles and save money as part of a group membership call Sean Clinton on
+44 (0)1527 573 736 or complete this form..