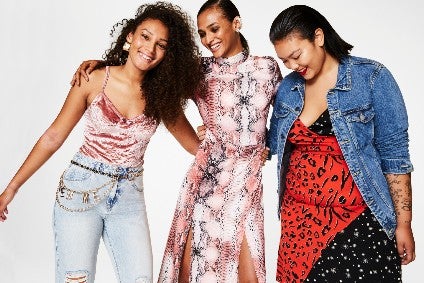 UK online fashion retailer Asos has posted a 653% jump in first-half profits to GBP30.1m (US$37.2m) and a 21% jump in revenues to GBP1.6bn for the six months ending 29 February. But the impact of coronavirus and the related containment actions that have been taken are starting to weigh on its numbers, with a 20-25% drop in sales over the last three weeks alone. The retailer has taken a series of steps to future-proof its business including a share sale and the appointment of a new chief strategy officer.
Shares in the company were up 28% today (8 April), at GBP20 per share. Some industry experts have offered their thoughts on the latest news from Asos.
Sofie Willmott, lead retail analyst at GlobalData: "Asos' carefully planned strategy for the peak trading period of 2019 clearly worked, with the online pureplay reporting impressive figures up against a troublesome 2018. However, it will not be able to build on this momentum to drive similar growth for the full year, with H2 set to be significantly disrupted by Covid-19.
"Sales over the past three weeks – since lockdown and isolation measures have been implemented across many of its key markets – have declined 20-25%, as customers struggle to justify making new purchases. However, Asos' broad product offer across casualwear, loungewear and athleisure puts it in a better position than some of its competitors that rely heavily on occasion and partywear ranges, such as Boohoo and Quiz.
"Although we forecast UK clothing and footwear sales will decline 23.5% in 2020, the online channel will fare better with expenditure expected to fall 10.8%, giving online retailers the opportunity to steal market share – particularly from Primark, TK Maxx and Next. While it will be a challenge for Asos to manage newness coming through without its usual photography and styling operations functioning as normal and with demand much lower, it benefits from having an open sales channel, alleviating it from some of the excess inventory issues that other players will face when their stores and websites reopen. Additionally, it does not have the challenges of store costs and so should be able to better protect profitability while its digital expertise in terms of editorial and social media content will enable it to continue to keep shoppers engaged."
Aneesha Sherman, Bernstein Research: "Sales growth of +21% slightly outpaced consensus estimates of 18% and Bern estimates of 18.4%. Unlike Q1, Q2 growth was not just orders-linked, as basket size and ASP have both grown. Gross margin declined -170 bps (20 bps below our estimate) – the gap was driven by increased promotional activity (as the US freight cost impact was built into expectations) but PBT recovered to a record GBP30m, beating expectations.
"Recent demand has fallen 20-25% in Europe in the last three weeks. This would imply Asos is tracking 40-45% behind its usual growth trajectory, though the company is assuming some recovery to follow the initial demand shock, based on data from Italy showing a partial recovery in traffic and conversion after the first week, and the expectation that the pattern will repeat in the major Asos markets.
"Enough current liquidity to get through the trough. As things stand, Asos assumes the current GBP350m revolver, which is half-drawn, is sufficient liquidity to weather the storm. Possibly the biggest news was two sources of liquidity: (1) GBP60-80m extension to credit and (2) an 18.8% equity raise, i.e. just under GBP250m. Additionally, the company has applied for access to the BofE's financing facility, for unidentified amount. All this means that the liquidity the company's liquidity could stand at GBP680m ex. Asos assume that this can last the company 1.5 years at current sales levels of -20-25% (which they expect will abate soon)."
Greg Lawless, Shore Capital: "The interim results have been somewhat overshadowed by an equity raise and debt refinancing to further secure the balance sheet given the fallout from the Covid-19 pandemic.
"The company has placed 15.8m new shares, raising gross proceeds of GBP247m, representing 18.8% of the share capital prior to the placing. The company placed the shares at a slight premium to last night's closing price. The company is currently finalising discussions to secure a GBP60-80m 12-month extension to the existing RCF of GBP350m to ensure additional operating flexibility through the crisis. The company has also outlined an agreement with lenders to adjust the net debt to EBITDA covenant test for the next 12 months. Management has also begun the process to confirm Asos' eligibility for, and seek access to, the Covid Corporate Financing Facility, launched by the Bank of England.
"The additional headroom will allow the company to deal with extensive disruption and the associated working capital requirements. The proceeds will put sufficient financing in place if there is no improvement in current trading for at least 18 months and allow the company to emerge from the current crisis in a stronger position to continue to invest in the growth of the business.
"The outlook statement highlights the uncertainty from Covid-19 but the equity raise of GBP247m and debt refinancing means that the company now has a balance sheet and significant liquidity to weather the current storm and exit the current trading environment from a position where it can continue to invest to chase its global ambition. There is momentum in the business but until there is more clarity in the business about the timeframe for the lower revenues we reiterate our Hold rating, until we have a clearer line of sight on earnings momentum in order to be more positive on this stock.
Nigel Frith, senior market analyst, Ask Traders: "The online retailer is in a better position than most bricks and mortar retailers and maintains a robust financial position. However, no retailer is safe under these current conditions.
"Asos isn't in any form of trouble, but it wants to ensure that it comes out of the other side of the coronavirus crisis is a strengthened position. The fact is no-one knows how long the lockdown will go on for. Whilst Asos is still fulfilling orders, demand has dropped. Furthermore, any problems with the GMB union concerning social distancing could put a temporary halt to orders being dispatched.
"Given the uncertainties surrounding the coronavirus outbreak and its potential economic impact, the move by Asos to issue more equity and extend its debt facility is being viewed as prudent. As a result, the share price soared following the announcement."