Bangladesh apparel sector faces up to challenges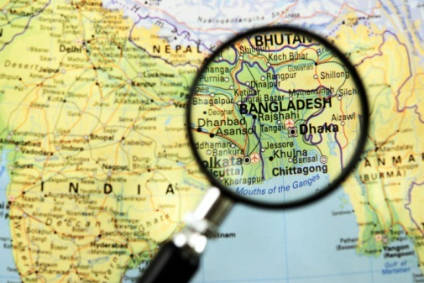 Bangladesh aims to jack up clothing exports by an additional $22bn and create jobs for 6m people in the next five years
With the global garment market still growing fast, Bangladesh needs to seize the so-called 'China-plus' opportunity while penetrating new markets and diversifying its products, a Dhaka conference has heard.
In a keynote speech, Dr Nazneen Ahmed, a senior research fellow at the state-run think-tank, Bangladesh Institute of Development Studies (BIDS), told delegates world apparel sales were US$445bn in 2015, set to grow to $700bn by 2021.
But uncertainty over Brexit, the new Trump-influenced global trade regime, and an incentive package from India's textile sector of INR60bn (US$900m) are posing fresh challenges for the Bangladesh industry, speakers stressed.
Dr Ahmed pointed out that this comes as the $28bn Bangladesh clothing and textile industry is still carrying out health and safety improvements following the 2013 Rana Plaza collapse, while improving its testy labour relations.
"There is a potential for Bangladesh to capture the Chinese market," said Dr Ahmed, while Chinese production shifts to higher tech modes, labour costs rise and worker shortages increase as the population ages.
But for the time being, while product diversification is happening, the challenge is that Bangladesh is still "a price taker, not a leader, when price is negotiated", she said. "Buyers come to Bangladesh mainly for CMT (cut, make and trim)-based operations, which are mostly driven by labour force."
In this regard, work needs to be done, given December's Ashulia mass sackings. Strikes have dented the country's image as a reliable apparel exporter, was the message.
The US ambassador to Bangladesh, Marcia Bernicat, noted that the success of Bangladesh's readymade garment industry has been "remarkable", but said, to continue to be successful, the industry needs to plan for the future.
"The consequence of another Rana Plaza or another factory fire could mark the decline of this industry"
"The consequence of another Rana Plaza or another factory fire could mark the decline of this industry," she warned.
The Bangladesh Garment Manufacturers and Exporters Association (BGMEA), in collaboration with the Bangladesh Apparel Exchange, organised the summit, themed 'Together for a better tomorrow', which took place on Saturday (25 February).
Bangladesh Prime Minister Sheikh Hasina inaugurated the day-long industry summit at the Pan Pacific Sonargaon Hotel, in the capital city.
Labour crackdown
However, the clampdown on labour unrest in the Ashulia garment belt overshadowed the conference.
Western retailers including H&M, Inditex (Zara), C&A, Next and Tchibo had resisted attending the summit in protest over the crackdown. Swedish fashion giant H&M decided to join and monitor the Bangladesh Apparel Summit as an observer after an agreement was reached to release the workers and union leaders arrested during the crisis, as did global retailer C&A. Tchibo said it did not attend.
Bernicat was critical of the crackdown at the event: "Ashulia has damaged Bangladesh's image and reputation as a reliable source of garments," she said.
Her remarks, however, drew an immediate sharp reaction at the summit from Bangladesh's Commerce Minister Tofail Ahmed.
He argued that Bangladesh was unfairly singled out over trade union rights, while abuses in countries such as China, India, Vietnam, and Pakistan were ignored.
The Commerce Minister noted only 7% of private sector workers in the US were members of trade unions: "How can they expect to have unions in 100% of factories here?" he asked.
Still, Srinivas Reddy, Bangladesh country director for the International Labour Organisation (ILO), said he believed the country should speed up and ease trade union registration.
"Genuine efforts are needed to combat anti-union discrimination and unfair labour practices," the ILO official said.
While, Thomas Klausen, chief executive officer of Dansk Fashion & Textile in Denmark, underlined the need for partnering with trade unions rather than alienating them.
"From our experience, we know it is easier to work with workers than against them," he said.
Nazma Akter, executive director of labour rights group, AWAJ Foundation, insisted that workers should be provided with decent wages. She noted that Bangladesh workers get only $0.70 cents for a T-shirt sold at $20, with retailers pocketing $17, and the rest going to suppliers.
"Nothing is cheap in this world. Someone has to pay - that is our workers," she said. She urged global retailers to stop sourcing through multiple agents, which has helped push prices down.
Tofail criticised Western global retailers for not raising prices, even after, he stressed, entrepreneurs invested large sums fixing factories after the Rana Plaza disaster.
It can require half a million dollars to raise some factories' health and safety standards, he noted. Dr Ahmed stressed the industry aims to jack up clothing exports by an additional $22bn and create jobs for 6m people in the next five years, but has already raised wages by 219% in the last six years, funding factory improvements and welfare, amidst rising input costs and a strengthening Bangladeshi Taka.
Overcoming challenges
To gain extra sales in such circumstances, the industry needs to diversify - more than two-thirds of exports are of T-shirts, trousers, sweaters, woven and knitted shirts, she said. To achieve this, she recommended attracting foreign investment in high-value clothing and textiles based on manmade fibres.
However, Dr Fahmida Khatun, a research director with Dhaka think-tank, the Centre for Policy Dialogue (CPD), argued that overcoming such challenges requires shared responsibility.
For example, she said entrepreneurs should continue to maintain compliance, buyers should offer better prices, while the government should provide better infrastructure, and competitive interest and exchange rates.
"Good things shouldn't be cheap," said the CPD researcher.
"Ironically," she said, "ethical buying and fair prices are not [the focus] of many profit-making brands. In a fiercely competitive market, brands and retailers look for lowest price in southeast Asia and Africa."
Yet, still, retailers are betting on Bangladesh as China gets more expensive.
For one UK fashion retailer, Marks & Spencer, Bangladesh has become its largest sourcing country globally since it began procuring apparel from the south Asian nation in 2004, according to Shwapna Bhowmick, country manager for the British retailer who oversees its Bangladesh and Myanmar operations.
Starting from basic products, Bhowmick said M&S has gone on to source "fantastic" swimsuits and high-value denims from the country.
Faruque Hassan, senior vice president of the BGMEA, noted that the garment industry has become a success story, thanks to hardworking employees and resilient entrepreneurs.
"Whenever we faced challenges, we came back stronger"
"Whenever we faced challenges, we came back stronger," he said.
Dr Christopher Woodruff, a professor of development economics at Britain's University of Oxford, called the Bangladesh garment industry "unique", being largely run by domestic entrepreneurs with domestic finance. "That success is phenomenal," he said.
Meanwhile, the BGMEA and Telenor Health AS signed a Memorandum of Understanding (MoU) on the sidelines of the summit, committing them to work together with digital and mobile technology to improve the health and wellbeing of Bangladesh garment workers.
"Working with Telenor Health will be a new and innovative approach for the association to facilitate sustainability in the apparel industry, which accounts for 81 percent of total export earnings for Bangladesh," said Siddiqur Rahman, BGMEA president.
Create sourcing plans that work
Find new apparel sourcing destinations, assess trade flows and manage tariffs. All in one place.
Oops! This article is copy protected.
Why can't I copy the text on this page?
The ability to copy articles is specially reserved for people who are part of a group membership.
How do I become a group member?
To find out how you and your team can copy and share articles and save money as part of a group membership call Sean Clinton on
+44 (0)1527 573 736 or complete this form..