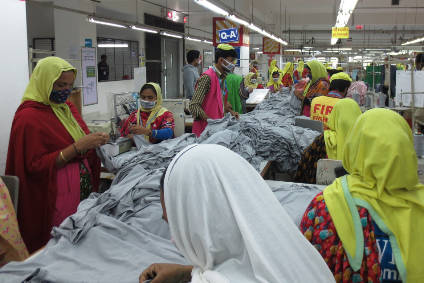 Bangladesh's apparel exporters are contemplating diversifying their past tight focus on western markets to include buyers in Southeast Asia as they emerge from the Covid-19 crisis.
The move has been prompted by frosty relations with international retailers in Europe and the US who scrapped or suspended shipments worth an estimated US$3bn following the outbreak of the global coronavirus pandemic.
"With the Association of Southeast Asian Nations [ASEAN] turning out to be the world's fourth largest economy by 2030, my view is positioning ourselves as the ASEAN+1," Dr Rubana Huq, president of the Bangladesh Garment Manufacturers and Exporters Association (BGMEA) told just-style.
"If we look at it through the lens of textile and garments, it reveals a tremendous picture of…building a regional value chain."
Bangladesh's garment shipments to ASEAN were US$314m in the 2018-19 fiscal year, which ended last June, compared to the country's US$34bn exports worldwide in that timescale.
Located on Bangladesh's doorstep, the bloc of 10 countries – Indonesia, Thailand, Singapore, Malaysia, Philippines, Vietnam, Brunei, Myanmar (Burma), Cambodia, Laos – boasts more than 640 million-plus consumers.
As such, ASEAN is an important partner and a growing market for apparel, notes Dr Huq. Between 2008 and 2019, ASEAN's clothing imports grew by 195%, with those from the rest of the world totalling US$10.34bn in 2019, according to the BGMEA chief.
Dr Huq adds that building links with the ASEAN clothing industry also made sense for export-oriented manufacturing, noting clothing exports from this region in 2019 were worth US$62bn, representing 13% of total global apparel shipments that year.
"We believe a regional collaboration in terms of Bangladesh being ASEAN+1 may be immensely beneficial to upscale the capacity of the region not only to manufacture, but also to develop our own brand and design capabilities."
She cites potential in developing an intra-regional supply chain for textiles and clothing, and foreign direct investment in Bangladesh for value-added apparel such as suits, intimates and functional outfits, synthetic textiles and design work.
Note of caution
Dr MA Razzaque, research director at the Policy Research Institute of Bangladesh (PRI), welcomes the idea of market diversification, but counsels caution, noting the south Asian country was "far away" from being able to enter a free trade agreement with ASEAN.
He also suggests Bangladesh keeps an eye on the potential of the Chinese export market, after China in June offered duty-free access to 97% of Bangladeshi products, covering more than 8,000 products.
Dr Razzaque adds that the potential for sales in China would also depend on whether US-China trade relations worsen or improve in the near future.
Dr Huq is less enthused about the potential of diversifying sales to China, despite the duty offer. "There are lots of barriers when we export to China. The restrictions are super stringent," Huq says, complaining about "exhaustive" tests.
Also, citing recent trade statistics, she notes that between the financial years of June 2018 to May 2019 and 2019-20, Bangladesh readymade garment exports to China tumbled by 34.5% year-on-year, reaching US$306.73m. This loss in sales reflected the impact of such non-tariff barriers, she reiterates.
Regardless, the PRI research head claims Bangladesh's economic growth in recent years has not resulted in improvements to external export competitiveness, which the country's clothing and textile industry will need to prosper in the post-Covid-19 world.
"Therefore, irrespective of global policy and production shifts, Bangladesh needs to focus on improving competitiveness as a matter of priority," Dr Razzaque told just-style.