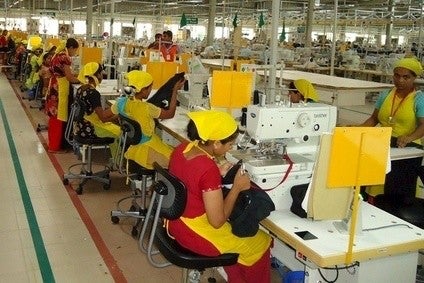 The volume of US apparel imports saw a downturn month-on-month in September as the back-to-school season came to an end. Imports into the country from China regained their upward trajectory, however, despite ongoing trade tensions between the two countries, while Bangladesh booked the month's highest gain.
The latest figures from the Department of Commerce's Office of Textiles and Apparel (OTEXA) show the volume of US apparel imports from all sources was down 0.73% month-on-month in September to 2.71bn square metre equivalents (SME). The figures for September also show a 5.1% rise in volume against the same month last year, and 5.7% growth in value terms year-on-year to $7.97bn.
In terms of individual supplier countries, six of the top-ten recorded a year-on-year increase in September, with Bangladesh booking the highest growth.
China – the largest supplier of apparel to the US – saw shipments increase 5.99% year-on-year to 1.35bn SME, with imports from the country up 4.7% month-on-month from the 1.29bn SME recorded in August.
The second-largest supplier, Vietnam, booked a year-on-year increase of 7.87% to 317m SME – this compares to August's increase of 1.2%.
Bangladesh, ranked number three in the top-ten US apparel supplier league table, booked the highest growth, with exports surging 11.8% to 171m SME, while El Salvador booked the second-highest growth of the top ten countries, with shipments up 9.6% to 65m SME.
Of the remaining countries to book growth, India saw an increase of 4.91% to 81m SME, while Honduras recorded growth of 4.3% to 90m SME.
Meanwhile, Pakistan recorded the largest drop at 11.09% to 43m after leading the pack last month with a 16.5% surge in exports. Indonesia, Cambodia and Mexico booked declines of 4.8%, 5.34%, and 2.92% respectively.
Textile and apparel imports, meanwhile, grew 4.73% year-on-year to 6.21bn SME, and in value terms by 5.4% to $10.3bn. Textiles alone, meanwhile, recorded growth of 4.45% to 3.49bn SME, and in value terms were up 4.7% to $2.33bn.
Year-to-date and six-year overview
In value terms, total US apparel and textile imports were up 4.49% to $83.35bn in the year-to-date, from $79.77bn in the same period a year ago. Apparel imports grew 2.9% to $62.49bn, while textiles were up 9.63% to $20.86bn.
Seven of the top ten apparel supplier countries booked growth during the first nine months of the year, with Cambodia seeing the largest increase at 13.09% to 1.83bn SME.
Vietnam registered the second highest gain, at 6.1% to 9.23bn SME. Imports from China, meanwhile, were down 0.05% to 20.41bn SME – although the country remains by far the biggest supplier of apparel to the US with a 42% share of the market. Bangladesh, the third-largest supplier with a share of 6.9%, saw exports grow 5.84% compared with last year to 4.17bn SME.
Pakistan meanwhile, reported a 4.64% increase year-on-year to 1.01bn SME, and India a 3.84% rise to 3.01bn SME. The largest decline was recorded by Mexico, whose exports to the US were down 2.77% to 2.59bn SME.
Taking a broader look at the data over an eight-year period from 2010 to 2017, Vietnam is the only country in the top ten to have seen a steady increase in import volumes to the US, growing from 1.91bn SME in 2010 to 3.60bn SME in 2017 – growing its share of total imports from 7.72% to 13.28%.
China's imports have fluctuated over this period, from 10.4bn SME in 2010, falling to 9.74bn SME a year later, before reaching a peak of 11.38bn SME in 2015. Shipments dipped again in 2016 to 11.17bn SME, and last year grew to 11.36bn. The country has lost marginal US apparel market share, from 41.98% in 2010 to 41.91% in 2017.
Cambodia, Indonesia, Mexico, El Salvador and Pakistan are all exporting less to the US now than they were eight years ago. Cambodia fell from 947.1m SME to 931m SME in 2017, decreasing its share of the total from 3.83% in 2010 to 3.43% last year.
Facts behind the figures
Bangladesh booked the highest growth of the top ten countries for the month of September. According to an overview of the country on re:source by just-style, the new online strategic planning tool, Bangladesh is the world's second-largest ready-made garment exporter, worth around US$28bn per year, thanks to its low labour costs, abundant labour, and duty-free access to western markets. The country's exports of ready-made garments have risen more than 14.5% year-on-year to US$8.19bn for the quarter to September.
Despite factory safety concerns, the South Asian country's clothing industry has largely continued to build momentum as a low-cost sourcing destination. Since the collapse of the Rana Plaza building in April 2013, two major industry-backed remedial plans, together with one supported by the government, have worked to resolve issues over safety and worker rights, including the closure of some garment factories.
In addition to its core customers like the EU (which takes around 60% of Bangladesh's garment exports) and US, the country is seeing growing demand for its clothes from markets like Australia, Russia, China, Brazil and South Korea.
While it may be too early to see signs of any sourcing shifts away from China as trade tensions with the US intensify, the latest import figures continue to confirm its appeal to apparel buyers. Indeed, no other country can match China in terms of the size of its supply base, its range of skills, its quality levels, its product variety and the completeness of its supply chain. The country also continues to lead the way when it comes to efficiency and infrastructure.
As reported in the latest '2018 Fashion Industry Benchmarking Study' from the United States Fashion Industry Association (USFIA), the most popular sourcing strategy for executives from leading US textile, apparel and fashion brands, retailers, importers and wholesalers remains "China plus Vietnam plus Many."
But more companies say they plan to further diversify their production in response to the changing business and trade policy environment, especially with regards to China. This does not seem to be due to concerns about cost, but rather the worries about the escalating US-China trade tensions.
China, however, appears to be looking to mitigate any effects of the trade spat where it can and last month declared it will cut costs for foreign companies that want to trade with it. General customs clearance time for imports and exports and related supervision documents will be reduced by another one-third this year, and clearance fees will be lowered.
Benefiting from an expected decrease in sourcing from China by US fashion companies, Vietnam and Bangladesh are expected to play a bigger role as apparel suppliers for the US market. However, there are lingering concerns about the limits of Vietnam's production capacity; and while Bangladesh enjoys a prominent price advantage over many other Asian suppliers, the risk of non-compliance remains a notable weakness.