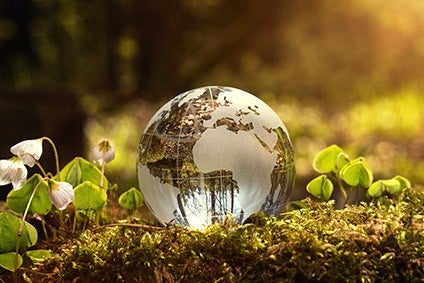 All the best parties have a theme, and Textile Exchange's annual industry event – which doubled as a celebration of the global fibre-sustainability coalition's 15th anniversary – was no different. Held in Washington DC this past week, the five-day conference wielded its focus as both a rallying cry and a call to action for its 400-plus participants.
Themed 'United by Action: Catalyzing the Sustainable Development Goals in Textiles', the conference welcomed participants including representatives from multinational brands and retailers such as Walmart, Gap Inc, Target, Hennes & Mauritz (H&M), C&A, Ikea, Timberland, Patagonia and The North Face.
For businesses, the Sustainable Development Goals (SDGs) are still a relatively new idea. Adopted by the United Nations in late 2015 as an expansion of the Millennium Development Goals, the SDGs lay out an ambitious roadmap for improving the lives of people around the world by 2030. Broadly speaking, they comprise 169 targets designed to advance 17 overarching goals, which include poverty eradication, gender equality, clean water and sanitation, and decent work for all.
"The SDGs give us a framework to help our members communicate the impacts of some of the changes that go into sustainable agriculture or sustainable sourcing," LaRhea Pepper, managing director of Textile Exchange told reporters. "The SDGs allow us to move from a place of 'what should we do about this?' to 'let's take collective action.'"
The impact of goals
Speaking to a packed ballroom at the William F Bolger Center, Marissa Pagnani, group vice president of corporate responsibility at PVH Corp, stressed how important it was to "realise the potential impact you have if you, as a company or a group or a supplier, can make a change. We're around the world, we're in a lot of sourcing communities."
When the SDGs debuted more than two years ago, PVH, whose stable of brands includes Calvin Klein, Tommy Hilfiger and Speedo, was already working on its own raft of corporate social responsibility commitments, albeit in a "very silo manner," Pagnani admitted. "Like 'OK, I'm working on water today.'"
An issue like water, however, cannot – and should not – be considered in isolation. There are links between water scarcity and global conflict, for instance. The availability of fresh water is also imperative to human health and wellbeing, a nation's economic prosperity, and a thriving ecosystem.
"One of the reasons I love the SDGs so much is that through using them we've been able to communicate that the water workframe actually impacts maybe three or four of these SDGs," Pagnani said. "And that becomes a common language that we can use to connect our activity to much bigger activity: activity beyond our sector, activity beyond corporate responsibility."
So the first thing Pagnani's team did was map their existing projects to the SDG framework, drawing up a host of new connections they hadn't considered before.
"We didn't create anything new, we didn't change any of our prior commitments; we just took what we were doing and looked at it through the lens of the SDGs," she said. "And it became a way to start a conversation internally around, 'Oh I didn't think about that. Actually human rights will take decent work. There are a number of other impacts we can be having through the work we are doing.'"
To underscore this point, PVH headlined articles in its 2016 corporate responsibility report with icons of their corresponding SDGs goals – 3, 8, 12 and 16 for human rights; 3 and 8 for safe workplaces; 5, 8, 10 and 16, for inclusion and diversity; and 12, 13 and 14 for responsible chemical management.
"By connecting the SDGs to the story, we're signalling the way we think about things to our audience," Pagnani said. "And we're signalling internally to our associates and our executives that, 'Hey by doing this work we could be having impacts on these big goals.' And it signals to stakeholders who may be working on these big goals, 'Hey PVH we care; let's get involved.' So it was a simple way of taking something we were already doing – again, nothing new – and forcing us to think a little bit differently and try to feed into a common language that people could maybe grasp on, as well."
An impactful tool
Jennifer Silberman, vice president of corporate responsibility at Target, concurred. Speaking at a panel with Jeffrey Hogue, chief sustainability officer at C&A, Silbermann called the SDGs a "great guide" that allows companies to home in on which targets they can devote their resources to and achieve the greatest impact.
There's no right or wrong approach to incorporating the targets into a business plan, Silberman said. "Just get familiar with the SDGs and understand how it can be a prioritisation tool for you," she added.
Target is beginning to nail down some of its commitments. Earlier this month, the big-box retailer pledged to source 100% of its cotton from sustainable sources, in ways that promote efficient water and chemical use, soil health and ethical working conditions, by 2020. This touches not only on SDG 12 (responsible consumption and production) but also SDG 8 (decent work and economic growth) and SDG 15 (life on land).
It's through this way that companies can hold up the SDGs as a mirror for how they're progressing on their corporate responsibility agendas.
"You can see your organisation in almost every SDG," C&A's Hogue said. "When you look at each one of those goals, you can see a number of areas where they could apply to you."
Because C&A's corporate responsibility strategy was already in place, the apparel retailer opted to conduct the same mapping exercise that PVH did, but with a broad latitude.
"What I'd like to prevent as much as possible is having 17 boxes on a slide and everything we're doing underneath these 17 boxes," he said. "I'd prefer to have something very coherent and focused and something that our leadership and folks within our organisations can say, 'Yeah that makes sense, I get it.' So we're not really at this point trying to make the push to fit ourselves in every SDG."
Still, as tools for communicating among multiple stakeholders across different sectors, the SDGs are unrivalled in their usefulness, Hogue said.
"It's kind of the first time you can sit in front of civil society and government and say SDG number 6 – what does that mean to me and what does it mean for you and how do we work together to deliver?" he said. "This is the first time that business and civil society and government have a tangible sense of what needs to be achieved. [The SDGs] allow us to speak the same language, which is something I think can be difficult sometimes in these types of initiatives."
After all, the success of these targets lives or dies on these very collaborations.
"If you look at decent work, for instance, and you're talking about a country like Bangladesh or Myanmar, there are a lot of levers that need to be pulled in order to increase decent work in those countries," Hogue explained. "It's something that we can do a lot through our auditing programmes and remediation processes, but that's really not enough to create the systemic change. So we need governments to enforce the rule of law, and we need civil society to provide more transparency around issues that we can't normally detect in our supply chain. I think that's where the discussion becomes more rich because if we're all committed to this, we all recognise that we all have a role, it isn't us against them. We'll see more evolution and collaboration as time goes on."
For companies who are still grappling with how to bring the SDGs to the decision table, Hogue had one piece of advice: "Keep it simple and speak the language of your own business. If your business doesn't like the word sustainability, don't use it. Find the right words to translate to."
Click here to read more coverage of the Textile Exchange conference.