Viewpoint: Cambodia's garment sector faces continued challenges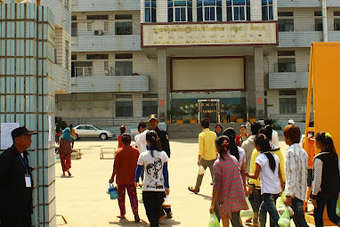 Universal Apparel Cambodia Ltd, aka Huey Chuen Cambodia Ltd, a supplier of Puma, where about 200 workers fainted in April 2011
With much of the success of Cambodia's garment industry based on its well-publicised commitment to basic labour standards, it's perhaps not surprising that the sector finds itself under a spotlight when it comes to wider worker welfare issues.
Indeed, several events that have taken place in recent weeks highlight some of the challenges faced by the local industry.
The most recent has been a two-day "people's tribunal", which took place this week in Phnom Penh to investigate pay and conditions at factories making clothes for brands including Adidas, Puma, H&M and Gap.
Spurred by a spate of mass faintings in at least 11 garment factories over the past year - which have been linked to low salaries and the knock-on impact on workers' nutrition, as well as poor ventilation and excessive working hours - the hearing called on international brands and retailers to take "immediate steps" to commit to a living wage for factory workers.
The minimum wage for Cambodia's garment workers rose by $5 to $66 a month in January, but remains among the lowest in Asia. Massive inflation has also meant Cambodian garment workers have seen a real wage loss of over 14% during the last 12 years.
Harrowing testimonies included one from a 27-year-old worker, a mother of a two-year-old son, working at a factory producing for Adidas. "As my income is not able to cover all my family's basic needs, I took a loan from the landlord," she explained.
"I owe him $50 in addition to $10 interest every month. Usually I can only pay the $10 interest and not start paying back the loan. If I get sick I don't have any money for treatment. I don't know what I will do if it happens. I also worry that I don't have money to support my son in going to school."
Delicate balancing act
Comments like this reflect the delicate balancing act facing international brands and retailers for whom Cambodia appeals as an ethically sound production base thanks to a monitoring programme overseen by the International Labour Organisation (ILO) - combined with the added advantage of low costs.
The industry is growing fast, with data from the Ministry of Commerce showing garment exports from Cambodia rose to US$3.47bn during the first ten months of 2011, an increase of 34% compared with the same period the year before.
And a new report from the ILO's Better Factories Cambodia initiative shows employment in exporting garment factories has reached its highest level since 2008.
There are now 345,364 workers in the 300 active factories registered with the project - a rise of 9% in the number of factories, and a 7% increase in the size of the workforce, in the six months to 31 October 2011. Fewer than 91% of the workers are women.
But while the "27th Synthesis Report on Working Conditions in Cambodia's Garment Sector" notes the industry "has demonstrated consistent compliance on indicators such as payment of the proper minimum wage and overtime wages and provision of annual leave," there is no room for complacency.
In particular it points out that "improvements can be made in other areas that contribute to the health and welfare of workers" - including triggers that may have contributed to the mass faintings, which have so far seen more than 1500 workers collapse during working hours.
Possible causes, the report notes, include poor nutrition and hygiene, the lack of a morning meal, heat stress, poor ventilation, excessive working hours, poor industrial relations and "mass psychogenic behaviour" in which one worker falls unconscious and others who witness this collapse as well.
And alarmingly, the latest research demonstrates that compliance levels are lower than 50% on several areas that are relevant to the fainting incidents, such as exceptional overtime (5%), overtime limited to two hours per day (16%), soap and water available near the toilets (48%), and acceptable heat levels (38%).
In other findings, BFC monitors found 66% of factories have at least one union, down 10% from the previous report. While no evidence of forced labour was found, seven workers were confirmed to be below the legal working age of 15. And just 5% of the factories monitored complied with legal requirements on "exceptional overtime," while 16% complied with the two-hour overtime limit.
The percentage of factories paying the $7 attendance bonus when workers take annual leave also dropped to 62%.
As well as offering a degree of industry-wide transparency not seen elsewhere, the number of incidents continue to raise questions about working conditions at Cambodian garment factories.
Speaking at a roundtable discussion on the report last week, Jill Tucker, chief technical advisor of ILO Better Factories Cambodia, said that while BFC has no enforcement power, it is still working to drive change.
"BFC needs strong and continued cooperation from all constituents in implementing its programme, especially when BFC expands its working scope in sub-contracting factories and into the footwear industry in 2012.
"In addition, BFC has worked with buyers and international brands to ensure enforcement when factories fail to comply with the law. Shifting orders is one of the means; however, this is not necessarily the preferred solution."
Click here to view the '27th Synthesis Report on Working Conditions in Cambodia's garment sector'.
Create sourcing plans that work
Find new apparel sourcing destinations, assess trade flows and manage tariffs. All in one place.
Oops! This article is copy protected.
Why can't I copy the text on this page?
The ability to copy articles is specially reserved for people who are part of a group membership.
How do I become a group member?
To find out how you and your team can copy and share articles and save money as part of a group membership call Sean Clinton on
+44 (0)1527 573 736 or complete this form..