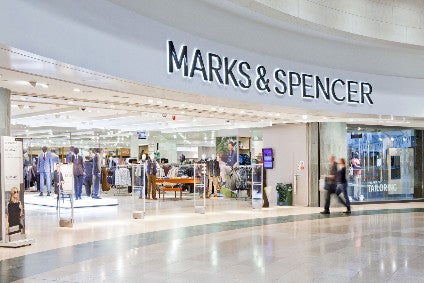 Sales have dived yet again at UK retailer M&S, which earlier this year acknowledged the need for drastic change to reposition it for growth. Its "restoring the basics" agenda puts every aspect of the business under "scrutiny and change" to adapt to the new retail landscape and reshape its clothing ranges to appeal to consumers. Analysts have mixed feelings about the retailer's progress so far.
Richard Stables, CEO of Kelkoo, says: "Marks & Spencer posting falling sales is symptomatic of the retailer relying too heavily on its heritage and reputation with an ever-shrinking group of consumers. Traditional retailers are failing to address the fact that 20-somethings value convenience and low prices much more than their parents or grandparents do.
"Retailers like Marks & Spencer need to be willing to adapt to the changing landscape and provide customers with an effective omnichannel offering or we will continue to see stories of famous British retailers struggling to keep up with the pace." Anthony McGrath, of the Fashion Retail Academy, says: "Marks & Spencer is still in the early stages of a five-year restructuring programme, which, when fully implemented, will save it £350m – it has already accepted that a focus on the bigger picture will come at the expense of short-term gains. This remodelling ensures its place at the heart of the high street is preserved.
"If more brands follow suit and adapt their business model, in five years time we may have a more resilient high street." Thomas Brereton, retail analyst at GlobalData, says: "M&S's fall from retail grace continued to show through declining revenue and like-for-like sales today, as Group revenue fell GBP158.7m to GBP4,966.9m and UK like-for-like sales were dragged down by a dismal performance in its food division (food l-f-l sales -2.9%). A 7.1% rise in pre-tax profit – created through the unapologetic elimination of unprofitable stores and product lines – has not been enough to negate the negative figures and its share price fell 4% in early morning trading (7 November).
"While it is still undergoing "profound structural change" following the announcement in May of plans to shutter 100 full-line stores by 2022, its speed of transformation continues to lag behind the speed of change in consumer behaviour. M&S is no longer able to prop up its wilting Clothing and Home division with good performances in its food business. Clothing and Home revenue fell 2.7% (l-f-l sales down 1.1%) as 21 full-line stores and three outlets closed in H1, with a complete overhaul in its buy-side still underway, shifting towards a greater focus on "must-have" essentials.
"But while criticism of M&S is easy with results like this, the money spent on transformations shows that the retailer intends for the next three to five years to be a period of rapid change; M&S spent GBP47.6m on UK store closures over the period. Changes over the last few years are beginning to bear fruit, with M&S embracing the online channel quicker than many of its competitors – 20.4% of UK Clothing and Home revenue is now online. But while Rowe's plan of leaving "no stone unturned" in the pursuit of revamping all M&S divisions is the right one, it remains to be seen if investors – and shoppers – will afford him the time required to make the much-needed changes."
Clive Black, analyst at Shore Capital, says: "M&S has clearly seen better days and restoring it to a more positive investment thesis remains a challenging and time-consuming process.
"M&S was frankly characterised by Archie Norman, its chair, as a "burning platform" at the Group's FY2018 AGM, back in July 2018. Whilst all analogies break down eventually, the stark description is one that highlights the seriousness of the group's situation and the need for considerable change, starting with the culture. In our view, a burning platform tends to take some time to put out and make fit for purpose. So, we must start our consideration by once again reiterating that investors in the group's shares need to display ongoing patience, before the current transformation programme can be expected to yield demonstrable and sustainable change. Time will tell if the material adjustment to the group's senior management team over the last year or so represents the arrival of the fire brigade.
"M&S clearly would have preferred to have traded more robustly in H1 than has been the case. However, within the transformation programme that has been set out by management much work has been undertaken around making the necessary changes to position the business on a better footing to deliver sustainable growth in the future. At the heart of this is the long-acknowledged problem of an M&S culture that has not adapted for the new retail landscape. In this respect there has been considerable change to the senior team with several key appointments commencing work in the period.
"Beyond the evolution of the senior management team it is evident that many change programmes are already underway across the business. So, we see new partnerships and alliances (e.g. Founders Factory and True) aimed to make M&S a more digitally capable organisation. Additionally, the highly involved and time-consuming exercise of re-engineering the Group's domestic store estate has commenced along with the modernisation of the respective Clothing and Home and Food supply chains. So, if there is one thing that hits 'one' about M&S at the moment, there is absolutely loads going on."