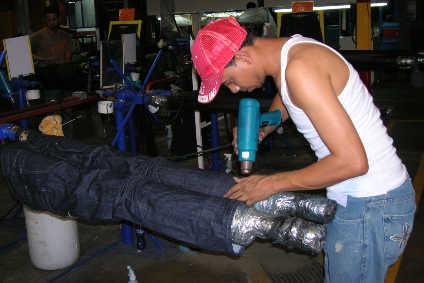 Mexican and Central American garment factories are shutting down as regional governments respond to the coronavirus outbreak and US demand slumps as retailers face widespread shutdowns to contain the global health emergency.
"Central American factories are closing," confirms Steve Lamar, CEO of the American Apparel & Footwear Association (AAFA), who has joined other trade groups to ask the Trump administration to remove Chinese tariffs to help the US textiles and apparel industry cope with Covid-19.
In a letter to Trump this last week, the association also teamed with many others to ask that Washington's upcoming $2 trillion stimulus to help it survive the crisis takes retailers in mind.
Lamar won't elaborate on what retailers and manufactures will specifically demand but says any measures will help to preserve 1.7m retail jobs in the nation.
The 85 national and state retail organisations that signed the letter say the main issue facing the industry right now is liquidity, with retailers struggling to stay afloat amid social distancing and mandatory store closures.
Research from the National Retail Federation (NRF) predicts the US retail sector could see a reduction of 20% or more in retail sales over a period of three months – a loss of US$430bn.
Mexico shutters as US faces recession
In Mexico too, many factories are closing, curtailing operations or re-tooling their supply chains to make virus-resistant masks and gowns.
This is to survive the virus's toll on the US economy, expected to contract 14% in the second quarter while the virus forces the world' capital fashion New York and other large cities to grind to halt. The rest of the word, meanwhile, is already in recession, analysts say.
"We are reducing our operations as our US customers are either cancelling orders or delaying them," says Arturo Vivanco, who leads maquila operator Confecciones Vivanco.
He adds Mexico, which has lost a significant market share to the US in the past decade, could see exports decline at least 10% as factories including fabric and denim giant Kaltex cut capacity.
There are also concerns that the US-Mexico border shutdown will halt clothing shipments after Trump ordered that until 20 April only essential goods circulate from the two countries to tackle the disease.
Amid these headwinds, Vivanco notes his firm has a lot of retained merchandise waiting for buyers and that the excess will inevitably lead to losses this year.
Tegra, New Holland close in Honduras
In Honduras, where trade executives recently told just-style that Covid-19 was not hindering orders or affecting its massive T-shirt and underwear supply chain – the industry making wears for Fruit of the Loom and Gildan is also unwinding pending clarity on future demand.
To stem the spread of Covid-19 the government of Honduras has extended what was initially a week-long closure of all private enterprises operating in the country to 29 March.
Canadian apparel maker Gildan Activewear has responded by temporarily suspending production at all of its manufacturing facilities until mid-April.
Fredy Carrasco, head of the labour syndicate at textiles maker Tegra, confirms his company will also shutter its operations this week after closing in mid-March, sending 3,700 workers home. Workers at another affiliated site, New Holland Apparel, have also been idled, leaving another 4,000 without jobs and fearing for their future.
"We don't know when they will be reopening," Carrasco says, adding that so far Tegra and New Holland have not discussed how much pay they will offer during the production halt. "There is no work and no food."
Honduras's 97,000 textile workers face similar gloom as other factories also close, at least temporarily, until US brands resume orders.
Their plight highlights a similar situation for operators across Central America where governments have announced measures to contain the virus and help vast numbers of impoverished citizens survive the crisis.
Crisis hurts workers
"The help so far is insufficient," says Abelardo Medina, a leading economist with regional economic think tank Icefi, referring to a $200m package from El Salvador and others by Guatemala, Honduras and Panama, which run under $50m.
"The health and social aid systems are so poor that if this crisis continues we are going to have a huge mortality," Medina points out. "Guatemala, for example, has more than 50% malnutrition, so if a child gets sick he is not going to survive because the care is so limited."
Only Costa Rica can arguably face the crisis as it has much broader universal healthcare. The government has prioritised spending away from defence and into social security and education. However, it's unclear if and to what extent the country's $1.7bn aid package will help the poor as it so far provides tax breaks for large companies and the wealthy, Medina concludes.
What countries across the region are doing to stem the flow of Covid-19:
Guatemala – Authorities have implemented containment and social isolation measures to limit the virus's spread, including the closure of all land borders for 15 days (from 16 March) and a ban on foreign nationals entering Guatemala by air. An eight-day national curfew was introduced on 22 March; and on 24 March the government voted to extend the state of national emergency by 30 days.
Colombia – Colombia's government has introduced a national 19-day quarantine beginning on 25 March to limit the spread of the coronavirus. It has also introduced a COP14.8 trillion (US$3.8bn) fiscal stimulus package to mitigate the economic impact of the virus.
Mexico – The US-Mexico border has been closed to non-essential travel to slow the spread of the coronavirus until 20 April.
Honduras – To stem the spread of Covid-19 the government has extended what was initially a week-long closure of all private enterprises operating in the country to 29 March.
El Salvador – All public and private enterprises were closed on 16 March. According to the Solidarity Center, a non-profit organisation aligned with the AFL-CIO labour federation, some employers hope to use the Covid-19 pandemic as a way to close factories rather than negotiate with workers. FEASIES, a federation representing maquila and domestic workers, is gearing up for action at the end of the month.