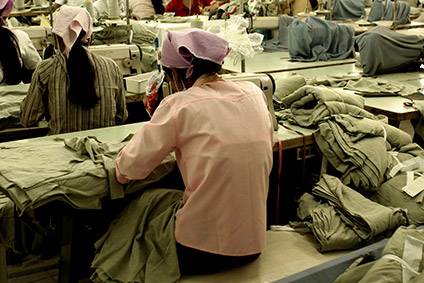 Retailers need to move away from an obsession with sourcing costs and focus instead on reinventing their operating model to unlock trapped value in their supply chains.
Market price pressures, rising labour costs and increasing requirements for reactivity and speed are the top three concerns for sourcing executives, according to research by Kurt Salmon, part of Accenture Strategy, titled, 'From Cost Focus to True Value Creation – on the Road to Analytical Sourcing & Supply Chain.'
"Global increases of cost for apparel and footwear production have steadily continued during the last two years," the consultancy explains. "Sourcing markets with stable costs are rare, while the vast majority showed strong to very strong increases in production costs. This does not only affect China, which has already been on a strong upward trend for many years, but also many of the typical low-cost sourcing destinations in South East Asia like Bangladesh, Pakistan and Indonesia."
Recent cost increases have been driven by both rising labour costs and strengthening local currencies in sourcing markets versus the US dollar and the euro. And higher labour costs are being driven by rising minimum wages in developing markets and stronger competition for skilled factory workers, especially in China.
Consequently, brands and retailers are continuing to search for alternatives in their global sourcing portfolios, shifting production to capitalise on more cost-effective markets. They are, however, only chasing a temporary fix to a much bigger problem as costs continue to rise in the majority of sourcing regions.
An item sold for US$100 at retail, for example, will comprise $20 of cost of goods sold (COGS), which contains labour costs of $6-10. A 10% reduction in labour costs has only a limited impact of $0.60-$1, equalling less than 1 percentage point in gross margin improvement, the report shows.
Instead, it suggests retailers move away from a sourcing cost obsession and focus on reinventing their operating model to unlock trapped value in their supply chains.
"While [moving sourcing] is easing the pressure on the cost side, in the short term it is adding clear risk on flexibility and operational performance as well as product quality and corporate social responsibility. In addition, capabilities and capacities for selected product groups are not available in the same breadth and quality, limiting the opportunity for larger shifts of volume especially of products on higher price points and with more sophisticated technical requirements."
Closer alignment
While shifting volumes to lower cost countries might appear to be a way out of the gross margin trap, the report points out that its true effects are limited.
"There are much more powerful levers suited to build a truly differentiating answer from the product development and sourcing side for the current market challenges many brands and retailers are facing," Kurt Salmon says.
The report suggests a closer alignment between product developer and supplier can play a significant role in unlocking margin potential by providing "true consumer value and brand differentiation with regard to product innovation, time to market, reliability and execution excellence, as well as superior technical capabilities and quality."
Product innovation: The key enabler for differentiation in a competitive environment. Access to deep technical expertise and unique handwriting of product groups that are critical for brand building as well as curated supplier portfolios with the true ability to drive innovation, evolve to an indispensable asset to drive top line as well as markdown and margin performance.
Time to market: This requires being closer to consumer needs with critical seasonal milestones on concept, design and development for adoption of trend impulses as well as buying decisions to ensure market right products and quantities. Sourcing plays a critical role in enabling differentiated seasonal calendars based on individual product needs and a balanced mix of near shore and far east sourcing destinations.
Demand and supply responsiveness: A significant part of end-of-season stock and related markdowns stems from buying and production volumes being insufficiently aligned with actual consumer demand on the shop floor and online during the full price selling period. The main objective is to act vertical while typically not owning the different stages of the value chain down to production.
Reliability and execution excellence: A delivery delay of one or two weeks will diminish sell-through performance if the overall planned lifecycle is only eight weeks. A reliable collaboration on both brand and supplier side will significantly increase importance and clearly dominate compared to short term FOB cost advantages.
Product quality and sustainability: Social and environmental responsibility in production cannot be de-prioritised versus cost anymore without risking the future of any apparel company. Returns from mismatch of expectations with regard to quality, size and fit are a significant cost position, which is difficult to effectively avoid without aiming for the root causes.
The value chain
In re-shaping the fashion value chain, Kurt Salmon says technology will be the key enabler to unlocking trapped value. Digital technologies will enable better collaboration, visibility and control across the entire value chain, which in turn will improve product innovation, time to market, reliability, execution and quality.
And data analytics is helping retailers to improve sell-through performance, markdowns, and gross margins, while the adoption of cut and sew robots is increasing as a means of improving efficiency and ultimately cutting cost.
"Taking such a consequent value driven product development and sourcing approach is a powerful lever to drive consumer benefit and at the same time realise significant improvements with regard to sell-through performance, stock turns, markdown, and gross margin," Kurt Salmon says.
"The benefits are by far outperforming potential short-term gains from moving to the "even cheaper" place in the global sourcing landscape. And most importantly this does not just apply to premium/ luxury brands, but also to mid-market and even value players."