Child labour challenges in Myanmar's garment sector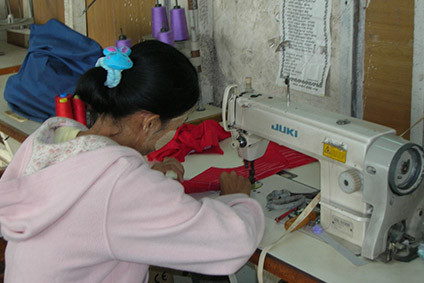 Young workers participate in Myanmar's garment sector
Widespread poverty, low rates of secondary schooling, and lax labour law enforcement are being blamed for the presence of child labour in Myanmar's garment sector, with a new report suggesting the risk factors could increase as the manufacturing sector grows.
The research from global non-profit group Business for Social Responsibility (BSR) suggests child labour in the country "is unsurprisingly a common option for families in need of additional income," and that workers below the legal minimum age of 14 are prevalent in many sectors. The problem is compounded by the fact that age verification is difficult.
For buyers and investors looking to the country in search of new sourcing opportunities, this obviously presents a major challenge when it comes to ensuring that labour practices meet or exceed international standards.
Part of the problem is that Myanmar has spent over a decade cut off from Western markets and the resulting compliance culture that has evolved around social and environmental management of supply chains.
Many buyers have chosen to limit their risk and exposure by working solely with established foreign-owned suppliers that already have years of experience adhering to supplier codes of conduct, and often require a minimum age for their workers of 16 or even 18.
But this strategy "ignores the broader context and real challenges of widespread poverty and scarce educational opportunities in Myanmar," the BSR report says.
"It also neglects the potential for international investment and supply chains to contribute to a future where children in Myanmar spend their days in school, not in factories. And it overlooks the real risk that the use of child labour outside of responsible companies' own supply chains will tarnish the 'Made in Myanmar' brand."
The findings in the study 'Child Labor in Myanmar's Garment Sector: Challenges and Recommendations,' are primarily based on interviews with industry observers and participants, and suggest that while underage garment workers are rare, young workers do participate in the garment sector but usually make up a small percentage of a factory's workforce. However, they often work the same hours as adults, and laws regulating their working hours and conditions are not being enforced.
The report also suggests that increased access to US and European markets is reshaping the garment industry, but the majority of factories are not yet selling to US and European buyers so their labour practices are lagging.
However, as the garment manufacturing industry grows, the risk factors for child labour could change as well. The demand for low-cost labour will increase as new garment factories open. Other sectors of the economy are also growing, heightening the competition for skilled workers. New minimum wage requirements are also affecting the profile of labour demand, and changes in industry structure could increase the risk of child labour if subcontracting and third-party suppliers become more common.
Protective framework
Among its recommendations, the research says buyers and investors should support the establishment of a protective framework that includes enacting clear and coherent laws and regulations, fostering cultural norms that prioritise education for children until the legal minimum working age, ensuring livelihoods for adults that can support the entire household, and implementing a system of monitoring and enforcement that includes workers, management, inspectors, unions, and community members.
Building this protective framework is a long-term prospect, it says, and an ongoing due diligence approach that addresses uncertainties and broader systemic challenges will be crucial to successful sourcing operations.
However, buyers and investors can also significantly contribute by providing enhanced training and tools for recruitment and hiring in the workplace, as well as clear guidelines and systems to ensure good working conditions for young workers.
Young workers who are legally employed but who do not meet the minimum working age of supplier Codes of Conduct should not be terminated. Instead, raising awareness among workers and effective feedback mechanisms will help ensure that workers themselves are actively involved in prevention and remediation of child labour.
The sector as a whole can also play its part by supporting initiatives such as the Myanmar Garment Manufacturers' Association (MGMA) Framework of Action for preventing and remediating child labour, and pursuing partnerships with key government agencies.
Meanwhile, appropriate remediation for underage and young workers should include improved access to education. Broader support for awareness-raising efforts with families and communities, and creation of safety nets for households, would also help to change a societal context in Myanmar that currently enables child labour.
Rate of change
The challenge of tackling child labour in a country undergoing major socioeconomic and political changes may seem like a monumental task, the BSR report acknowledges, but it also points out that "the pace of change is also creating an unequalled opportunity to establish an industry that works well for workers.
"As the government changes, new legislators and ministers will be looking for ways to help build the economy and workforce. Measures will be put in place to help address widespread poverty and the failures of the education system. International capital is sorely needed to help build the domestic economy, including export-oriented sectors like garment manufacturing. But in addition to capital, there is knowledge to be shared."
Lessons can be learned from how the garment sector has addressed labour issues in Cambodia, Bangladesh, Vietnam and Indonesia – and many of the tools and protections in place elsewhere can provide ideas for Myanmar too.
It adds: "International buyers can play a crucial role in shaping the industry, through sharing knowledge about best practices in labour management alongside tips on lean manufacturing and quality control.
"Communicating expectations, not just about "zero tolerance" on child labour but also on how best to protect and empower workers through a participatory rights-based approach, will help to build a better garment sector in Myanmar from the ground up."
Create sourcing plans that work
Find new apparel sourcing destinations, assess trade flows and manage tariffs. All in one place.
Oops! This article is copy protected.
Why can't I copy the text on this page?
The ability to copy articles is specially reserved for people who are part of a group membership.
How do I become a group member?
To find out how you and your team can copy and share articles and save money as part of a group membership call Sean Clinton on
+44 (0)1527 573 736 or complete this form..