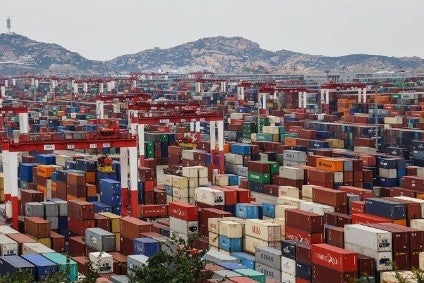 February is historically the slowest month when it comes to US apparel imports due to annual shutdowns in China for Lunar New Year celebrations. This year saw overall shipments down double-digits, but factory shutdowns lasted longer, continuing into March due to the outbreak of coronavirus where the epicentre was the Hubei province in China.
The latest figures from the Department of Commerce's Office of Textiles and Apparel (OTEXA) show the volume of US apparel imports from all sources was down 13% month-on-month in February to 2bn square metre equivalents (SME).
The figures for February also show an 11.6% drop in volume against the same month last year and an 11% drop in value terms year-on-year to US$5.9bn.
In terms of individual supplier countries, six of the top-ten recorded a year-on-year increase in May, with Cambodia booking the largest growth.
China, the largest supplier of apparel to the US, booked the largest fall in shipment growth with volumes down 36% to 580m SME. On a month-on-month basis, shipment volumes fell 29%.
The second-largest supplier, Vietnam, saw only flat growth on a year-on-year basis of 0.27% to 335m SME, again a fall from January, where shipment volumes came in at 393m SME.
Of the remaining sourcing giants, Cambodia booked the largest growth in shipment volumes, up 24.53% year-on-year to 95m SME.
Pakistan also saw considerable growth in shipment volumes, compared to last year, at 20.95% to 50m SME.
India booked a 7.65% jump in shipment volumes for the year to February at 111m SME followed by Bangladesh, the third-largest supplier of clothing to the US, booking shipment volume growth of 7.32% at 190m SME. Honduras saw volume growth of 6.55% to 81m SME.
Indonesia saw the largest fall after China at 11.39% to 95m SME on a year-on-year basis. Mexico and El Salvador saw shipment volumes decline 5.24% to 64m SME and 4.1% to 56m SME, respectively.
However, on a month-on-month basis, these three nations saw the highest growth in shipment volumes of the ten.
Textile and apparel imports, meanwhile, fell 11% year-on-year to 4.78bn SME, and by 11% in value terms to $7.8bn. Textiles alone, meanwhile, recorded a fall of 10.56% to 2.78bn SME, and in value terms were also down at 9.6% to $1.89bn.
Nine-year overview
Taking a broader look at the data over a nine-year period from 2010 to 2019, Vietnam is the only country in the top ten to have seen a steady increase in import volumes to the US, growing from 1.91bn SME in 2010 to 3.95bn SME in 2019 – its share of total imports rising from 7.72% to 14.26%.
China's imports have fluctuated over this period, from 10.4bn SME in 2010, falling to 9.74bn SME a year later, before reaching a peak of 11.38bn SME in 2015. Shipments dipped again in 2016 to 11.17bn SME, and last year dropped to 11.08bn. The country has lost marginal US apparel market share, from 41.98% in 2010 to 39.93% in 2019.
Indonesia, Mexico, El Salvador, Honduras and Pakistan are all exporting less to the US now than they were nine years ago. Cambodia, India and Bangladesh, meanwhile, are exporting more.
Cambodia has increased its exports to the US from 947.11 SME in 2010 to 1.04bn last year, maintaining a relatively stable share of the US apparel market at 3.8%. Bangladesh has grown its exports from 1.61bn SME to 2.01bn SME, improving its market share from 6.5% to 7.25%.
Facts behind the Figures
February is historically the slowest month when it comes to US apparel imports due to annual shutdowns in sourcing powerhouse China for Lunar New Year celebrations. This year has been much the same, but shutdowns lasted longer, continuing into March due to the outbreak of coronavirus where the epicentre was the Hubei province in China.
Despite a 5.06% year-on-year drop in shipments from China in 2019, the country still reigns supreme, reporting total US imports of 11.08bn SME for the 12-months from January to December.
This is almost three times that of its closest competitor, Vietnam, which recorded a total of 3.96bn SME for 2019. China's shipments to the US are also five times as big as those of third-largest US supplier, Bangladesh, and equal to the combined total of the next seven largest suppliers on the top-ten list.
The latest figures for February, showing a drop on last year's numbers as well as a sharp drop on the figures from last month, are reflective of a country-wide factory shutdown for the Lunar New Year holiday. We are also starting to witness early signs of the impact of the coronavirus outbreak that began in Wuhan. By the end of January, 8,000 cases were confirmed and over 170 deaths had been reported. Chinese authorities placed Wuhan under quarantine and banned travel out of the country. It also closed public transportation in some cities and factories in key apparel-producing provinces Guangdong and Zhejiang extended factory closures until mid-February.
Though factories were starting to reopen by the end of February, makers were struggling to get back on track. As well as delays to garment production and export, the production of garment components and export was also impacted, meaning other major sourcing countries — Vietnam, Cambodia and Myanmar — also experienced interruptions to their production. More recently, stores across the world have been closed in a bid to control the spread of the virus. Consumer demand has also been hit with millions of Americans out of work and prioritising essentials over clothing when it comes to shopping.
Cambodia booked the largest growth in shipment volumes to the US on a year-on-year basis in February, despite a fall in shipments from last month.
Cambodia is the sixth-largest global garment exporter in terms of value. Its economy depends heavily on the garment industry, which accounts for more than 78% of the country's total merchandise exports and 20% of its annual economic growth and is the main non-agrarian employer in the country with nearly 700,000 garment workers employed in 1,500 factories. These factories are almost exclusively Chinese-owned. In January, the country reported a 24% jump in the number of footwear and garment factories registered for exports compared with the previous year.
According to the full-year data from (OTEXA), Cambodia's per-unit cost of apparel came in at $2.56 per square metre equivalent (SME) in the 12 months of 2019. Though China is the only country where prices have consistently fallen annually to an eight-year low of $2.24 in 2019, when looking at its Asian neighbours that are also major sourcing nations, Cambodia is the next cheapest. Indonesia is the highest at $3.89 followed by India and Vietnam at $3.61 and $3.42 respectively.