Clothing sector likely major loser from Myanmar coup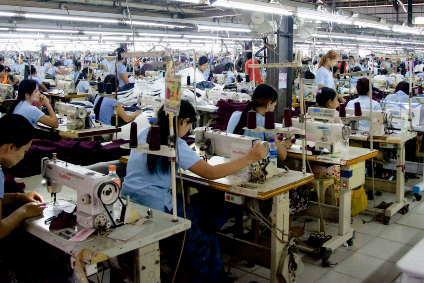 Clothing, footwear and handbags are Myanmar's second largest export sector
This week's military coup in Myanmar puts foreign investment at risk, poses the threat of trade sanctions, and may prompt some clothing companies to sever their sourcing ties with the country.
Following weeks of worsening political tensions in Myanmar following disputed elections in November 2020, the Southeast Asian country's military seized power on Monday (1 February), just hours before the first sitting of the new parliament.
Claiming the results were marred by widespread voting irregularities and electoral fraud, the military's proxy party, the Union Solidarity and Prosperity Party (USDP), attracted little support. Instead, the National League for Democracy (NLD), led by Aung San Suu Kyi, secured a landslide in the seats available to contest.
A state of emergency has now been imposed for up to one year, state counsellor Aung San Suu Kyi and president U Win Myint have been detained, and communications in much of the country have been cut off.
The coup has attracted international condemnation, with US President Joe Biden denouncing it as a "direct assault on the country's transition to democracy and the rule of law."
He says: "We will work with our partners throughout the region and the world to support the restoration of democracy and the rule of law, as well as to hold accountable those responsible for overturning Burma's democratic transition.
"The United States removed sanctions on Burma over the past decade based on progress toward democracy. The reversal of that progress will necessitate an immediate review of our sanction laws and authorities, followed by appropriate action."
The European Union's vice president of foreign affairs and security policy, Josep Borrell described the coup as "a clear violation of the country's constitution," and said the EU "calls for the immediate restoration of the legitimate civilian government in Myanmar, and the swift opening of parliament with the participation of all elected representatives. We are in touch with our international partners on this most pressing issue to ensure a coordinated response."
Relative newcomer
A relative newcomer to the apparel sourcing mix, Myanmar's garment export sector has seen dramatic growth since the country began to emerge from decades of isolation and military rule around ten years ago and counts brands and retailers including M&S, Next, H&M, Bestseller and C&A among its customers.
The director general of the European Textile and Apparel Confederation, Euratex, has warned that the military takeover in Myanmar could halt the boom in clothing export sales to Europe, which grew 40% in 2020, year-on-year.
Dirk Vantyghem told just-style this has been achieved through a major increase in Chinese investment into the country's clothing industry – its upstream textile segment remains small. As a result, at the time of the coup, Myanmar was Europe's 10th largest source of apparel imports, with clothing having become one of the country's largest export sectors.
As a result, says Vantyghem, with brands likely to reduce orders from the country because of political risk: "From a development angle this will have a devastating impact on the Myanmar economy." He knows the country well, having in his past role at Eurochambres helped set up business lobby group EuroCham Myanmar.
Vantyghem says he is unsure the extent to which European brand orders would migrate to near-shoring after the coup: "It's difficult to quantify. I think to a limited extent Turkey may benefit as may Portugal and Romania."
Perhaps more likely would be that Chinese-owned plants in Myanmar may seek to persuade buyers to move orders to associated factories already in place in Bangladesh and Vietnam, which both benefit from privileged access to European markets. He stresses how Chinese clothing and textile manufacturers are increasingly viewing Vietnam as a gateway to Europe because of its recent free trade agreement. "From a Chinese perspective they have sufficient options to manage production capacity."
He predicts: "Who will suffer most will be the women in Myanmar," who have been working in a self-employed capacity for the country's booming clothing sector. He adds that if the EU imposed sanctions it would make matters worse for its apparel exporters – Myanmar currently has almost completely free access to EU markets through the EU's Everything but Arms free trade status.
Second largest export sector
Clothing, footwear and handbags are the country's second largest export sector and jumped 26% year-on-year to reach US$6.7bn in 2019, of which around US$5.2bn is apparel. Exports in the first 11 months of 2020 slipped back to about $4bn. The European Union is the biggest customer, taking 54% of all apparel exports, according to SMART Myanmar, the EU-funded initiative that promotes 'Made in Myanmar' garments and sustainable practices. Next come Japan and the United States, receiving 18% and 9% of exports respectively.
Buyers and investors are attracted by the country's large workforce and low wages, as well as duty-free access to the European Union (EU) under the Everything But Arms (EBA) arrangement.
Even so, Myanmar remains a controversial sourcing base. Not only is it lagging in key areas including political and legislative reform, compliance and sustainability, infrastructure and energy, but perhaps more worrying are widespread concerns over issues ranging from ethnic violence to abusive and illegal labour practices.
Indeed, the coup leader, General Min Aung Hlaing, along with others in the Tatmadaw – the official name of Myanmar's armed forces – has already been accused by the United Nations of war crimes in connection with the persecution of the Rohingya and other ethnic minorities.
Research by the UN in 2019 also prompted a number of brands to review their sourcing from Myanmar to avoid being linked to violations of international human rights and humanitarian law after several garment suppliers were found to be connected to the country's military.
The European Union has also threatened to remove Myanmar's Everything but Arms duty-free trade benefit in response to the alleged ethnic cleansing of the Rohingya.
On top of this, of course, the country has also been badly hit by the Covid-19 pandemic. The sector started last year with around 690 factories employing over 700,000 workers – but an estimated 60,000 workers have since lost their jobs and around 200 factories closed as buyers cancelled orders.
Political risk
The president of the United States Fashion Industry Association (USFIA) has warned that the military takeover in Myanmar could spark a significant shift in sourcing away from this Southeast Asian country if democracy is not restored promptly.
Julia Hughes told just-style: "If there is not a quick resolution, then yes we would expect a major shift to other Asian suppliers."
Given that brands and retailers need to include political risk within their standard supplier risk assessments, Hughes predicts that even with "a relatively quick resolution" to the crisis, with Myanmar returning to democracy, "there probably will be some companies that decide to shift sourcing to locations that are considered safer."
As it stands, she says the USFIA does not know whether there will "be any disruption to production in Myanmar, or to logistics to and from Myanmar," which is the association's immediate concern.
While the coup immediately triggered some US government sanctions, the association, which represents US brands, retailers and importers, believes the Biden administration hopes it can pressure the military to give back power to elected officials.
Sourcing slowdown
Commenting, Mike Flanagan, CEO of UK-based apparel industry consultancy Clothesource, thinks that the military take-over will halt expansion within the Myanmar clothing industry, which has continued during 2020, despite the Covid-19 pandemic.
A key problem, he says, is that when brands look to make real sourcing plays in a growing outsourcing hub, they like to install their own executives to oversee production or use third party expert agents.
Even if there are no mass violent protests following the coup – which is far from certain – the risk of sending representatives to Myanmar has clearly increased and that will restrict brands' willingness to participate directly in growing orders and production in the country.
He does not foresee a collapse in sourcing because of protracted violent unrest, however. The fact that democratic leader Aung San Suu Kyi chose to remain in the country when almost certainly knew in advance about the takeover indicates to Flanagan that she prefers stability over the chaos that could have been seeded by her fleeing the country. If she had, then the only way she would return to power would be via rebellion and revolution in Myanmar, a contrast with her gradualist approach to easing control from the military during her years of house arrest before assuming power in 2016.
Flanagan said the military move might help China, given Myanmar's expansion was offering real alternatives to brands seeking a new outsourcing centre, alongside Bangladesh and Vietnam. With the Chinese government keen to retain domestic clothing and textile production capacity, "now there's one less place to move, it makes life easier for China."
Substantial impact
As for the US, Hughes says that while Myanmar currently ships less than one-half of one percent of US apparel imports, it "has been one of the few apparel suppliers that has been expanding sales to the US market during the pandemic fall-out in 2020. So, while the numbers are low, there are a growing number of brands and retailers who are starting to source there."
Indeed, according to the Department of Commerce's Office of Textiles and Apparel (OTEXA), US apparel imports from Myanmar jumped 56% in the first 11 months of 2020 to 104.7m SME (square metres equivalent). By value, the rise was 26% to US$231.5m. This compares with a 24% decline in the volume of total apparel imports into the US over the same period.
As for niches, Myanmar has been building sales of manmade fibre flatgoods, luggage and travel goods, which enter duty free into the US under its GSP (Generalized System of Preferences) programme. "That growth in apparel, and especially in travel goods, helps to explain why the coup could have a substantial impact if it is not resolved reasonably quickly," added Hughes.
EuroCham Myanmar, the EU chamber of commerce in the country, has released a statement saying it is "closely monitoring the situation and sharing timely developments to our members." It adds: "We recommend everyone to stay home, practice caution and stay safe until the situation becomes more clear."
With additional reporting by Keith Nuthall.
Click on the following links for further analysis of the potential impact of the Myanmar coup on the country's clothing industry:
Create sourcing plans that work
Find new apparel sourcing destinations, assess trade flows and manage tariffs. All in one place.
Oops! This article is copy protected.
Why can't I copy the text on this page?
The ability to copy articles is specially reserved for people who are part of a group membership.
How do I become a group member?
To find out how you and your team can copy and share articles and save money as part of a group membership call Sean Clinton on
+44 (0)1527 573 736 or complete this form..