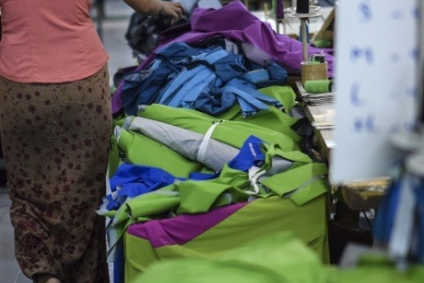 The Myanmar clothing industry is continuing to struggle to operate effectively as political unrest continues following the seizure of power by the country's military earlier this year.
Garment manufacturers, most of whom are located in the country's commercial capital Yangon, are a major employer and a significant source of foreign currency for Myanmar. The sector employs more than half a million jobs and generates over US$6bn in sales annually, according to the European Union (EU) embassy to Myanmar.
But violent clashes between security forces and protestors seeking the restoration of democratic governance have caused serious damage, especially in the industrial zones in northern Yangon – Hlaingthaya and Shwepyithar – where Chinese garment factories were burnt down by arsonists last month.
The Shwe Nagar, Ngwe Kyi, Global Fashion, Soldar Moda, Sewn mar Htet, Honor April and JCK manufacturing plants were torched. As a result, other factory owners in Yangon have shut down their plants out of fear of similar attacks.
The cost of such disruption is serious. Textile and garment exports to the European Union (EU) were valued at more than US$1.4bn in 2020, with clothing accounting for 80% of Myanmar's total exports to the EU, according to the EU embassy.
Mixed outlook
Garment factory owner U Aung Min, who is also a member of the central executive committee of the Union of Myanmar Federation of Chambers of Commerce and Industry (UMFCCI), says outside the major Yangon troublespots, the outlook is mixed.
Some clothing manufacturers have reopened their factories – often with limited operating hours from 9am to 3pm – after closing them in the initial aftermath of the coup. But others are still shut down, with managers fearing the ongoing unstable political turmoil and sporadic violence in Yangon's industrial zones.
U Aung Min has reopened his own garment factory in the South Dagon industrial zone, southeast Yangon, but told just-style: "Factory owners are very careful about their factory safety."
He says some shopping malls and markets have also opened again (also with limited operating hours), with some consumers venturing outside. But business is largely sparse because Myanmar residents venturing out of their homes can be attacked – or even killed – on the street at any time and for no reason.
Myanmar's Assistance Association for Political Prisoners group claimed on 3 April that more than 550 civilians had been killed in protests and unrest since the military takeover.
Banking has also largely shut down since the coup on 1 February, although basic services are now available in a limited number of locations after military generals threatened prison terms for business owners and workers who refuse to work.
That said, the protests have effectively brought most of the economy to a grinding halt, with foreign sanctions now restricting the military's access to funds. This is of economic importance, given the active role played by the military (known locally as the Tatmadaw) in many industries – although not the clothing and textile sector.
Some Chinese-owned clothing and textile manufacturers have closed, because their workers, associating China with the coup, have boycotted Chinese factories.
Other plants have closed because workers have returned to their homes in rural regions, fearing for their safety where factories are located near zones of unrest.
Also, some foreign companies have ceased dealing with Myanmar manufacturers in response to calls from a shadow democratic government, the Committee Representing the Pyidaungsu Hluttaw (CRPH). While this does not formally include clothing manufacturers, a garment factory owner who requested anonymity, says: "Europe doesn't want made in Myanmar product anymore and also Chinese factory owners want to shut down their factories in Myanmar because people do not want them."
As a result of all of all this disruption, the value of the Myanmar kyat has fallen in the last two months, making imported textiles more expensive – although lowering the cost of selling Myanmar-made clothes. US$1 bought MMK1,331.50 on 31 January and MMK1,406.36 on 7 April.
Logistics disruptions
Trade logistics are also being disrupted. For an export-dependent country this is of major concern.
The primary border crossings to China from Shan State, northern Myanmar, such as the Man Win frontier, were closed at the beginning of April, with Covid-19 concerns being cited as the reason by the Chinese government.
Meanwhile, the major border crossings with India in Sagaing Region and Thailand in Kayin State, have been closed by the Indian and Thai governments, with Myanmar's political instability being blamed.
As a result, maritime shipping remains the best choice for exports and the Myanmar Port Authority (MPA) – a government agency – says it continues to handle daily port operations and management. Yangon harbour is receiving and exporting goods, processing mail and customs clearance requests. However, exporters have complained that transporting containers to and from the port by truck is still proving difficult.
According to a local expert on international trade, who requested anonymity, while this does mean that in theory garment exporters can trade with partners in Europe and Asia, "shipping cannot return to 100 per cent of operations due to the impact of the civil disobedience movement (CDM) among customs officers, and the heightened security situation in Yangon. But the military are trying to return the city to a normal state of affairs."
Ongoing challenges
The Tatmadaw is certainly being proactive. It has established a large military and police presence to suppress ongoing protests in the six townships currently under martial law: Hlaing Tharyar, Shwepyitha and South Dagon, all of which have significant clothing and textile sectors, as well as North Okkalapa, North Dagon and Dagon Seikkan.
Moreover, since mid-March the military has periodically cut mobile internet services for indeterminate periods of time in an attempt to prevent protestors communicating, and has shut down all telecommunications for eight hours every night.
Over the Easter weekend, the government severed wireless internet services for three days nationwide to prevent journalists and bloggers from highlighting the junta's violence and shedding light on the political situation. All these steps have increased disruption to the textile and clothing sector.
Despite all these problems, garment factory owners are managing to export their goods abroad and run their factories with a skeleton staff.
U Aung Min says: "I can ship my garment orders to Europe now. I expect that all trading processes and business will normalise after Thingyan [the Burmese New Year festival from 13-16 April]."
He notes that the US, EU and other international jurisdictions have "not sanctioned the garment sector yet, so garment traders can still take advantage of shipping lines to export their goods."
How long this potential commercial lifeline will continue to be open remains to be seen.
Garment, footwear and accessories are Myanmar's three largest export sectors, accounting for one-third of total exports. Exports of garments, footwear, and accessories more than tripled between 2016 and 2019 to US$5.8bn, with the sector also a huge source of employment. The nearly 600 factories in the country employ around 500,000 workers.
European and US fashion brands have been urged to protect jobs and honour all existing commitments made to factories in Myanmar, although H&M Group and Italian clothing retailer Benetton Group have suspended all new orders as violence continues to unfold across the country.
Groups representing garment workers, meanwhile, have called on global fashion brands to condemn the military coup, provide meaningful support for worker protests, and to not order from factories that support the regime.