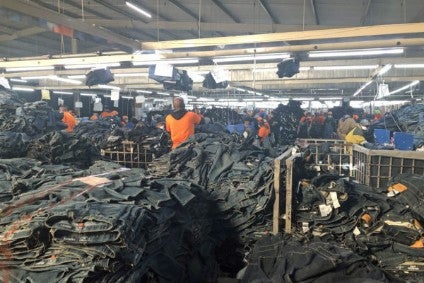 The coronavirus pandemic is seen as triggering a set-back for labour rights in apparel supply chains, with workers left vulnerable as brands and retailers cancelled orders. But it could also lead to re-thinking on the sustainability front, industry executives say.
"We are going to see a very significant increase in slave labour," says Kerry Bannigan, founder of the Conscious Fashion Campaign, set up in collaboration with the United Nations Office for Partnerships.
Apparel workers in poverty-stricken Bangladesh, Vietnam and other developing countries, who lost their jobs after a surge of order cancellations by retailers and brands, "are in a position in which they don't know what to do for money. Desperate measures will come into place" making workers more vulnerable to illegal wages and exploitation, she explains.
Sadly for the labour rights movement, Covid-19 is set to erase many of the actions taken in recent years to curb human rights abuses across global supply chains, observers say.
"We will see a decline in safety measures and policies to protect workers and with that, we will see an increase in modern day slavery and workers' loss of rights," Bannigan continues. "We will probably lose all the ethics gains we have made over the years."
Wal-Mart, Gap refuse pay
The Workers' Rights Consortium has set up a Covid-19 Tracker to list which brands are paying crisis-hit suppliers and workers.
The list shows some of the world's top labels and retailers, such as Gap, Urban Outfitters , Wal-Mart and JCPenney, are refusing to pay for garment orders they cancelled but which are completed or in production. A shorter, contrasting list, shows Zara-owner Inditex , H&M, Target and Tesco as having fully committed to compensate suppliers and workers for the same items.
But the help must go well beyond that, especially as developing countries fall into a deep recession, leaving resource-stripped garment workers without money to buy even basic meals, activists say.
"These brands have benefitted from very low labour costs and unregulated supplier relationships to make a profit for years. Their solidarity must go beyond borders and apply toward the garment industry's crisis in these countries," says Workers Rights Consortium (WRC ) researcher Penelope Kyritsis.
Cash-rich retailers such as Inditex and H&M should divert dividend payments into funds to help sustain their supply chain workers during the crisis, she adds.
"It's much cheaper for a company to have a happy-clappy website that says they are doing something or investing millions to open a school in Ethiopia, than it is to pay workers a living wage."
Companies cancelling orders and using that cashflow to pay investors should divert it to compensate workers through a "premium on their orders," she adds.
WRC and other activists are monitoring brands requesting help from the Coronavirus Aid, Relief and Economic Security (CARES ) act to aid virus-stricken businesses in the US. The programme bans firms from obtaining help if they pay investor dividends or engage in stock buybacks.
Whatever brands agree to, it must be legally enforceable and binding – especially as much of the aid or commitments made in recent years to ensure supply chains are free of forced labour or environmental abuses have been voluntary.
Deteriorating conditions
Still, Kyritsis envisages more misery for workers as fashion labels curtail orders in the near to medium term.
As this happens, WRC expects labour violations to spike up along supply chains in Bangladesh, India and Pakistan and even in new textile hubs such as Cambodia or Ethiopia.
"Brands won't be placing orders at the same level; this is going to have devastating effects on informal and subcontracted workers who will be more vulnerable to various violations up to forced labour," Kyritsis says. "These will include wage theft, unpaid severance and difficulties to unionise" among other things.
Working conditions and employer abuses are also expected to worsen. "Garment workers are not making a living wage and, if they have fewer options, they are more likely to accept abusive conditions. If you are in India, where some workers are down to a meal a day, if you are in a factory and you get sexually harassed, you don't have the option to quit your job."
Circular economy
But not all is doom and gloom. The pandemic could drive gains in other sustainable fashion areas such as garment recycling, though current emissions reductions from halting production will be temporary, experts say.
The UN 's Sustainable Development Goals (SDGs) call for the world to recycle 50% of clothing by 2030, up from roughly 15% currently.
Melissa O de Leon, a sustainability consultant with Regenerate Fashion, says current recycling facilities lack sufficient technology to process synthetic fabrics such as polyester or spandex with natural ones such as cotton or silk, hampering efforts to fulfil the targets. However, she expects the pandemic to provide an opportunity for fashion labels to rethink their business models and boost innovation to provide consumers – notably Gen Z and Millennials increasingly demanding these products – with new alternatives.
"There is growing pressure from private investor groups and governments for brands to explore new ways to innovate with ESG (environmental, social and governance), be it in fashion or in the medical field," says O de Leon. "Covid-19 is a world-historic change so consumers who have been focused on throwaway clothing like fast-fashion may start to care more about sustainability."
A growing used clothing and rental industry with youngsters using apps such as Depop will also help boost the circular fashion economy calling for people to recycle apparel until it's no longer useful, helping cut wastage.
"There is an uptake in fashion reuse, not so much with offcuts [such as textile fabric waste] but with consumers swapping more than ever and renting or buying used clothes," says Bannigan. She adds the virus could eventually make people wary of such practices, spurring the need for cleaning or disinfecting technologies to keep shoppers at ease.
Environmental gains?
As manufacturing slows, the environment is enjoying an emissions break. However, Bannigan predicts it will be temporary, returning to business-as-usual when life returns to normal. When that happens, fashion will likely return to its 10% greenhouse gas (GHG) and 20% water pollution contribution, she adds.
For sustainable fashion to have longer-term appeal, prices must also come down, says Elle Wang, founder of sustainable maternity brand Emilia George, which recently launched an eco-friendly mask line.
"Sustainable fashion is expensive," she says. "Fabrics are ten times more expensive than fast-fashion ones so we need to find ways to innovate to bring down costs" by mass-producing a wider range of diverse materials, for example.
In the Covid-19 era, forced labour must be tackled through stricter vetting policies, according to the designer.
"Every brand should do a very strict vetting process," she says. "The cancellation of orders will delay and reduce a lot of these practices, but we don't need a pandemic to do that. We need to start from the get go and ensure the whole manufacturing and utilisation of materials and practices with each brand follow very strict standards."
Whatever happens with the pandemic, Wang expects the sustainable fashion mission will suffer a 12 to 28-month delay until a vaccine arrives to market.
Separate research has also urged fashion CEOs to future-proof their business models by focusing on sustainability. But there are also fears its progress will slow – at least in the short term – as cash-strapped companies emerge from the pandemic unable to fund the necessary changes.