Esquel elevates green credentials with new Chinese facility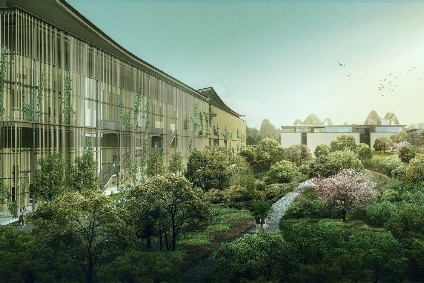 Esquel's Integral facility in Guilin aims to prove that textile and clothing manufacturing in China can be eco-friendly and sustainable
Hong Kong-based Esquel Group, the world's largest woven shirt maker, has been bedding-in operations at a ground-breaking new $313.3m manufacturing complex launched in March. With a focus on sustainability, the Chinese facility is starting with the supply of premier blended cotton yarns, with a garment factory to follow – as CEO John Cheh tells just-style.
Based in the Jiumeiqiao area of Guilin, in southern China's Guangxi province, it is part of a CNY2bn (US$313.3m) Esquel manufacturing investment project called 'Integral'. Its aim is to demonstrate how textile and clothing manufacturing in China can be eco-friendly and sustainable.
The facility includes a spinning plant and a garment factory – and is designed to be innovative. Unlike Esquel's existing spinning factory in Xinjiang, western China, which specialises in high thread count extra-long staple cotton yarns, the Integral factory focuses on specialty blended yarns, such as cotton-silk and cotton-cashmere, Esquel vice chairman and CEO John Cheh told just-style.
"The Integral spinning factory produces specialty yarns demanded by our customers. With 38,000 spindles, the designed annual capacity is 4,500 tonnes," says Cheh.
A leading and long-term supplier to global names such as Calvin Klein, Ralph Lauren, Tommy Hilfiger, Nike and Hugo Boss, the company had sales of US$1.3bn in 2017, employs 57,000 workers globally and manufactures over 100m garments each year.
It also operates a vertical supply chain that spans every step from cotton farming, through spinning, weaving, dyeing and knitting, to apparel making, accessories and packaging, retail and distribution.
So far, yarns spun by Esquel have largely been earmarked for in-house manufacturing, but the Integral factory will also profit from selling yarn to third parties, he adds. "With the capacity and quality, we will sell yarns to other companies."
Highly automated, the Integral spinning factory employs only about 150 workers.
Integral garment factory
While the construction of the adjacent Integral garment factory has also been completed, the launch of operations will wait until early 2019 as some supporting infrastructure such as dining halls are not yet ready, Cheh says.
Known for deploying automated lines, or what Cheh calls "integration lines," to make shirts at its Malaysia factory, Esquel is also testing an improved line at its Gaoming, Guangdong province factory, also in southern China, where the company has a department focusing on automation and productivity.
This line will also be installed at the Integral garment factory.
"We are constantly improving the lines to make them more stable and user-friendly," Cheh said. The Gaoming line is able to automate the handling of solid colour and striped fabric used in shirt manufacturing, but Esquel also aims to make it smarter to deal with more varieties of fabric.
The group has manufacturing facilities located in China – where around two-thirds of its products are made – as well as Malaysia, Mauritius, Sri Lanka and Vietnam.
Long an advocate in innovation, environmental protection and corporate social responsibility, Esquel's focus is not on chasing cheap labour, but instead on improving worker productivity and investing in cutting-edge technology to boost efficiency and accuracy.
However, while acknowledging automation does help improve efficiency, Cheh notes that currently human workers cannot be replaced for a wide range of tasks.
A typical example would be draping, an important procedure for making high quality garments. "It is a difficult task for robots," Cheh says.
And while Esquel is clearly keen to use automaton to reduce costs, Cheh stresses the importance of improving productivity in general.
"It's not only about saving labour costs, but also keeping workers happy to maintain low staff turnover. Staff training is also a big cost," he explains.
In Esquel, working overtime – a major reason for high turnover among textile and clothing workers – has long been discouraged, with financial incentives for productivity during the standard eight working hours day.
The Integral garment factory, which has a monthly capacity of 600,000 pieces, will employ about 1,000 workers, most of whom will be relocated from an existing Esquel garment factory in China, whose capacity is half of the Integral factory.
Esquel is also building an additional spinning plant at Guilin, which will replace an existing China-based spinning factory – a relocation, not capacity expansion, Cheh stresses.
Tourist destination
Located in an area of outstanding natural beauty, the new factory complex has been designed to look more like a leisure park or a museum, and is even expected to become a destination for tourists to see the modern face of garment production.
He adds there will be no dyeing, fabric finishing or chemical washing at the Integral facility: "Only products processed with procedures having limited impact on the environment were selected to be manufactured at the Integral factory. We want no industrial pollution at the new site."
Therefore, designs involving heavy washes are not going to be made on the Integral site, which will only take orders for non-wash products, Cheh continues.
The Integral factory will also make Esquel's private label Determinant, the men's business shirt brand sold primarily online targeting China's mass market with a price tag of about CNY290 (US$45.40).
Cheh says Determinant's simple design and colour (white only) make it ideal to be made in the Integral factory.
Determinant is sold through Esquel's WeChat store and the Chinese e-commerce platform JD.com. It recently also opened two physical stores in Beijing and Guangzhou, but mainly for branding and display – and Cheh denies there will be rapid expansion in brick-and-mortar stores for the brand.
"We don't intend to open a lot of retail stores for Determinant. But we plan to invest in marketing and logistics to attract more customers and provide better delivery services."
While not disclosing the sales of Determinant, which launched in 2016, the JD store shows the brand is well received by Chinese customers, who rate it 9.7 out of 10 points with comments like "great quality at affordable price."
With its focus on Determinant, Esquel has ceased selling another in-house brand called ShirtShop.
Cheh adds that another Esquel label – PYE – whose premium dress shirts cost starts from CNY1,000 (US$157) might continue to be made in its factory in Gaoming, where Esquel plans to invest about US$90m in the next three years, mainly in R&D and logistics, according to the company.
Integral site
Meanwhile, the Integral spinning and garment factories are just part of the first stage of construction on the whole Integral site. There will also be facilities including a R&D centre, a training centre, office buildings and an artificial lake.
A second stage of construction will include a garden to test natural dyes. Esquel is working with Kunming Institute of Botany, in Yunnan province, in south-western China, a division of the Chinese Academy of Science, to develop natural dyes. The institute is also consulting Esquel about the Integral site's green space planning.
"People often think a textile factory is a sweat factory, but we disagree. With the Integral site, we want to show the world a textile company can offer a quality work environment, and a textile factory can be advanced and sustainable," Cheh told just-style.
For more details on some of the innovations underway at Esquel Group, click on the following links:
Create sourcing plans that work
Find new apparel sourcing destinations, assess trade flows and manage tariffs. All in one place.
Oops! This article is copy protected.
Why can't I copy the text on this page?
The ability to copy articles is specially reserved for people who are part of a group membership.
How do I become a group member?
To find out how you and your team can copy and share articles and save money as part of a group membership call Sean Clinton on
+44 (0)1527 573 736 or complete this form..