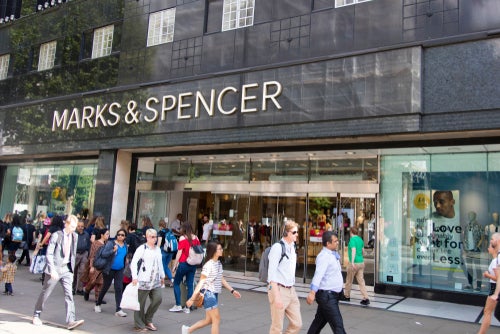 MARKS AND SPENCER's (M&S) group property store development and technology director, Sacha Berendji issued a statement last week (21 June) to share the retailer's disappointment following the UK Secretary of State's decision to call in the proposed redevelopment of its flagship store on London's Oxford Street.
He says: "The Secretary of State has blocked the only retail-led regeneration in the whole of Oxford Street in a building which was refused listed status due to its low design quality and, while safe, cannot be modernised through refitting as it's three separate buildings containing asbestos."
He also points out that a fifth of units on Oxford Street (20%) lay vacant and she claims the Secretary of State doesn't want to help the 'nation's favourite high street store' achieve what she describes as a gold-standard retail-led regeneration.
Berendji's statement highlights the company is keen to create a better place to shop for its customers and better place to work for its colleagues, as well as a better public realm for the community in a store that would use than a quarter of the energy required by the existing buildings.
He says: "Indeed an independent assessment of the building's carbon impact across its whole lifecycle concluded that the new build offered significant sustainability advantages over a refurbishment and, on completion, will be amongst the top 10% performing buildings in London. For a government purportedly focussed on the levelling up agenda, calling in this significant investment in one of our most iconic shopping locations will have a chilling affect for regeneration programmes across the country at a time when many town centres are being left behind and the property market is ever more precarious."
GlobalData apparel analyst Emily Salter tells Just Style exclusively the redevelopment of M&S's flagship store is important for the retailer's long-term success.
She also points out it would've been crucial for the revival of the west end of Oxford Street, which has suffered from numerous store closures.
She concludes: "For a retailer like M&S that prides itself on good ESG credentials, these economic benefits must be balanced against the environmental impact of its store estate, and the decision of the store's fate will likely set the precedent for similar cases."
Last month M&S announced that it would exit Russia entirely due to the war in Ukraine and also plans to close 32 UK town centre stores as part of its out of town relocation programme with less physical space being given to clothing in its new stores due to its rapid growth online.