Experts urge faster pace to sustainable fashion factories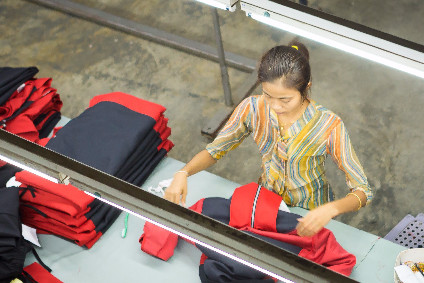 Western brands are increasingly using Myanmar as a production hub
As the global clothing and textile industry looks towards a 2017 where trade relations are unpredictable, fast fashion giant Hennes & Mauritz (H&M) invited stakeholders to an event in Myanmar – attended by just-style – to look at how to maintain stability on the factory front by improving labour relations.
A recent conference hosted by the retailer in the key emerging sourcing centre of Myanmar heard that while support for more sustainable labour practices is helping to grow the country's clothing sector, the pace of reform needs to intensify to secure more mature industrial relations within the industry, ensuring human rights and good working conditions.
H&M's first Fair & Equal event, in Yangon last month, heard from speakers representing brands, factories and trade unions.
Notably, H&M group head of sustainability, Anna Gedda, said there are still many challenges to creating fair and equal workplaces, some beyond the direct control of suppliers. And many of these issues have persisted for years: only 22% of clothing factories supplying H&M worldwide have collective bargaining agreements and 18% have trade union representation, she explained.
"At the same time, we also know that many workers in many countries today are not able to cover the basic needs for themselves or their families, and are not able to make their voices heard – they don't have a place at the negotiation table."
Freedom of association and the right to collective bargaining are fundamental human rights in themselves, Gedda insisted. They are also key enablers to address other human rights, such as living wages, and health and safety concerns, she said.
The event's host country Myanmar, now emerging from decades of isolation and state control of industry, is a case in point.
The Southeast Asian country is witnessing rapid growth in its garment industry following its transition to a civilian government appointed last April and the phase-out since 2011 of sanctions imposed by the international community because of abuses by the former military government.
Western brands have started to re-enter Myanmar, using it as a production hub, including Adidas, Gap and H&M.
For the time being, the Swedish brand is optimistic about Myanmar's social progress. Moreover H&M group head of production, Helena Helmersson, said improvements in labour relations need to be apparent in a sourcing country used by H&M.
The company will not sign production deals unless H&M managers think it can have a positive impact on local labour relations.
Business case for industrial relations
Moreover, there is a business case to be made for sustainable industrial policies.
Well-functioning industrial relations boost working conditions and, by resolving conflicts more effectively, production becomes more stable. They also provide predictability on wages and ultimately on prices.
In this regard, Myanmar has work ahead as it re-enters the international – and particularly the western – garment market.
Ronnie Than Lwin, general secretary of the Confederation of Trade Unions Myanmar, stressed at the event that Myanmar society under the previous military regime had no freedom of association. "The culture of freedom of association is new to our people, it was just reintroduced to our society very recently."
The Confederation of Trade Unions Myanmar was itself exiled for 24 years, and only returned to the country in 2012.
And Ronnie Than Lwin said there are still threats to freedom of association in Myanmar. He claimed during a panel discussion that in 2015 there were more than 37 trade unions in the garment factories, but 22 of them had been destroyed by management. This does not help companies, he argued, saying it is important that managers have partners for dialogue with workers, which generally means independent trade unions.
Gary Lee, executive director of Hong Kong-based Kei Lock Fashion Trading, said companies need to offer more training for factory managers on working with unions.
"As a factory owner, I'm positive on trade unions," he said. "But I find most of the middle managers, they have some misconceptions on unions."
He added that he is trying to educate his managers that trade unions promote industrial relations, building trust and stability.
One obstacle is that in Myanmar many factories securing contracts with international brands are foreign-owned. This means that managers are often from a foreign country.
"Then you find it is not easy to build trust between management and the workers and the unions," said Lee. He added that social dialogue is important, and requires input not only from factories and workers but also the government.
Worker empowerment
Jenny Holdcroft, assistant general secretary of the IndustriAll global union, told the event that it is important H&M has been vocal in promoting the need for functioning industrial relations. "We have to be explicit that industrial relations are about trade unions," she said.
She challenged the idea that workers choose not to join unions, pointing out that employers themselves often choose to band together in industry associations – with membership sometimes approaching 100% of a national sector. "Nobody is saying to these employers 'you have the right not to associate'," she said.
Holdcroft said trade unions empower workers and boost morale through the sense of belonging to an organisation. And she argued that democratically-elected representation in a workplace outside trade unions does not represent freedom of association, saying such alternative structures prevent unionisation.
Meanwhile, although she accepted that the clothing industry was warming to unions, there has not been a seismic shift in thinking. "I think we're creating the conditions where that might be possible in the future," she said. "I think that's the important thing," even though for the time being, a majority of owners and managers in the clothing sector are conservative and want to continue with a low-cost model that enables them to be do business.
As for Myanmar, panellists were generally optimistic about the future of its garment industry as it sloughs off the impact of past sanctions.
"I hope that the Myanmar market can develop a more sustainable environment for business through the social dialogue," Lee told the H&M event. "Working with the brands, I'm confident we can develop a good production market here."
Create sourcing plans that work
Find new apparel sourcing destinations, assess trade flows and manage tariffs. All in one place.
Oops! This article is copy protected.
Why can't I copy the text on this page?
The ability to copy articles is specially reserved for people who are part of a group membership.
How do I become a group member?
To find out how you and your team can copy and share articles and save money as part of a group membership call Sean Clinton on
+44 (0)1527 573 736 or complete this form..