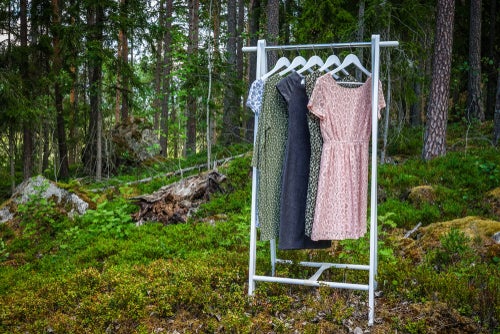 The fashion apparel industry involves many energy-intensive steps alongside the supply chain, from manufacturing textiles, transporting to selling clothing to consumers. Notably, the high energy demand is causing increasing supply chain risks and disruptions in the sector.
As a recent example, China's new round of energy shortage has resulted in rampant yarn and fabric mills shutdowns there. Consequently, Western fashion brands and retailers sourcing from China and Asia are struggling to receive their holiday orders on time.
The latest strategies for clean energy and the fashion apparel supply chain
Facing a growing urgency, how have fashion companies committed to improving their energy usage efficiency by working with their supply chain partners? What are fashion companies' latest best practices regarding clean and renewable energy usage as part of their overall sustainability strategies?
By leveraging the GlobalData Apparel Intelligence Center's "Company Filing Analytics" tool, Just Style take a detailed look at fashion apparel companies' latest corporate strategies for clean energy and energy efficiency.
Specifically, Just Style conducted a content analysis of annual and quarterly filings (e.g., 10-Q report,  ESG report, and corporate annual report) submitted by over a hundred leading fashion apparel companies worldwide from January 2020 to September 2021.
There are several interesting findings to note:
First, fashion apparel companies attach greater importance to energy consumption and its impacts on business operations.
According to GlobalData, from 2017 to 2020, "energy usage" has become a more popular theme in fashion apparel companies' public filings.
As Table 1 shows, keywords including "energy consumption," "renewable electricity," "renewable energy sources," "clean energy," and "energy efficiency" have been more frequently mentioned by companies' corporate reports.
Table 1 Frequency of keyword mentions in fashion apparel companies' public filings
| | |
| --- | --- |
| Keywords | 2020 vs. 2017 |
| Energy Consumption | 350.0% |
| Renewable Electricity | 304.3% |
| Renewable Energy Sources | 242.9% |
| Emissions | 200.0% |
| Renewable Energy | 166.2% |
| Clean Energy | 84.4% |
| Energy Efficiency | 67.9% |
Data source: GlobalData (2021)
Second, a growing number of fashion apparel companies have set ambitious long-term energy efficiency or clean energy goals by following guiding principles such as the UN Sustainable Development Goals (SDGs).
It officially came into force in 2016 and the 17 Sustainable Development Goals (SDGs) of the 2030 Agenda for Sustainable Development encourage stakeholders to "ensure access to affordable, reliable, sustainable and modern energy for all."
By following the guidelines, Inditex, which owns the fast-fashion brand Zara, has developed its sustainable business model aligned with the UN SDGs. Specifically related to affordable and clean energy (i.e., SDG goal #7), Inditex reached the target of "81% of electricity consumption at its facilities (headquarters, logistics centers and stores) coming from renewable energy" in 2020. Likewise, according to NEXT's 2021 corporate responsibility report, the company has aligned against the UN SDGs and incorporated renewable energy sources into all processes in its production facilities. Leading fashion apparel companies, including H&M, Nike, Gap, Hugo Boss, and Children's Place, also explicitly mentioned their commitment to the UN SDGs and clean energy usage in recent corporate filings.
Third, fashion companies demonstrate a strong interest in joining the "certificate programmes" for clean energy usage. Two certificate programmes are most popular. One popular programme is the EU-based Guarantees of Origin (GO) that represents a claim to the environmental benefits associated with renewable power generation.
For example, according to Prada group, a well-known luxury fashion powerhouse, it "ensured that sustainable sources supplied 100% of the electricity for all its Italian offices with Guarantees of Origin." NEXT says it "became an RE1003 member in 2019 and 100% of electricity purchased for our UK operations is Guarantees of Origin backed renewable electricity." As of 2021, Levi's, Kering, H&M, and Nike have joined the GO programme as well.
Renewable energy certificates (REC) is another US-based programme that certifies the usage of electricity generated from renewable energy resources. For example, Ralph Lauren plans to achieve 100% sustainable energy by 2025. As part of the efforts, the company will purchase high-quality green electricity credits, such as renewable energy certificates, and "significantly increase" the percent of the electricity used in its operations from renewable sources. Levi's also commits to "100% renewable electricity" and plans to "purchase renewable energy certificates globally."
Fourth, fashion apparel companies also plan to extend clean and renewable energy usage across the entire supply chain. As PVH Corporation mentioned in its recent filing, the company is "taking steps to lower greenhouse gas (GHG) footprint by cutting energy consumption, increasing energy efficiency, and using more renewable energy at our facilities and across our supply chain."
Similarly, Ralph Lauren says it is working to "source renewable energy for our operations and reducing the carbon intensity of manufacturing and production in our supply chain." According to Burberry, it will continue to "foster an environment of innovation and collaborate with our suppliers to drive improvements in areas such as sustainable materials… energy reduction, and renewable energy purchasing." Levi's plans to partner with its suppliers to cover the costs of a renewable energy assessment and potentially collaborate with the International Finance Corporation, IFC (a member of the World Bank Group) on a financing model.
Additionally, VF Corporation has "formed strategic partnerships with several international organisations to advance energy efficiency improvement projects across the supply chain."
Further, fashion apparel companies see government and public support as essential for achieving clean energy usage. Fashion companies, in particular, ask policymakers to help them mitigate the higher production cost when switching to clean and renewable energy.
As Levi's put it: "government leadership is essential for widespread action to address climate change and create the enabling  environment for companies like ours to invest in renewable energy and achieve the greatest savings from energy efficiency." According to TJX, "energy and fuel costs can fluctuate dramatically and, at times, have resulted in significant cost increases."
On the other hand, the fast retailing group sees the negative business implications of not achieving clean energy usage. According to the company: "We risk weakening public trust in Group brands if our climate change response is slow, such as delays in reducing greenhouse gas emissions or transitioning to renewable energy sources."
In conclusion, achieving more clean and renewable energy usage will continue to grow in popularity and importance among fashion apparel companies.
Supporting small and medium-sized companies with less financial resource to commit to clean and renewable energy usage will need more innovative ideas and public attention. It will however, help us to achieve energy efficiency across the entire apparel supply chain.
Click here to find out whether apparel and textile supply chains are doing enough to combat climate change using the GlobalData Apparel Intelligence Center "Company Filing Analytics" tool.