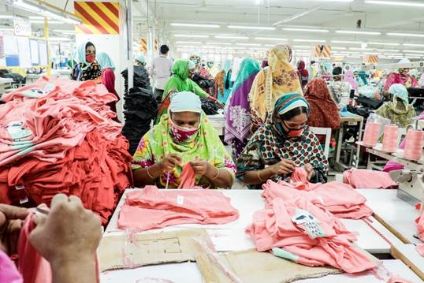 Amidst the chaos of order cancellations and payment delays experienced by clothing manufacturers around the world due to the coronavirus crisis, the good news is that some brands and retailers are continuing to offer support to their suppliers.
The results of a recent survey by Better Buying across suppliers from 39 countries found some buyers remain committed to their partnerships and are working to ensure their mutual long-term business viability.
Even so, manufacturers around the globe are facing a devastating range of issues stemming from unilateral decisions made by buyers without regard for the resulting impacts on suppliers, according to the 'Better Buying Special Report: Guidelines for Better Purchasing Practices Amidst the Coronavirus Crisis and Recovery.'
Among the 294 respondents who answered questions about the supply and demand challenges they are experiencing due to the coronavirus pandemic, cancellation of orders is by far the biggest impact. 70% reported their buyers have pursued this approach as a way to address their own cash flow problems.
Reduction in volumes of existing orders, postponing the shipment dates of existing orders, and changing forecasted volumes are examples of other brand and retailer practices that are negatively impacting a majority of suppliers' businesses now and will continue to do so for several months.
In terms of impact on workers, the most prominent has been the reduction in hours of work/underemployment as reported by 35% of suppliers. Another 29% report workers have been laid off, though the current impacts on workers vary in different regions of the world.
"We wanted to go beyond adding to the accumulating evidence of pressures suppliers in certain countries are facing, to get clarity on how suppliers globally are being impacted – both by Covid-19 itself and by their customers' reactive purchasing practices," says Marsha Dickson, president and co-founder of Better Buying.
"But more than that, one of our goals at Better Buying is to help buyers and suppliers identify and implement mutually-beneficial solutions to problematic purchasing practices, so we wanted to tap into suppliers' knowledge and experiences to share constructive short-term solutions that can reduce long-term and damaging social, business, and environmental sustainability impacts."
The platform is working to create a virtuous feedback circle by enabling suppliers to rate buyer purchasing practices and then sharing this anonymously with the retailers and brands in an attempt to drive industry-wide improvements.
And it says there are several critical steps for buyers to take now and in the near future to help support resilient supply chains that can weather the pandemic-created storm and be ready to meet demand when it returns.
Short-term crisis management
The guidelines provide a roadmap for brands and retailers to follow for short-term crisis management – with helping to manage the supplier cash flow crisis at the top of the list.
One supplier responding to the survey explained the situation: "All of the confusion on current and future orders coupled with lack of payment, goods stuck in the production process as WIP, ordered but unusable fabric, and inability to ship has created a short-term liquidity crisis. It has caused an inability for us to pay our vendors, employees and landlords. All cash is being preserved to pay our employees first and foremost."
Another supplier was more blunt: "We are screwed big time."
A first critical step will be for buyers to use whatever formal financial mechanisms are available to secure the cash needed to cover their accounts payable to suppliers, which includes paying for existing orders.
"Paying suppliers for work that has been completed or is in progress is mandatory and must be carried out on top of efforts being explored by buyers to get government and international agencies to fund direct support to factory workers," Dickson emphasises, adding that "the humanitarian efforts for workers are important but buyers have to take responsibility for their own business transactions."
Guidelines for short-term crisis management – supporting supplier cash flow:
Secure the cash your company needs in order to cover its contractual obligations, including accounts payable with suppliers.
Discuss with suppliers their financial health and whether they have the cash/liquidity necessary to retain workforce for at least three months
Accept and pay all existing purchase orders for goods that have been shipped, are ready or in progress, or are cut. Do not resort to outright cancellations.
Rationalise current assortment plans and reconfigure orders to continue producing viable products – such as styles that will be relevant for consumers during the crisis period, or still viable later in the season.
Engage suppliers to manufacture masks and other needed personal protective equipment for workers on the front lines.
Extend delivery dates/accept shipping delays, as necessary.
Pay a portion of orders that have not been cut and future orders that are affected by changes in volume, have delayed shipping deadlines, or are on hold.
Crisis recovery
Major changes in business practices will also be required as demand picks up in later months.
"With buyers and suppliers reeling from the aforementioned impacts – not to mention the consequences of tens of thousands of furloughed employees, factory and retail store closures, and a plethora of broken contracts – we can expect an industry-wide scramble to recover some sense of normalcy," report authors say.
However, they warn: "Take caution: when demand picks up and companies start placing production orders again, business as usual will not be a viable strategy."
Better Buying is urging brands and retailers to prepare for a future where their suppliers will not provide credit through long payment terms, and will even expect advance deposits or COD (cash on delivery) payments.
There will also be the "bullwhip effect" to contend with. Buyers that reduced their inventories during the initial crisis management will find themselves under intense pressure to quickly re-stock their stores once demand returns. The sharp increase in demand for production capacity, in addition to the sheer volume of goods that will need to be produced, will have far-reaching consequences for production planning and efficiency, product quality, and working conditions.
Guidelines for crisis recovery:
Keep human rights/sustainability/compliance staff intact to support an anticipated crush of orders as demand returns, so that recovery is socially, economically, and environmentally sustainable.
Work closely with suppliers to plan and secure capacity needed and provide updated forecasts.
Obtain the cash necessary to pay up-front or upon delivery for new orders through corporate bonds, loans, credit lines, or other formal finance mechanisms.
Work closely with suppliers to plan needed development and production time and time-and-action (TNA) calendars allowing mutually agreed shipping deadlines. Expect and accommodate transportation delays.
Closely coordinate with nominated raw materials and other suppliers to align lead times, deliveries, and payment terms with Tier 1 suppliers' needs.
Make efficiency a high priority in corporate operations and day-to-day business with suppliers – for example, normal travel associated with global sourcing and production may be slow to resume and carries high costs as well as delays in decision-making. Instead, implement virtual fittings, onsite or virtual approvals, and virtual meetings with suppliers to streamline communication and speed to market.
Buyer best practices
While the survey documents many issues that are affecting suppliers in these unprecedented times, there is hope in the fact that many brands and retailers are walking the extra mile to collaborate with their suppliers.
"Many brands and retailers are staying in very close touch with their suppliers and collaborating with them to identify solutions that don't involve cancelling orders," explains Kelly Allen, strategic partnerships manager for Better Buying.
Best practices reported by suppliers during the Covid-19 crisis include not cancelling orders, collaborating to reduce negative impacts, rationalising current assortments, providing full compensation or on-time/early payment despite orders being held or quantities being reduced, paying for fabric/raw material liability, and accepting shipping delays.
Furthermore, in lieu of outright cancellation, some buyers are carefully reviewing their orders and making rational choices about the product assortments needed now and using that to determine which styles can be brought in (perhaps with increased volume), and which styles should be rescheduled or cancelled.
Others are taking liability for materials that have already been purchased and will be unused in the immediate future.
Similarly, and in stark contrast to cancelling orders to get out of paying for them, unilaterally extending payment terms, reducing payments or the price of goods, or paying late, there is evidence of some buyers providing full compensation despite order reduction and paying on-time or even early.
The full Covid-19 survey results can be seen at the following link: Better Buying Special Report: Guidelines for Better Purchasing Practices Amidst the Coronavirus Crisis and Recovery.