Honduras hopes to invest $3.4bn to double apparel exports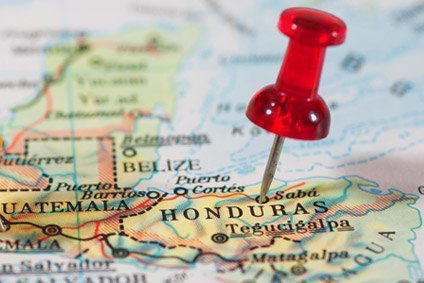 If successful, the turnaround plan will generate 200,000 new jobs
Honduras is set to more than double apparel exports and production as part of a new $3.4bn development plan, according to a top industry executive.
The Central American country currently ships $3.2bn worth of basic apparel such as T-shirts and underwear to the US, Europe and Canada each year. Faced with cut-throat Asian competition, the Trans-Pacific Partnership (TPP) and the rapid growth of neighbouring Nicaragua and Guatemala, consultancy McKinsey was recently hired to come up with its new 'Honduras 2020' development plan.
The scheme aims to expand the key textiles and apparel industry alongside other manufacturing clusters, as well as the services and tourism segments.
In apparel, the goal is to boost exports to $7.4bn, making Honduras the US's fifth-largest clothing supplier – up from its current position at number seven, says Jesus Canahuati, president of manufacturing giant Elcatex and private investors' representative in the scheme. Last year the value of apparel exports from Honduras to the US rose 3.5% year-on-year to $2.67bn.
If successful, the turnaround plan will generate 200,000 new jobs, boosting the count to 350,000.
"We are the number one [US] T-shirt and underwear supplier and the second in fleece but we want to grow in activewear to sell to the likes of Nike, Under Armour, Adidas and Puma," Canahuati explains.
The manufacturing chain will be modified to boost synthetic yarn production for performance textiles, according to Canahuati. "We will make everything from synthetic yarn to the finished garment," he says.
Gildan, New Holland Apparel, Accra and other unnamed backers will likely join Elcatex to finance 50% of the $3.4bn undertaking – the government will bankroll the rest – which will see $1.6bn ploughed in to modernise sewing machines and equipment and $700m to install new industrial and manufacturing parks, Canahuati says.
Additional funds will go to worker training programmes, renewable energy facilities (to slash electricity costs) and new logistics infrastructure.
The government will set up a so-called Transformation Unit to ensure the plan succeeds.
Elcatex has already committed $150m to set up solar and biomass power facilities to feed the new factories with cheaper electricity. It will also spend $120m on a new textiles mill, Canahuati says.
He adds that VF, Hanes, Fruit of the Loom and Sanmar could also be potential investors in the project, given their rapid expansion in the country.
Government backing
Sustainability is also a goal. The government has agreed to build 10,000 homes annually for textile operators and will incorporate water-reducing and cleaner manufacturing technologies to the supply chain.
Evangelina Argueta, who leads the textiles arm of top trade union CGT, believes the job goals are feasible as long as the government bolsters tax incentives and investment guarantees, improves the rule of law and tackles high crime rates.
The administration in Tegucigalpa has said new tax exemptions are in store (export manufacturers already enjoy breaks) but has not provided details. Argueta says these must exceed Nicaragua's because it has much lower labour costs. Energy prices must also come down sharply.
On the labour front, she says a new Inspections Law adds penalties of up to $13,000 to firms blocking workers' freedoms of association rights or fail to pay fair wages.
Neighbouring competition
"Our main competitor is Nicaragua and they are offering enormous tax exemptions," Argueta notes. "If we want to grow, we need to be in the same level. We need to give more exemptions and lower energy prices because Nicaraguan wages are 50% lower than Honduras." However, "we can't give the country away."
Honduras has a better geographic location than Nicaragua which lacks a seaport and has to ferry goods through it or Guatemala, adds Canahuati.
That said, he insists the scheme is intended to deepen Honduras's links with Nicaragua and other Central American countries shipping clothes to the US under the DR-CAFTA (Dominican Republic-Central America Free Trade Agreement).
"We want to be a complement for Central America," he says, adding that future synthetic capabilities in Honduras will help tackle the region's textiles shortage, boosting its vertical integration and strengthening it against the likes of China and Vietnam.
Walter Wilhelm, chief executive of apparel industry consultancy Walter Wilhelm & Associates, says the strategy comes as other Latin American countries – notably Colombia – are also working on similar strategies to bolster their industry's competitiveness.
However, he says governments must work harder to use big consultancy reports such as the one McKinsey drafted for Honduras.
"They got a big, beautiful report with lots of charts but I hope they can actually execute it, that it doesn't just sit on their shelves," he says.
The Central America region has also been urged recently to do more to make better use of the flexibilities of the DR-CAFTA free trade agreement with the United States, and move to leverage the so-called staging categories of the Trans-Pacific Partnership (TPP) to boost its competitiveness.
Create sourcing plans that work
Find new apparel sourcing destinations, assess trade flows and manage tariffs. All in one place.
Oops! This article is copy protected.
Why can't I copy the text on this page?
The ability to copy articles is specially reserved for people who are part of a group membership.
How do I become a group member?
To find out how you and your team can copy and share articles and save money as part of a group membership call Sean Clinton on
+44 (0)1527 573 736 or complete this form..