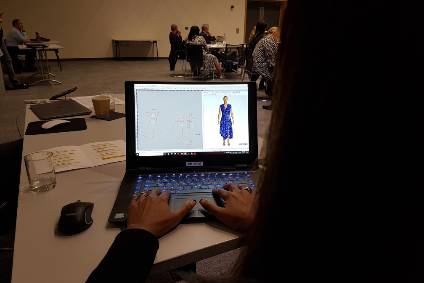 Making the switch from a traditional fashion design process to 3D design and prototyping tools could save the industry billions of dollars in development samples, not to mention improved collaboration, productivity, and profits across the supply chain. An added bonus is reduced pressure on overflowing landfills.
Developing garment samples is estimated to cost the fashion industry close to GBP6bn (US$7.8bn) a year, according to fashion design software developer EFI Optitex, whose 2D design and 3D visualisation platforms cover the entire supply chain to help create efficient workflows and shorten time to market. But a significant amount of these samples are never even put into production, instead ending up in landfill.
"A polyester top takes around 200 years to decompose," explains Elizabeth Brandwood, a product consultant at EFI Optitex. "We really need to consider what those landfills are going to look like in the next ten years."
Adopting 3D design and prototyping tools, she says, is the answer to solving part of that problem, helping retailers, brands and manufacturers to become more efficient and sustainable while allowing them to react faster to trends.
On average, a retailer works to four samples per style. For a brand developing 300 styles per week, that amounts to 1200 samples.
"These can be design samples, fit samples, marketing samples or even development samples that are never actually adopted or put into production," says Brandwood. "We class them as pure waste. They've never been sold or even worn by a consumer and go straight into landfill.
Moving to a 3D digital design process can help cut sample production to just one physical sample per style; on the above example, that's a 900 sample saving per week or 46,000 per year. "In reality that's a full container that would otherwise have gone directly to landfill," she asserts.
There's a cost implication too, with the average retailer spending GBP100 per sample and over GBP4m a year is lost just in development samples.
Speed-to-market
The fashion landscape has evolved in recent years; clothing consumption has increased with customers demanding the newest styles immediately.
Multi-brand online retailer Shop Direct, owner of the Very and Littlewoods platforms, has in the last few years upped its orders with factories in Turkey, Romania and North Africa to around 30%, in line with a UK average of about 35%. Fraser Mead, head of sustainability, says more and more retailers are growing their reliance on the near east and reducing their leverage on countries like China. One of the reasons is to boost their speed-to-market capabilities. They are also putting in much smaller orders than they would have done previously, as they look to cut inventory.
"Turnaround times are so important now and we would not expect to be placing such big orders as we were in the past, and we are looking to reshape the landscape closer to home in order to try to react to trends."
He adds 3D design and development tools can be used to knock out "half of the lead time" for a product coming from Asia – whether through time-saving on contracting amendments, delivery amendments, the prototype process or the fitting process.
Lifting productivity
And then there are the productivity benefits.
Jamie Symon, senior sales and channel development manager at EFI Optitex, explains a shift to 3D tools can boost productivity levels across the entire supply chain.
"How many times do you open screens, order batch samples of short-run materials, ordering specific trims just to create a sample? Half of which don't even go into production. Why are we creating these physical samples that are a complete loss of profit?
"We want to react faster; have a single digital file sent very quickly via email around the world so we can reduce shipping costs and decrease time to market. We want to produce efficiently with industry-leading markers. So we have this fully connected digital workflow."
Brandwood agrees the real benefit of a 3D system lies in connecting the supply chain so that everyone is using the same 3D collaborative tool for a "seamless, end-to-end digital process."
"We can really focus on a more lean development cycle. We can change a lot of those processes whether it be sketching, fitting or range reviewing into digital. We can do real-life virtual fit sessions and make sure all the comments and amendments we make are in real-time before we actually ask the supplier to send us a physical sample. With more manufacturing taking place in the UK, being able to source more locally will reduce those transport costs and lower carbon footprint."
Technology transition
UK retailer Marks & Spencer says it has also benefitted by incorporating 3D technologies in its supply chain, especially when it comes to testing new silhouettes and checking that styles work before sending final proofs to suppliers to put into production.
Brands can experiment with multiple fabrics, print scales and fabric textures in a digital or virtual environment. Once happy they can request the first – and hopefully final – physical sample.
According to EFI Optitex, 90% of retailers say they are getting the resulting sample right first time through its platform, compared to a previous ratio of 10-15 physical samples per style.
As well as helping to reduce physical fit sessions, 3D design and prototyping tools are also compatible with other digital media: an important factor with the development of social media in the last decade.
For example, designs can be created and pushed out on social media platforms to gauge interest even before a production run is started. Brandwood says this is a hugely important development for retailers as it helps to tackle a major pain point: the high volumes of returns.
Retailers are battling a rising tide of returns – reportedly worth some GBP7bn (US$9.2bn) a year – as online shopping continues to account for an ever-larger share of sales. Of this, the highest rate of returns is from the clothing and footwear sector, according to data and analytics firm GlobalData.
While the returns rate from online orders hasn't really moved that much, sitting somewhere between 20%-30% (compared to returns to traditional brick and mortar stores of between 8%-9%) depending on the retailer, what has changed is the proportion of sales that online represents; for instance, online is now nearly 20% of total GBP48.5bn clothing, footwear and textile sales – a huge increase compared to just five years ago when it represented 12.5% of sales.
Shop Direct's Mead says: "Online sales and profitability get killed by returns. So returns for online product probably run between 50-70% depending on the product, plus the GBP2.50-3.50 cost to return the product, plus the reprocessing costs, plus the fact the chances of you getting them back into stock in a sellable condition within a short period of time is pretty tight. It's a massive drain on profitability."
Speaking exclusively to just-style, Amir Lehr, managing director of EFI Optitex, says the company is currently investing in upgrading its 3D legacy product in three ways.
"The first thing we are looking at is how we make it better; so that is a more seamless user experience, a faster system and improved accuracy of the simulation.
"The other area is connectivity and automation; how do we connect all the software and components, how do we connect to PLM, information about fabrics, avatars, body scanners across the supply chain and automate manual processes.
"Finally is addressing the designers – upstream – how do we get them to adopt and start designing in 3D rather than sketch? How do we enable them to start designing in 3D in a smart way, connected to the pattern, connected to production, and bring a lot of early insight in even before the sketching process, so as a designer you can understand the cost estimation and maybe even get early feedback from the consumers before you start investing in product development."