How a business-model revamp can create a sustainable future for fashion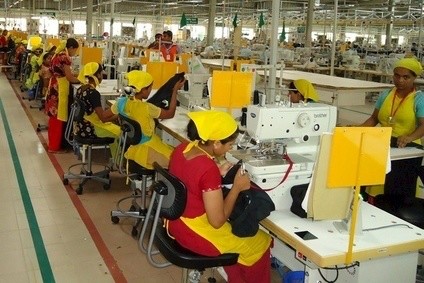 ETI argues existing business models are putting workers at the end of the supply chain at risk
A new paper from the Ethical Trading Initiative (ETI) supports growing views that business corporate social responsibility programmes are not enough to improve conditions for workers at the very end of the garment supply chain. Suppliers being pressured to deliver faster and at lower prices is resulting in the situation getting worse instead of better. The only fix, it says, is a shakeup of the current business model.
The fashion supply chain is not sustainable in its current form. Today's consumer has a bigger appetite for fashion, demanding the latest trends and wanting them more quickly. With retailers responding — putting pressure on suppliers to deliver faster and at much lower prices — the resulting consequences on workers at the bottom of the supply chain are detrimental. Tragedies like the Rana Plaza disaster in Bangladesh have seen more businesses prioritising having corporate social responsibility programmes, but there is the argument to suggest many of these are ineffective in improving worker conditions.
Breaking the vicious cycle requires a rebalancing of the entire business model in ways that rethink how value is created and for what and whose purpose. In the report, 'Business Models and Labour Standards: Making the Connection', ETI proposes a series of suggestions for improving the entire supply chain in order to establish a more sustainable business model, that works for everyone.
What is a business model?
Business model is a term used to describe in a holistic manner how corporations create, deliver and capture value through their production approach, convince customers to pay for value, and convert those payments into profits. Sustainable business models are viewed as ways of integrating societal and environmental concerns systemically into the way business is done, but at present, typical business models are far from sustainable. There are four main components identified in the business model, all of which can contribute to the downward pressures on labour standards:
Consumer value proposition: This encompasses consumers and those stakeholders who may be viewed as affecting the probability of consumers to purchase a product such as NGOs, journalists or consumer groups.
Worker value proposition: This describes how the company seeks to extract value from the labour of the workers and how workers are compensated for their labour.
Investor value proposition: Within the private sector myriad, ownership models may exist which affect the other regimes.
The competition regime: The interaction of firms competing for consumers, workers and investors in a sector. The key point of this section is that most interventions in the supply chain take place only in the production regime and thus fail to deal with the systemic problems created by the overall business model.
The apparel sector is at the forefront of downward pressures on labour standards since price competitiveness is a key driver, with increasing pressures on competition in recent years. And, it has long been associated with the worst end of labour standards, conditions that have deteriorated further with the emergence of the fast fashion and super-fast fashion models. These changes have prompted an increased 'throwaway' attitude to clothing, where the business model is based upon cheap goods with ever-shorter product life cycles and profits generated through volumes of goods sold.
In order to move to a sustainable business model, the ETI says there is a need for business model adaptation and redesign. Not all businesses will or can change their corporate form, but changes to improve standards can be introduced in various parts of the business model.
What a sustainable business model looks like
Business model adaptation: Incrementally changed business models, generating adjustments in existing practice or adoption of new practices and products, without fundamentally changing the model of value creation and profit generation. This includes changing purchasing practices or agreeing on collaborative approaches to address labour issues.
Business model redesign: developing sustainable businesses that rethink the way value is created; why value is created; and how it is created. Examples include changing the ownership model (e.g. to employee-owned); transforming shareholder roles; or moving away from the dominant business paradigm (e.g. slowing consumption).
Business model experimentation: challenging what is mainstream is regarded as a driver to remain competitive and achieve greater levels of sustainability. This may involve deliberately trialling radically different new business models on a smaller scale, e.g. in a specific market or with a specific customer group, to see the impacts on social practices as well as customers.
Creating a sustainable business model
Retailers
Retailers are key actors that need to change their approach to managing supply chain relationships. Retailers need to view CSR type activities not as being something voluntary to enhance their reputation, but as part of the basic price of doing business. First, retailers should develop a practice of business model review to examine holistically the effect of their business model on labour conditions. This means they should review the business model to identify links between business model, purchasing practices and effects on labour conditions in the supply chain; and make workers' rights a basic requirement in the business model, not an add-on. To make workers' rights central, there needs to be an integration of commercial and ethical strategies.
Retailers need to embed ethical trading standards as a basic requirement in purchasing criteria;
Commercial leadership needs to consider its personal responsibility and liability when category buyers place contracts for products at the lowest price;
KPIs must reflect incentives to make purchasing decisions that benefit the workers in the supply chain, rather than simply the benefits to sales and profit in the home market.
With key issues arising from short term, contractual approach supply chains, retailers need to develop supply chain partnerships so that:
Buyers seek to work with suppliers as supply chain partners, seeking opportunities for joint value creation, rather than the competitive distribution of profits;
Retailers should be financially responsible for the costs of a significantly up-weighted improvement, monitoring and transparency programme to ensure visibility of workers' rights abuses;
Retailers support and prioritise suppliers who adopt alternative and ethical business models in long term sourcing relationships;
Such partnerships support mechanisms for feedback on supplier-buyer relationships, e.g. Better Buying.
A key problem is that the current approach means that CSR and related activities are viewed as areas within the competitive realm. Rather than an area of competition, it should be viewed as an area of potential pre-competitive collaboration.
In a highly competitive environment, introducing precompetitive collaboration can help to level the playing field, avoid free riding and stop the downwards spiral;
Pool resources to realise joint benefits and reduce individual costs;
Enact beneficial constraints to create real constraints on the mainstream model and as a mechanism to compete on quality rather than price;
Involve trade unions and NGOs to ensure commitments are credible and address worker interests.
While most retailers' codes of conduct express sentiments about freedom of association, many take a passive approach to this commitment. Retailers should actively support the development of industrial relations in supply chains.
Recognise proper industrial relations as the most important factor in increasing real wages for workers;
Involve worker representatives in code enforcement to create meaningful implementation;
Actively support the creation of democratic worker representation, such as through Global Framework Agreements (GFA);
Build capacity for both workers and managers to develop a more mature approach to industrial relations (e.g. workplace social dialogue).
Suppliers
Collective approaches can be important in lessening downwards market pressures for suppliers. In particular, acting collectively it is possible for producers to create counter-veiling powers to retailers. Collective action by suppliers can raise the bar in their sectors so that compromises in ethical trading and the impingement of workers' rights can no longer play a role in creating a competitive advantage. This can take the form of:
Developing mechanisms for collective and anonymous feedback on supplier-buyer relationships, e.g. Better Buying;
Actively engaging in workers' rights.
Investor groups
Current trends in investment are such that short term results can play a significant role in shaping knee-jerk reactions by retailers to send signals to investors. Taking a long-term value creation perspective on investment returns would mean that corporations:
Recognise that workers' rights violations can create business risks;
Recognise the amorphous benefits of reputation and PR that may translate into profit gains later.
In addition, a more holistic and engaged approach to investment could use investor voice to support ethical trade and working conditions.
Trade unions
Trade unions are a key body in developing both more socially sustainable and democratic participation in labour standards. As such, they have moved beyond the national model and are of increased importance in global labour governance. International union strategies can move beyond tokenistic solidarities to more materially impactful approaches that have actual effect at the workplace. Such activities include:
Taking a leadership position in developing global labour governance (e.g. Accord, ACT);
Embrace new mechanisms that harness brand influence over employers;
Leverage consumer influence by developing complementary relationships with campaign groups.
Create cross-sector (retail-manufacturing) representation through instruments such as GFAs;
Collaboration between global union federations and greater linkage between local unions through global union federations.
Civil society groups
Civil society organisations have a vital role in stimulating debates about sustainable business models. In particular, they can:
Raise consumer awareness about the link between business model, purchasing practices and effects on labour conditions;
Shift focus on to consumer responsibility for supporting sustainable business models rather than just 'fixing' problems through the CSR approach;
Campaign for 'slow' consumption–and emphasise 'positive' knock-on effects in other areas such as for well-being (e.g. decluttering for clothing).
Multi-Stakeholder Initiatives (MSIs)
MSIs have an important role to play in catalysing a shift towards developing sustainable business models amongst their membership:
Survey existing purchasing practices of members companies, and encourage responsible purchasing practices;
Identify different business models amongst MSI membership;
Initiate a working group on sustainable business model innovation amongst MSI members.
Shift reporting from supply chain human rights disclosure to include commercial practices in annual reporting, including purchasing practices;
Integrate price transparency into reporting requirements. For instance, a cost breakdown or percentage of labour costs of select number of products could be included.
Finally, a business model perspective should be integrated into training; ie: develop and offer training courses that focus on sustainable business models.
Policy makers
Policy makers have an important role in setting the parameters of corporate decision making. They must seek to create mechanisms to defend against systemic downward cost pressures that impact workers' rights. Without their actions to level the playing field, responsible business will always be at a cost disadvantage.
Create mechanisms to defend against systemic downward cost pressures. For example, ban below-cost selling, which has led to an undervaluation of goods.
Strengthen provisions around environmental and social governance (ESG) criteria in investment decisions to allow investors to reward sustainable business models;
Advertising rules should seek to sanction retailers to seek consumer loyalty based on statements of its values, integrity or narrow examples of fair supplier relationships if these do not represent the norm in that business.
As part of the 2019 review of the Modern Slavery Act, the UK government should consider asking businesses to report on how well retailers enable their supply base to act against modern slavery through its procurement practices, and examine financial penalties for not filing returns or obligations to contribute to remediation for victims.
Click here to access the full report.
Create sourcing plans that work
Find new apparel sourcing destinations, assess trade flows and manage tariffs. All in one place.
Oops! This article is copy protected.
Why can't I copy the text on this page?
The ability to copy articles is specially reserved for people who are part of a group membership.
How do I become a group member?
To find out how you and your team can copy and share articles and save money as part of a group membership call Sean Clinton on
+44 (0)1527 573 736 or complete this form..