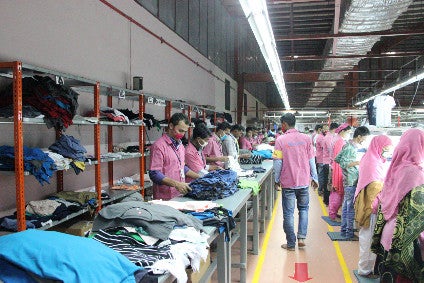 The UK's decision to leave the European Union (EU) impacted Bangladesh's garment exports last year – but the South Asian country is confident it can pull back growth and retain its competitiveness.
"The UK is a very important partner for us," Sharifa Khan, commercial counsellor for the Bangladesh High Commission told a conference organised last week by the Association of Suppliers to the British Clothing Industry (ASBCI) on 'Beyond Brexit – Helping the fashion industry turn uncertainty into opportunity.'
"After [the] Brexit [vote] exports fell and we were really concerned about the situation. We met a number of people after the announcement, like Primark, Tesco and Matalan, and they were concerned about the duty-free and quota-free facilities for Least Developed Countries (LDCs) and whether this would be retained in the post-Brexit bill. They are competitive so they were expressing concern about this."
Historically, Bangladesh has maintained positive trade balances with the UK and is currently its third largest export destination. In fiscal year 2015/16 Bangladesh exported US$4.02bn worth of goods to the UK, representing growth of 16.8% year-on-year. Of this, $3.23bn represented apparel exports.
However, in the aftermath of the Brexit vote, Bangladesh's exports to the UK fell 7.12% to $3.73bn in 2016/17. Remittance, or payments, also declined, from $863m in 2015/16 to $808m in 2016/17.
Exports to the EU, however, rose 16.3% to $19.35bn and foreign direct investment (FDI) increased from $300.8m in 2015 to $342.3m last year.
Consequently, Khan says Bangladesh began lobbying the UK government and held meetings with the Department for International Trade highlighting the benefits and the potential outcomes for both parties.
In June, Britain said it would maintain duty-free access for goods, including textiles and clothing, from dozens of developing countries, including Bangladesh, once it has left the European Union (EU).
The commitment means around 48 countries, from Bangladesh to Sierra Leone, Haiti and Ethiopia, will continue to benefit from duty-free exports into the UK on all goods other than arms and ammunition, an initiative known as 'Everything but Arms'.
"We are now assured that these market facilities will continue and that will be a comfort for the UK and also for us," Khan told delegates. "Importers sourcing from Bangladesh will be comfortable as long as we are an LDC.
"What could be the big Brexit impact for us is if negotiations are prolonged, which is likely. This would help increase the demand for ready-made-garments. If negotiations conclude by 2019, the UK economy will face another immediate shock, which would result in a decline in overall demand for RMG (ready-made-garment) products. We believe this [scenario] is unlikely."
Positive prospects
The garment and textile industry has become the backbone of Bangladesh's economy. In 1981, exports were valued at $1.35bn. By 2007 this had grown to over $10bn, and last year was valued at $28.15bn, contributing more than 12% to GDP, representing around 80% of total exports, and employing over 4.2m people, mostly women.
The sector has benefited from its low labour costs and duty-free access to western markets, namely under the GSP EBA scheme with the EU, and duty-free access to India on ready-made-garment exports. It also enjoys duty and quota free (DFQF) access to China and South Korea, and has signed a Trade and Investment Cooperation Forum Agreement (TICFA) with the US: a key measure in helping to restore preferential tariffs for exports to the US.
"Preferential market access has been a big boost for us," Khan explains. "Bangladesh faced a lot of challenges when [quotas] were phased out in 2005, but despite all the negative predictions, we found very positive growth."
Of the world's top ten clothing exporters, China was valued at $161bn in 2016, followed by the European Union at $117bn, and Bangladesh at $28bn.
China, however, has seen its value decline slightly over the last six years, while Bangladesh has seen its value increase, along with Vietnam, Cambodia, India.
"Bangladesh is now moving towards graduating from being an LDC, hopefully by 2024, so we have to adjust with the economy by this time," Khan told delegates. "We have some breathing time to adjust and that will help us with our competitiveness."
Potential sticking point
One sticking point for Bangladesh, however, could be if the UK links labour issues with compliance for LDCs benefiting from GSP.
"That may have an adverse effect on our economy and our export; but this will not only affect us, it will affect other countries more because they are much behind us in ensuring compliance."
Nonetheless, Khan is confident Bangladesh can grow its exports and remain competitive, particularly given the increasing cost of sourcing from China, she says.
"This has inspired the UK to look for a better supplier, and Bangladesh has already proved to be the most reliable source. The growth of the sector has inspired many buyers to source from Bangladesh, and it is expected exports will reach $50bn by 2021.
"We also have tri-partate monitoring by the Accord, the Alliance and the ILO for ensuring compliance of safety and labour issues, and that has given buyers confidence."
She continues: "Considering all of this, we think our RMG exports will retain their competitiveness for the next few years. We believe the UK will extend DFQF facilities even after 2024 when we graduate. We will also explore commonwealth opportunities to grow our exports and we are working to improve worker efficiencies because we will have to pay the duty after graduation so we would like to reduce costs."