How better factory conditions help boost the bottom line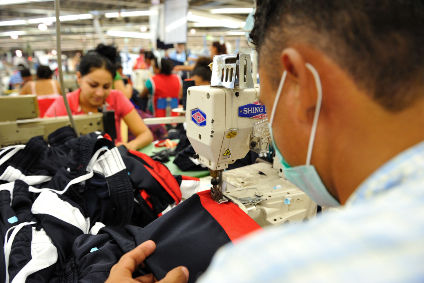 Training women supervisors is "a shortcut to big gains"
A link has been established between improved working conditions in the apparel industry and a resulting boost to factory competitiveness – but the sourcing practices of global buyers remains one of the biggest challenges to progress.
The findings are revealed by an independent assessment into the Better Work programme – a joint initiative of the International Labour Organization (ILO) and the International Finance Corporation – which shows significant gains in quality of life for workers in the factories who take part, as well as enhanced productivity and profitability.
The study by Tufts University on 'Progress and Potential: How Better Work is Improving Garment Workers' Lives and Boosting Competitiveness,' is based on responses from nearly 15,000 garment workers and 2,000 factory managers in Haiti, Indonesia, Jordan, Nicaragua and Vietnam.
According to the research, the Better Work programme moves factories away from practices leading to long working hours, extremely low pay, dismissal threats, or abuse of probationary contracts. Workers are seeing an increase in their weekly take-home pay and are less and less concerned with excessive overtime and poor wages.
The review also notes progress in closing the gender pay gap, particularly among garment factories receiving Better Work advisory services in Haiti, Nicaragua and Vietnam.
The programme has helped reduce coercive labour practices, harassment and verbal abuse. In Jordan reports of sexual harassment fell by 18% and the incidence of workers feeling fearful in the workplace declined markedly as well.
Researchers found that Better Work's Supervisory Skills Training (SST) for women supervisors is "a shortcut to big gains." The analysis showed that production lines overseen by Supervisory Skills-trained female line supervisors increased factory productivity by 22%, when compared to lines overseen by supervisors who had not yet received such training.
The report also concludes that these gains in working conditions do not come at the expense of business performance. Indeed, the research establishes a direct link between better working conditions and higher profit firms. Across all factories tracked in Vietnam, after four years of participation with Better Work, average profitability increased by 25%.
Other benefits for firms who make progress on key issues such as pay and working hours include an increase in order sizes from buyers, and fewer social compliance audits – which in turn helps reduce duplicative audits in the industry.
"Evidence of a win-win outcome – improving working conditions while boosting profit margins – has to date largely been anecdotal. Tufts University's impact assessment has made significant strides in establishing evidence of this relationship," explains Professor Drusilla Brown, lead author of the report.
But the authors of the study also caution that some persistent problems still remain, including sexual harassment of workers in many factories and a tendency of factories to push overtime hours on workers.
For example, half of the firms in Vietnam persist in their non-compliance with overtime limits – which researchers conclude could be caused by deceptive pay practices that prevent workers from fully understanding the calculations of their actual pay and hours, as well as pressures driven by brand and retailer purchasing practices.
The sourcing practices of global buyers is singled out for creating "inherent challenges in achieving decent work in supplier factories."
Putting factories under pressure to deliver within short lead times, respond to frequent order changes and operate with high levels of flexibility has a direct knock-on effect on a factory's ability to comply with key elements of decent work, and in turn, influences workers' perceptions of working conditions and of life satisfaction.
Rush orders and late penalties from customers are also associated with higher rates of non-compliance with working hours and with workplace safety and health, as well as higher supervisor stress through unpredictability in production schedules. In turn, this is linked to increases in verbal abusive in the workplace.
"Changes to the management of sourcing practices are an important aspect of improving working conditions in the factory," the academics say, adding: "Establishing a 'business case' for high quality jobs therefore requires all stakeholders – brands, retailers, factories, policymakers, NGOs and workers and their representatives – to develop a holistic approach to finding solutions across the global supply chain."
The Better Work programme was established in 2009 with the aim of improving working conditions and promoting competitiveness in global garment supply chains, and currently operates in seven countries – Bangladesh, Cambodia, Indonesia, Vietnam, Jordan, Haiti, and Nicaragua – engaging 1300 factories employing more than 1.6m workers.
It is supported by Australia (Department of Foreign Affairs and Trade, DFAT); Denmark (Ministry of Foreign Affairs, Danida); the Netherlands (Ministry of Foreign Affairs); Switzerland (State Secretariat for Economic Affairs, SECO); and, the United States (US Department of Labor, USDOL).
Create sourcing plans that work
Find new apparel sourcing destinations, assess trade flows and manage tariffs. All in one place.
Oops! This article is copy protected.
Why can't I copy the text on this page?
The ability to copy articles is specially reserved for people who are part of a group membership.
How do I become a group member?
To find out how you and your team can copy and share articles and save money as part of a group membership call Sean Clinton on
+44 (0)1527 573 736 or complete this form..