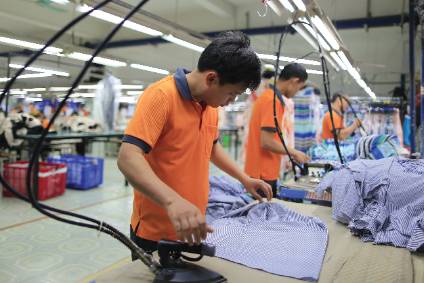 The Better Work initiative is ramping up its response to the global Covid-19 pandemic by offering advice and assistance to governments, garment factories and workers in the countries where it operates – including Vietnam, Ethiopia, Indonesia, Nicaragua and Jordan.
Better Work Vietnam
Despite relatively few cases of Covid-19 in Vietnam to date, the outbreak has caused serious disruption to raw material sourcing and seen steep declines in international orders for the nation's garment industry. As the pandemic spreads, Better Work is focused on how to ensure effective workplace safety for workers and managers.
It has developed a practical guide for the industry, in liaison with the Ministry of Health, the WHO in Vietnam, the Ministry of Labour, Invalids and Social Affairs, and the ILO Vietnam Country Office.
The Guide for Better Response to Covid-19, in Vietnamese and English, provides medical information about the virus, ways to prevent it spreading, safe food management practices, and how to manage workers or supervisors who arrive at the factory from overseas.
A key recommendation is that employers, in conjunction with workers and unions, develop policies and procedures to reduce risk – such as nominating a person or team to implement recommended measures, ensure that workers are encouraged to report illness and provide on-site medical support.
The booklet also provides guidance on compliance questions, such as the importance of continuing to pay workers who have contracted Covid-19 and are not able to come to the workplace or those who suspect they have it, those who present with illness, and other issues concerning pay and leave. Questions concerning the implications of disruption to supplies are addressed, as is what to do in serious cases where factories are forced to downsize.
Better Work Ethiopia
As of 25 March, authorities in Ethiopia have enacted a string of measures to contain the coronavirus infection, including the closure of all borders, a ban on large gatherings and restrictions on overcrowded public transport to guarantee social distancing.
The country's apparel factories continue to operate, with roughly 20 Covid-19 cases confirmed as of 30 March.
The government has set up an inter-ministerial task force led by the Prime Minister Abiy Ahmed to address the health, social and economic emergency. Meanwhile, Better Work Ethiopia has been discussing with the country's Ministry of Labour and Social Affairs (MOLSA) how to support the Ministry and the Industry Park Development Corporation (IPDC) in its response.
The goal for Better Work is to reach out to all garment workers through posters, brochures and flyers regarding Covid-19 and ways to avert contagion. The programme has already started conducting awareness-raising sessions via video calls with all of its affiliated factories. Virtual meetings and advisory services are meant to help factories understand the impact of Covid-19, while also clarifying international and national labour standards and laws that need to be followed at the time of crises. The calls are also set to ensure business continuity and provide support to all of the factories registered with the programme.
Better Work Indonesia
While the government of Indonesia was quick to declare a national emergency over the Covid- 19 virus on 29 February, official responses have been largely run at the provincial level. Official numbers are climbing with cases reported in many regions.
West and Central Java governors have introduced social distancing and ordered the shuttering of garment factories in some districts on health grounds. Most Better Work factories, however, are still in operation but many are reporting cancelled and hold shipment orders from buyers. This is leading to cash flow problems and concerns about their ability to meet wage payments.
A key development in the government's response was the issuing of a Ministry of Manpower circular on 17 March, offering advice on minimising the impact of Covid-19 in workplaces, including prioritising workplace OSH and social distancing. It also recommended that the wages of workers isolated or quarantined because of the disease be paid in full.
In cases where factories are being shuttered due to the cancellation and postponement of orders, the government is recommending that unions and businesses enter into negotiations over wage preservation and other issues.
Better Work Indonesia is supporting factories in implementing key OSH recommendations. It is developing guides in the forms of answers to frequently asked questions both for OSH and labour issues and sharing examples of best practices. A step by step action plan for factories to inform and protect workers has been rolled out using the latest ILO and WHO advice on social distancing, handwashing and other measures. A short video on good factory practices was distributed through social media accounts. Subsequently, many factories have instituted temperature screening, new handwashing regimes and distributed masks to workers.
The need for constructive social dialogue is proving to be crucial in the crisis, as an increasing number of factories are cutting back or suspending operations. Better Work is liaising with provincial and national governments to clarify policy on key questions, particularly the mechanism for wage negotiations in factories that are affected. The programme is also providing advice to governments on social protection issues, and updating them with the latest ILO recommendations and information on how neighbouring countries, such as Singapore and the Philippines, are dealing with the pandemic.
Better Work Indonesia is also working with national employer associations APINDO and API and trade unions both to gauge their immediate response and look at medium-term issues of how to handle wage protection in cases of struggling businesses.
Better Work Nicaragua
Better Work Nicaragua has been at the forefront of bringing together national stakeholders in the apparel industry to develop an emergency response to the growing number of Covid-19 cases in the country. While the official number of confirmed infections remains low, the industry is bracing for a potential increase in the near term.
Better Work has been working with the country's Ministry of Labour, which is also a member of the National Tripartite Free Trade Zone Commission, to develop an early response. As a result, the tripartite body has recently reached an emergency agreement recommending proactive measures to protect workers livelihoods during the crisis. Potential responses include advances on severance pay, distribution of food packages, and special protections for elderly workers, pregnant women and workers with underlying conditions.
Meanwhile, prevention measures adopted across Nicaragua's garment factories include temperature checks of all the personnel and suppliers, frequent handwashing with soap and hand sanitizer, provision of masks and gloves to all employees, including drivers and the security personnel. Thorough disinfections have also been conducted across the factory floor and other common areas of many production plants.
Posters calling on the workers to avoid close contact, shaking hands, kissing and hugging each other have been displayed across Nicaragua's factories to avert contagion. Meanwhile, health information and awareness campaigns have been broadcast through audio messages inside the production premises.
Better Work Nicaragua has been conducting virtual advisory and training sessions with its affiliated factories, stressing the necessary containment measures all companies should strictly observe to guarantee the safety of their workforce.
Better Work Jordan
As the government of Jordan acted promptly to limit the spread of the coronavirus with a country-wide lockdown – including closure of all factories – Better Work Jordan has been working to guarantee the safety and well being of the tens of thousands of garment workers employed in the industry.
Meanwhile, production has been stopped until further notice across all of the country's factories, leading workers to halt their activities and stick to the coronavirus containment measures.
Over 76,000 workers make up the garment sector in Jordan – the majority of whom are migrant workers from South and Southeast Asia.
The program has distributed materials in multiple languages including Arabic, English, Bangla, Sinhala, Hindi, Filipino and Chinese in collaboration with the Ministry of Labour across different economic sectors including the programme's participating factories.
The programme has been in direct contact with migrant garment workers living in housing units located in the proximities of Jordan's industrial parks. With up to eight workers of different nationalities living in each room, stringent hygienic conditions are key to avoid possible infection. In collaboration with local stakeholders, BWJ has also been monitoring the condition of Jordanian garment workers across the country throughout the lockdown.
Bangladeshi workers make up over half of the foreign workforce employed in the garment sector in Jordan, which also include Indian, Sri Lankan and Nepali citizens. Bilingual Better Work team members have been making regular phone calls to migrant worker representatives inside factory dormitories. Conversations in native languages are a crucial opportunity to raise workers' awareness about the risks linked to the coronavirus outbreak, share hygiene information, and discuss mental health issues related to isolation, loneliness, and worries about family and friends.
Better Work is also working closely with national stakeholders to make sure workers receive their wages throughout the lockdown. Digital payment will be tested for disbursing salaries and remitting migrant workers' salaries to their home countries.
Meanwhile, the government will begin to resume operations in ten garment factories for the manufacturing of face masks, allowing only ten workers on each plant's production line.
Better Work staff are now offering their advisory services to factories through video calls. Measures taken by the clothing plants to protect their workers, both across dormitories and the factory floor, have become the main focus of the programme.
Several factories have also conducted comprehensive sanitisation of their premises, information campaigns among their workforce about the Covid-19 infection and the situation across the country, while collecting disinfectants and food for those residing in their premises.
Better Work says it will continue its efforts with national stakeholders during this emergency situation in the country to guarantee the workers' health and financial protection throughout the pandemic.
Better Work is a partnership between the International Labour Organization (ILO) and the International Finance Corporation (a member of the World Bank Group). Currently active in eight countries reaching more than 2m workers – Bangladesh, Cambodia, Egypt, Haiti, Indonesia, Jordan, Nicaragua and Vietnam – the programme brings together governments, employers, workers and international buyers to improve compliance with labour standards and promote competitiveness in global supply chains.