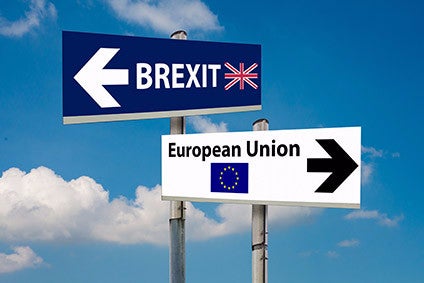 The UK's impending departure from the European Union (EU) has left a cloud of uncertainty hanging over the country's fashion retail sector and its supply chain. How businesses prepare for Brexit and beyond will be key, industry speakers told a recent conference.
That the fashion marketplace is currently experiencing a multitude of challenges and being considerably disrupted is not new news. The UK's impending departure from the European Union (EU) has weakened the value of sterling, placing significant pressure on businesses as consumer confidence wanes. This is coupled with the desire from consumers for speed, low cost and all the latest trends, as well as the increasing need to invest in technological innovation.
"We are now actually starting to see consumers have new expectations and desires, and a lot of this is coming from some of the non-traditional competitors," Judy Blackburn, principal director of Kurt Salmon told a recent conference on 'Beyond Brexit – Helping the fashion industry turn uncertainty into opportunity,' organised by the Association of Suppliers to the British Clothing Industry (ASBCI). "When we think about the ease of shopping, there are new interfaces with new technology. Amazon's Alexa for example. It's changing the game and setting the bar."
Another example is Jet.com, the e-commerce start-up bought by Amazon last year that is changing the game in terms of providing information about cost to the consumer. As a shopper adds an item to the basket, they will see the cost of shipping it. This can then reduce as more items are added, and if they promise not to return the product, the price can drop even further.
Supply chain impact
"You could say traditional retail is in crisis and this type of disruption is having a significant impact on the supply chain," Blackburn adds. "We need to look at new ways to adapt to those changes. But while the fashion marketplace is changing, sourcing is becoming ever more dynamic."
At present, China is still by far the largest exporter of apparel into the EU with a 28% share, exporting EUR20.32bn (US$23.58bn) worth of clothing in 2016, according to Kurt Salmon. But the country is facing a decreasing market share, having declined by 4% since 2014.
Bangladesh, meanwhile is gaining market share, now at 19%, exporting EUR13.31bn of apparel into the EU last year.
For the UK, the EU was its largest trading partner for fashion in 2016, with around 75% of finished products exported and around one-quarter to one-third of footwear and clothing imported into the UK from the EU.
This has been supported by growth in the UK footwear manufacturing industry over the last five years, thanks to a number of government-backed initiatives. And while there has been a decline in the textile, weaving and finishing industry, UK clothing manufacturing revenue has grown, according to Kurt Salmon.
But as Blackburn explains, the majority of clothing and footwear retailers are reliant on sourcing from overseas. She points to three critical factors companies take into account when making sourcing manufacturing decisions: responsiveness, production cost, and innovation.
A shift in sourcing
The uncertainty of Brexit means traditional sourcing models are being challenged.
"EU sourcing locations have been becoming more attractive to the UK market to support that responsiveness factor, particularly. But with the growing uncertainty around Brexit, UK fashion companies should be devising innovative ways to meet the key challenges of delivering a compelling customer experience and product proposition in a cost effective way."
The ripple effect from Brexit, however, is reaching wider than just sourcing. Blackburn points to access to labour as another challenge.
"It's a worry for many in the industry. We've seen that UK footwear manufacturers are facing challenges in recruiting the right skills for the level of footwear technology and production models. We've heard that some fashion design studios estimate they could lose a third of their skilled staff in the case of a hard Brexit. And within the supply chain specifically, we've all heard about the latest shortage worry that is likely to affect distribution centre operations."
Beyond these challenges, however, the unknown timeframe for Brexit is throwing in another complication. While the labour impact, the depreciation of the pound and cost are already visible, these effects are likely to be compounded as the UK exits the EU, and then during a possible transition period.
"If we exit in the hard Brexit type scenario, into a WTO-based trading regime, you can expect to see tariffs of around 2-5% on the import of textiles, and potentially up to 12% on finished clothing items. And those impacts are not just in terms of our direct trade with the EU but also affect the inbound supply chain, particularly when materials are routed through the EU," explains Harry Morrison, managing director of Accenture Strategy.
"The impact in terms of the distribution hubs where inventory is warehoused, and the physical routing of goods and materials, is going to be particularly significant."
Morrison says non-tariff barriers could have an equivalent level of cost to the tariffs themselves when companies have to take into account the impact of customs declarations and processes, as well as delays at borders.
"This is a huge uncertainty and many companies are starting to plan for a one to two day delay at the border. Some are looking at delays of potentially a week. In a fast fashion environment, particularly if you are fulfilling across Europe from a centralised hub, these delays can have a massive impact on your working capital. So starting to plan for those financial impacts of that change is going to be really important."
Morrison also points to the impact of tax changes, particularly for e-commerce businesses, and the validity of contracts.
"There are many topics that need to be thought about on the time horizon of now, on the day we leave, and then potentially the end of the transition period as well," he explains.
"These impacts are not going to be universally felt through the supply chain but it depends really where you play and the specifics of your business. And there are really no generalised answers to the impact of Brexit."
How to respond
Morrison offers a number of factors for retailers and brands to start thinking about as they model their future network and costs.
Think about the physical location of your network, the service levels you require, the mix of legal entities you may need in the UK and the EU, and where you hold your inventory in order to meet customer demand in a timely fashion.
Understand the cost impacts [of Brexit] and scenario plan. Work with your suppliers or customers to understand the mutual risks you face. Supplier screening can be important.
Start to plan your mitigations. Local sourcing in the UK, for example, can bring some very significant benefits in terms of the ability to fulfil rapidly in a fast fashion environment, potentially with some sustainability benefits as well.
Start thinking, along with your legal advisors, how you may address some of the future customs and tariffs challenges. This can include investigating bonded warehouses, or consider applying for inward processing reliefs.
Think about the alternative options to drive out cost. This could mean looking at changing back office processes with RPA (robotic process automation), or looking at artificial intelligence.
"Start planning now, work backwards from 29 March 2019 to work out your principal milestones for action," Morrison advises. "And if you haven't already, think about establishing a cross-functional scheme combining supply chain operations with legal, with human resources, with finance, to have an integrated response, to model your impacts, to potentially re-design your operating model and your company entity structure, and crucially to review the physical supply chain and the potential challenges you may face.
"Take action now, even though it's uncertain, and hopefully you'll be well placed to deal with any eventuality that plays out over multiple time horizons."