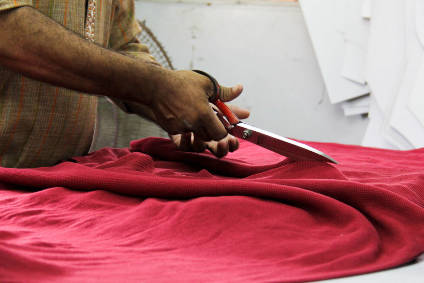 Developing informed sourcing decisions can be a laborious and time-consuming process. Here we show how re:source by just-style can be used to quickly analyse five of the biggest low cost exporter countries as a starting point to setting a future sourcing strategy.
Marketing departments, buyers and merchandisers, sourcing and supply chain managers at own-label retailers or wholesale brands are all required to analyse data. They analyse market estimates and market trends. They analyse the sources of supply and sourcing trends. Here I am using data from the re:source by just-style strategic sourcing tool to investigate:
One garment destination market, the European Union (EU);
For one product category; pants and trousers;
For both men and women;
By method of construction (knitted or woven);
By fabric (wool, cotton, synthetic, other).
This information will be used to analyse five of the biggest low cost exporter countries (chosen from my own sourcing experience) in order to arrive at informed decisions on where our future sourcing strategy and policy should take us.
You can spend a great deal of time and effort doing this. I did it using re:source in no more than three hours.
The starting point (raw data)
The re:source database uses HS (product) codes. There are 16 of them for pants and trousers, eight each for men and women. I wanted to investigate exports from Bangladesh, China, India, Indonesia and Pakistan in US$ values for the years 2012 and 2016, so that information was keyed in. Sixteen HS codes times five countries for each year means I will get 80 rows of raw data, and two columns, one for each year.
It is possible to sort data in ascending or descending order, but as I had chosen my preferred countries for analysis, this was not necessary.
The analysis
If you know in advance in what manner you intend to present the analysis, then it is relatively straightforward to lay it out.
Table 1 shows an extract from the raw data for exports from Bangladesh of men's and boys' woven pants and trousers:
Export data summary
Table 2 is my summary data table from my analysis of the raw data, showing the five countries' exports to the EU in US$ for 2012 and 2016, for pants and trousers:
How have the countries fared in their trade with the EU?
Bangladesh has done spectacularly well. Growth of 59% – which is a huge US$2.327bn. Bangladesh has risen from being the number two supplier to the EU to first place.
China has grown, but not by a lot. Admittedly, growth of 9% is still a substantial US$402m. But China has lost its number one supplier position in this product category.
India remains the number four supplier. It has grown by 34%, which is an impressive US$245m. But its percentage growth only equals the average of these five exporters.
Indonesia has stagnated. It is the smallest of the five. It has experienced a 3% decline in US$m exports.
Pakistan is the second success story. Although it still ranks third of the five, growth has been a very substantial US$748m, the second biggest and at 65%, the best percentage performance.
Obviously, this does not tell me where I should target my sourcing, but it is a good starting point.
Exports by gender
Now let us explore the nature of the sourcing buyer, regardless of whether it is an own-label retailer or a brand. The buyer could be interested in menswear, womenswear or both. So it helps to know if the exporting countries seem to be more concentrated on one or the other.
Table 3 analyses the five countries' exports to the EU in US$ for 2016, for pants and trousers by gender:
This analysis suggests that:
In aggregate, these five countries export menswear and womenswear in equal proportions to the EU.
But that:
China, India and Indonesia are skewed towards womenswear.
Pakistan is dominated by menswear.
Hence, if I am a womenswear brand or retailer, Pakistan may not be right for me. The suspicion (which I can vouch for from my own experience in that country) is that the skills are lacking in women's trouser styling. I should be thinking more about the other four big suppliers.
Exports by construction, knit or woven
The next element that the sourcing manager must consider is whether different exporting countries have different construction-based skills. The HS product codes are based around:
Knitted or crocheted (but forget crocheted, as it is minor);
Unspecified construction in the code, which for 98% of exports mean it is woven.
As an industry business manager, I know whether my designers are concentrating on woven or knit. Therefore, I need to establish the skill levels in these two construction methods. The next data analysis should therefore be based on construction.
Table 4 analyses the five countries' exports to the EU in US$ for 2016, for pants and trousers by construction (knit or woven):
Let's be honest and brutal. If I am interested in knitting skills, these countries are not the place to go:
Indonesia has more than 50% knitted, but from a very low base;
India has some knitting skills, but as a percentage rather than an absolute volume skill base;
Bangladesh, China and Pakistan are dominated by weaving.
I am now beginning to home in on places to conduct my specific search.
Exports by fabric, wool, cotton, synthetic and other
Before introducing this table, it is necessary to explain the definitions of the fabric categories. They are typical government statistics, and can be used (and abused) by exporters to re-classify merchandise into a category into which it does not strictly belong. So:
610461 and 620341, wool; means wool, from sheep. Except that fine animal hair could include cashmere, angora or mohair.
610462 and 620342, cotton; means cotton (but when does a cotton poly blend stop being cotton and become poly, a manmade?).
610463 and 620343, synthetics; means almost any manmade fibre, of which the most well-known are polyester, nylon, rayon, viscose and polyamide.
610469 and 620469, other; means exotics such as silk, bamboo, and other cellulosics, but could include (perhaps to avoid tariffs or political restrictions) cashmere, angora or mohair.
Table 5 analyses the five countries' exports to the EU in US$ for 2016, for pants and trousers by fabric:
Of course, not all the businesses interested in sourcing data are own-label retailers or brands. As the just-style 2017 report on the denim and jeans market revealed, everyone in the supply chain has an interest – including the upstream providers of denim fabrics and various fibres. So what could they learn from this last sourcing data analysis?
That these are cotton dominated countries, with the exception of Indonesia.
That wool is effectively non-existent in the production of pants and trousers in these five countries.
That synthetics (manmade fibres) are significant, particularly in production in China and Indonesia. In fact, Indonesia appears to be the sourcing exception of the five in many ways.
Overall sourcing conclusions, from what re:source is telling me
Who has been growing? Bangladesh and Pakistan. Some of the country profiles and country sourcing criteria information in re:source will help me understand the underlying reasons for their success. Here you can view the 'sourcing criteria' where you can select the five countries side-by-side in re:source. Their profiles in-turn are linked from this page.
If I am interested in menswear, I should pay attention to Pakistan. For womenswear, China, India or Bangladesh look good. I know whether my designers are knit or woven biased. If it is knitted, I have a problem with these five exporting countries. With the exception of Indonesia, they are not strong. And Indonesia is a smaller player anyway. The other four countries have a strong woven industry base.
Finally, if my business is wool based, then I am looking in the wrong direction for my sourcing. Cotton is king, but synthetics are big in China.
I am now ready, and primed to develop my sourcing decisions in more detail.