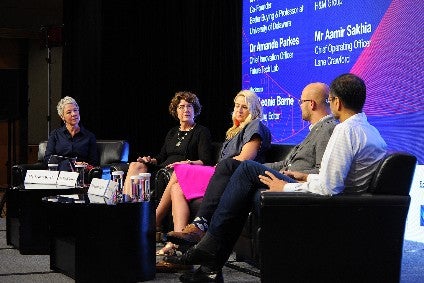 There's a lot of talk about the potential benefits of developing a closed loop or circular economy as a long-term solution to the environmental impacts of the clothing industry and its supply chain – yet delivering real change is so far proving to be slow. An expert panel at the recent Innovation and Technology Symposium at the Fashion Summit (Hong Kong) 2018 discussed some of the challenges of closing the loop in the fashion industry, and potential solutions for moving from hype to action.
Current initiatives to improve sustainability within the fashion industry include everything from encouraging lower consumption, moving to more environmentally responsible production, recycling used fabrics, and even new business models offering rental and repair services.
But the biggest impact would undoubtedly come from a complete shift to a 'circular' or no-waste economy, changing the way garments are designed and produced, shipped, bought, used and recycled in order to recirculate raw materials, eliminate waste and reduce the use of valuable resources.
Indeed, many projects are already underway looking at different ways to close the loop in clothing supply chains through the use of disruptive technology, new fibres and fabrics, and business models – although achieving a complete end-to-end model is proving elusive.
For the fashion industry, the main gap is not necessarily the lack of action to move towards a new circular economy. Rather it's the coordination, the alignment and the deepening impact of existing initiatives and their scale-up, according to executives at the two-day Fashion Summit HK 2018, which took place in Hong Kong earlier this month.
With an overall focus on the 'Circular Economy' theme, the event heard how the fashion industry's traditional linear take-make-dispose production and consumption model is the root cause of its problems.
It's a format unchanged for decades, where huge amounts of non-renewable resources are extracted to produce clothes that are often used for only a short time, after which almost all materials are sent to landfill or incinerated.
"We need to prepare ourselves for the future…for a world where we have eight to ten billion people [as the UN forecasts by 2030], and we need to stay within the planetary boundaries," Joel Ankarberg, head of business development and production at the H&M Group, told Summit delegates during a panel discussion on 'Closing the Loop.'
"With that kind of population, we would consume 2.3 times as much resources as the world can offer. So it's a serious problem, and we really need to break these linear business models.
"We need to break our dependencies on oil, on water, on land…and if we're not finding ways to reuse the resources that we have, we will not be a successful industry."
Dr Amanda Parkes, chief innovation officer of Future Tech Lab, agrees. The disruptive platform is part investment fund, accelerator and experimental laboratory and was set up just over a year ago to commercialise new technologies and sustainable innovation for the fashion industry.
"Right now, we are entering the fourth industrial revolution. We're having a convergence of the physical, the digital, and the biological – and this is exciting because it is actually going to be one of the ways that helps us close the loop" – Dr Amanda Parkes, chief innovation officer of Future Tech Lab
"Right now, we are entering the fourth industrial revolution," she explains. "We're having a convergence of the physical, the digital, and the biological – and this is exciting because it is actually going to be one of the ways that helps us close the loop.
"Right now we're somewhere between a linear economy and a recycling economy and we're trying to push ourselves into a circular economy, where we no longer have waste.
"There are lots of ways that we can start to think about how we close this loop. The first, and the one that I'm most focused on as a scientist, is technology and material development. But there are other ways, like new business models and changing consumer patterns.
"There's also the back end, which is looking at things like how do we actually create partnerships across industries so people who may be considered competitors, different brands, manufacturers, actually need to start working together to have radical transparency."
It might sound very simple, she says, "but in reality, it's very complex. And this is why we're not here yet. It's going to take time and it's going to take commitment, and it's going to take coordination to make all these parts work together."
Vision and leadership
Perhaps first and foremost on the list of challenges to delivering real change is for the industry to take leadership on the issue.
"We need to develop strong visions," says Ankarberg, "and strong visions don't come from the sustainability department; they come from everywhere within a company."
H&M has "a vision of leading change toward circular and renewable fashion, while being a fair and equal company. In connection with this we have set out ambitious goals in order to generate momentum, but which we will not be able to achieve without innovation in the industry."
Taking matters into its own hands, the non-profit H&M Foundation's Global Change Award invests in early stage ideas for new circular fashion models. And its ongoing collaboration with the Hong Kong Research Institute of Textiles and Apparel (HKRITA) has already found a way to recycle the most common blend textiles into new fabrics and yarns without loss of quality – a development hailed as a major breakthrough on the road to a circular economy.
This takes the company closer to its goal of using 100% recyclable or sustainably sourced materials by 2030. "Last year, we managed to reach 36% of our total material buy as recycled or sustainably sourced fabrics. This year, we're on our way to pass almost 50%, which is a great achievement. But we still need innovation."
"H&M suppliers will not receive one single order that is not 100% recycled or sustainably sourced fabric by 2030" – Joel Ankarberg, head of business development and production at the H&M Group
It also means H&M suppliers "will not receive one single order that is not 100% recycled or sustainably sourced fabric by 2030. That is quite a bold statement, and I know from discussions it is generating momentum toward those goals."
A key piece of the jigsaw is also ensuring there is no disconnect between the sustainability targets of brands and retailers, and their buying practices, according to Dr Marsha Dickson, co-founder of the Better Buying initiative and Professor in the Department of Fashion & Apparel Studies at the University of Delaware.
"For us it's really about the supplier. Because as a supplier, you are an implementer, and none of this can happen without them fully on board. So we look at bringing the input of suppliers into the collaborative partnerships that are happening, and making sure their wisdom and knowledge is fully brought to the table – and that we co-design, co-create, sustainability programmes that can be implemented by the entire supply chain."
Investment
There's also investment to contend with.
"We have to talk about money," says Dr Parkes. "We have to change the funding structure for people to actually commit to longer-term returns and to have more fundamental change. There is so much innovation and research out there; it's about doing the work to convert it into commercialisation. And that's less sexy as an investment, but it's where we need the money.
"And also the things that are being enabled by technologies that people might not even be thinking about as a crucial component. So when we're thinking about wearables and fibre, it's something like a connector. So whoever makes the USB connector of fibres, that's a billion dollar company; it will be in every single product. But it's not something that's consumer-crazy, it's not sexy as a fashion investment.
"The idea that we're doing proper kind of due diligence on these ideas is crucial to me moving forward."
Ensuring resources are set aside also supports a longer-term outlook, emphasises Dr Parkes.
"The initial research phases of science are expensive and take a long time. We have to have investments in order for us to move these processes forward, to get them off the lab bench and into a real manufacturing cycle.
"But so much of the industry is just focused on getting things to market tomorrow or the next day or three months from now. And those same companies are staffed so thin that if you come along with an idea they can't handle it.
"Coming from tech, where all companies have internal R&D, I was shocked as I emerged into the fashion industry to find that companies didn't have research and innovation in the back. Why are you spending all of this money on crazy advertising? Shift something into R&D.
"None of this can happen without suppliers fully on board. So we look at making sure we co-design, co-create, sustainability programmes that can be implemented by the entire supply chain" – Dr Marsha Dickson, co-founder of the Better Buying initiative
"The thing with R&D is that it allows you to own the means of your own production, success, and the long term determination of success, because with smaller brands, they're very dependent on the industry and the market and what's available. So when you have scale and scope, you can make the change in a large purchase, you can develop a lead manufacturing technology and fund the scaling of that in one fell swoop."
One of the things that can also get in the way of progress is intellectual property, "who gets the benefit from it, how to get the IP into the public domain and open to the industry so we all benefit from it."
"We see a lot of fantastic innovations coming out that won't ever reach markets or products on an industry-wide basis," notes Ankarberg. "We at H&M have the vision to find the innovations, to make the innovations affordable for all, and on wider scale."
At the opposite end of the spectrum, "high-end luxury has a different role to play," believes Dr Parkes. "There are things that are just going to be expensive in the beginning. There's this relationship between science and couture, where science is hard, it's expensive, it takes a long time – so does couture.
"So they're actually perfectly matched to take on innovation. They can absorb the price point, they can take the time with the craftsmanship. So I'd like to see higher-end luxury picking up on that. It's happening a little bit, but we need top-down and we need bottom-up."
Risk and tradeoffs
Reaching the end goal of a closed-loop system is a combination of risk and tradeoffs, the executives say, with steps likely to be both incremental and imperfect.
"A lot of times when you're working on new advanced fibres and process coatings, you're not going to have a perfectly sustainable mixture at the beginning, and people get so critical: 'If it's not perfect, then we can't do it.' So we have to have a framework where we start in a place that isn't fully sustainable, but then we'll work on getting that to a better place," Dr Parkes explains.
"Everything in sustainability is measuring tradeoffs. Is it better to reclaim polyester, to bring it back into the circular economy, even if you are using some form of chemicals? We don't have perfect metrics for what is better in terms of long-term sustainability, so we have to try out all the solutions – and this takes time."
Risk management and the communication of that risk is also a challenge and "one of the biggest struggles that we encounter," she continues.
"But I also believe the first rule of product design is 'fail fast, fail quickly, fail often,' and then you'll get somewhere much more quickly. And I think fashion companies are inherently risk-averse because their margins are so low…that's so shocking to me."
Engaging the consumer
Another challenge is how to engage and educate consumers so they create the pull and the demand for the next level of evolution and the next level of innovation.
"I don't believe every consumer is ever going to really care about sustainability and closing the loop. And I don't think that should be the goal," says Dr Parkes. "Are we trying to push education and push the responsibility onto people, or should we just be creating a better product that nobody even knows is sustainable?"
"The research follows that too," adds Dr Dickson. "There's the gap between, 'Oh I really care,' and what you actually do in the store. But when we're talking about consumers, there's still so much room to change their behaviours."
Indeed, a 'Global Sustainable Fashion Consumption Survey' commissioned to tie in with the Fashion Summit HK found that 64% of respondents say they support sustainable fashion, yet 60% would only buy sustainable fashion if the price was the same as normal fashion.
So what about the role of government in everything from regulation to education: educating consumers, educating industry, creating boundaries and ground rules.
"It makes sense for us to be proactive from an industry perspective, about setting our goals around what we want the legislation to be," Dr Parkes believes. "The synthetic biology industry has taken the initiative where leading scientists are creating the rules we want to set up, and then making that recommendation to the government."
But "the legislation and the ideas of the legislation have to come from the industry itself."
From a purchasing practices standpoint, a lot of international legislation is focused on due diligence and human rights, such as modern slavery and forced labour, "and it's bringing attention to each company's arena of responsibility in thinking about their contributions," notes Dr Dickson. "That's one angle that compels a hard look at behaviours that might not be looked at otherwise.
"And as we collect the data on the Better Buying purchasing practices index and work with national governments, who are interested in a certain kind of economy and a certain kind of industry, there may come a time where it's not just the suppliers saying, 'You know, I don't know if I want to do business with this buyer, I think they're too hard to work with.'
"Instead, it could be a national government or an industry association saying, 'We're trying to be a sustainable fashion hub, sustainability is core to what we do. We suggest you not work with these ten companies, because they're not compatible with what we're trying to do as an industry'."
Fast fashion model
And of course there's the elephant in the room: How does closing the loop co-exist with the problem of fashion over-consumption and fast fashion? Is there a need to tackle fast fashion first, before moving to talk about closed loop?
"It's not a question about choosing that or something else; it's about finding a solution so that we can address both," is Ankarberg's response.
"I don't think that we're ever going to change this idea that people want new things," adds Dr Parkes. "That's the point about new business models like Rent the Runway," the online service that provides designer dress and accessory rentals, like a clothing library. "I can have new clothes every day: I can walk in in one outfit and walk out in another.
"That's one model. But then there's also the material appropriateness. If we're going to have fast fashion, things that we know we're not going to want after a while, why don't we make them out of material that's actually going to disintegrate after three months? Why doesn't fast fashion work like Snapchat or Instagram? You know it's going away, catch it while you can…and you sell it like that. It could be a marketing ploy.
"Some things, like couture, leather handbags, are meant to last multiple generations. T-shirts are meant to last three months. So let's have our materials match the intended use of the product."
Near horizons
Looking ahead to the next five years or so, and panellists hope progress towards closing the loop will have been made on several fronts – most notably on scaling the production of new materials and processes to reuse fibres.
"My dream would be that technologies exist to reuse and reuse fibres that are scalable in each of the resource balance sheets: poly, cotton, cellulosic," says Ankarberg.
For Dr Parkes, "it's really about the availability of the materials, scaling production, and the more it becomes available, the more different product models we can try out."
"We are looking for measurable change on the Better Buying purchasing practices index," adds Dr Dickson, "so we can see a supplier community that's financially stable and incentivised to be able to carry out the sustainability issues."
See also: Why fashion must act now to secure a sustainable future