Investment key to Africa's clothing industry growth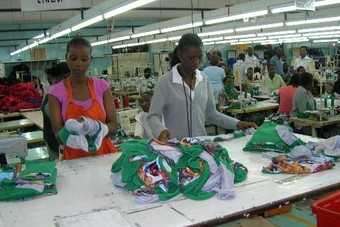 Africa's clothing and textile sector can grow, but needs investment and infrastructure support
Africa's beleaguered clothing and textile industry could take advantage of a projected downturn in exports from Chinese manufacturers - but only if a wide range of reforms are implemented locally, according to industry experts at the Source Africa trade event in Cape Town last week.
Speakers at the event said that if the difficulties currently hamstringing the sector could be overcome, then Africa's clothing and textile sector could thrive.
Roy Ashurst, a senior buyer for the US-based PVH Corporation, told delegates the annual value of Chinese clothing and textile exports was expected to drop from US$250bn to US$200bn in the coming years.
"That's US$50bn of opportunity that African companies could tap into. Wages in Africa are now lower and basic commodity goods are cheaper than anywhere else in the world, so I think we have reached a tipping point that could lead to an industry revival in the continent," he said.
World Bank senior trade specialist Thomas Farole agreed, noting rising Chinese costs. "China's minimum wage has doubled in the last five years so Africa has a serious advantage over the world's largest clothing and textile producers in this area. As Chinese wages increase, the country will shed 85m jobs [across all sectors]. The continent won't get them all of course, but they should get some."
He added Africa's relative proximity to Europe and the US would also help. "There is also a change on the way in terms of companies pulling back to regional networks to buy stock. Buyers in the US and EU do not want to wait for four weeks to get stock, and Chinese producers find it difficult to turn around orders quickly due to their geographical proximity to these markets," he said.
Struggling to compete
But Africa will still have to compete with exporting countries in the Middle East and the likes of Indonesia, Vietnam and Bangladesh. Even with preferential trade agreements such as the USA's African Growth & Opportunity Act (AGOA), African companies have struggled to compete locally, regionally and internationally.
Samuel Gayi, head of the commodities special unit at the UN Conference on Trade and Development (UNCTAD), explained Africa's clothing and textile sector remains too fragmented for the global economy, harming competitiveness.
Currently its clothing and textile industries operate in small economic zones, with poor transport infrastructure and inefficient labour markets. In addition, companies have to contend with high inflation rates, the threat of political instability and weak institutions.
"Infrastructure is the key to increasing trade in general. Pan-African roads could cost US$32bn but they could generate US$250bn of additional trade over 15 years. The plans are there to develop these transportation corridors, but they need to be implemented," he maintained.
This not only stunts exports outside the continent, but also inter-Africa trade, which is further hampered by inadequate domestic transport policies, difficult business environments and inefficient border and customs procedures.
World Bank statistics reveal that over the last 20 years Sub-Saharan Africa has only secured 1% of the global apparel trade, with China getting a massive 41%.
International Textile Manufacturers Federation (ITMF) figures concur: in 2011, China remained the largest clothing and textile exporter in the world by far, and no African country appeared in the world's top 20 for that year.
Its best performer was Egypt, a long-standing cotton producer, which exported US$3.5bn worth of the fibre.
As further proof of the industry's stagnation across most of the region, the ITMF said that investment in the technology and skills needed to develop Africa's apparel industry over the past 10 years was also extremely low.
Asian inflow
South Africa, the continent's biggest economy and traditionally a clothing and textile hub for the region has shown how difficult it is for African companies to withstand the flood of Asian low cost goods, according to trade consultant Liz Whitehouse, South Africa-based managing partner at Whitehouse & Associates.
"South Africa's clothing industry has been under enormous pressure for a while, with total imports in this sector now valued at US$1.5bn - a 370% increase over the last decade. The government linked the decline of the local industry to Chinese imports and, as a response, imposed quotas on those goods.
"This left a gap in the market that was filled by Bangladesh and Vietnam, and Asia now accounts for 80% of South African clothing imports," she said.
Whitehouse added that South Africa and others could learn from Mauritius, whose products are selling well in her country.
Sub-Saharan Africa's top apparel exporters, the Mauritians sold US$769m worth of clothing and textile product internationally in 2010 - more than double Madagascar, its closest rival.
"Mauritius supplies high quality products and has used its physical proximity to Africa, and shorter lead times, to build good relationship with a lot of South Africa retailers. They are flexible, deliver according to the schedules, have a strong design capacity, and a two-week turnaround time to market on their orders," she said.
Cause for hope
And although the situation in South Africa's clothing and textile industry is grave - at least 50,000 jobs were lost in the clothing sector in the last decade - there may be cause for hope. The local industry has recorded modest growth since 2010, when exports grew to US$174m from US$166m the year before.
South Africa's Department of Trade and Industry director general, Lionel October, said his government's clothing and textiles competitiveness programme (CTCP), established to support the industry, was helping turn things around.
"Local retailers are increasing procurement from local manufacturers and there is confidence starting to be shown by the new investment in the sectors," he said. "The CTCP stopped the employment decline in these sectors and more than 12,000 new permanent jobs have been created.
He added that more than 400 companies have been helped by the CTCP, with ZAR1.5bn [US$165.5m] worth of applications approved.
Regionally, the private sector is also trying to react, having formed the African Cotton and Textile Industries Federation (ACTIF) in 2005.
ACTIF executive director Rajeev Arora said the organisation's "main focus is to develop the value chains, and to secure foreign direct investment so we can build the capacity of manufacturers.
"We work in an advisory capacity with most governments and are discussing how agreements like AGOA should be taken forward after 2015, when it is scheduled to finish. There are many challenges but we are working to deal with them," he explained.
Create sourcing plans that work
Find new apparel sourcing destinations, assess trade flows and manage tariffs. All in one place.
Oops! This article is copy protected.
Why can't I copy the text on this page?
The ability to copy articles is specially reserved for people who are part of a group membership.
How do I become a group member?
To find out how you and your team can copy and share articles and save money as part of a group membership call Sean Clinton on
+44 (0)1527 573 736 or complete this form..