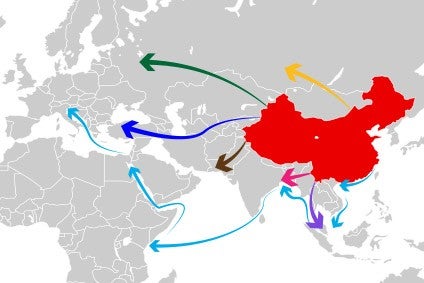 China's Belt and Road Initiative (BRI) has been touted by Beijing as a 'win-win' for all involved in the sprawling infrastructure project that connects the Far East with Europe – but experts warn Turkey's textile and garment sector needs to play smart in weighing up the risks and opportunities.
Turkey's geopolitical positioning at the crossroads of east and west means the country will play a key role in trade routes and infrastructure promoted by BRI spending, but it could open Turkey to unwelcome competition, as well as aiding its export flows.
Projects with Chinese support include a Turkey-China road logistics company, a new air freight joint venture, a high speed rail link between Ankara and Istanbul, as well as an Edirne to Kars (on the Armenian border) rail route.
At a Turkey-China Textile and Apparel Dialogue meeting in Istanbul last April, Suizhe Sun, president of China's National Textile and Apparel Council (CNTAC), made a presentation entitled 'More Cooperation and Win-Win Approach,' that emphasised bolstered bilateral ties. Members of Turkey's textile and apparel associations also talked up the need for greater cooperation between two of the world's largest textile and garment manufacturers.
Hadi Karasu, president of the Turkish Clothing Manufacturers' Association (TGSD – Türkiye Giyim Sanayicileri Dernegi), said at the event that the two countries should not compete or cooperate, but have "coopetition" to "find ways to use each other's forces and businesses" in research and industrial development.
Turkey concerns
However, the speeches at the meeting downplayed some of Turkey's concerns, specifically the widening trade deficit with China, which exports roughly ten times more to Turkey (of all goods) than Turkey exports to China, according to international trade data. Figures show Turkey imported US$259.6m worth of textiles from China in 2017.
As bilateral ties deepen through the BRI, Turkish manufacturers have called for restrictions to be imposed on Chinese textiles to protect the national industry's local backward linkages.
They have also voiced concerns that Chinese goods will have easier access to the European Union (EU) once the BRI infrastructure is in place. This could potentially undercut Turkey's exports to the EU, which accounted for half of its US$26.1bn in textile and garment exports in 2018, according to data from the Turkish Exporters Assembly (TIM – Türkiye Ihracatçilar Meclisi).
Last June, the now online Turkish daily Habertürk quoted the TGSD's Karasu as saying that Turkey's clothing sector needed to react forcefully to BRI. "We are scared of China and do not want to retreat to our corner with a number of protection measures, we want to act offensively. We talk about what they can't sell us, let's go and disturb them," he said.
The improved infrastructure and logistics of BRI could certainly bolster Turkish exports to Central Asia and the Far East. Tanzer Gözek, CEO of fabric producer Kimtex, told Habertürk that Turkey has a potential advantage due to rising costs and reduced capacity in China. "China is gradually moving from being a seller to a buyer. This is a new dynamic for Turkey," he said.
Inherent strengths
Navdeep Sodhi, partner at the Switzerland-based Gherzi Textil Organisation, told just-style that Turkey would be able to play on its inherent strengths in the textile and garment business to compete with China, noting that China's consumption of textile and garments is set to increase, with average monthly salaries rising to US$600 a month. The monthly salary in the Turkish garment sector is TRY2,200 (US$415), he noted.
Such costs, and the recent depreciation of the lira, give Turkey a "big edge for exports and its competitiveness," said Sodhi, in addition to its proximity to the EU. "Given the growing trend towards fast fashion and traceability, and demand for high fashion, Turkish companies will be able to cater to this demand."
Sodhi also pointed out that Turkish manufacturers had been concerned in 2005 that the phase-out of the World Trade Organization's (WTO) Multi-Fibre Agreement (MFA) could make them lose out to Asian manufacturers – but the sector had successfully restructured to remain competitive.
"Turkey has certain unique strengths and its industry is quite diversified. There are positives and negatives in this volatile situation," he said.
For more details on the scope of Beijing's 'One Belt One Road' initiative, along with some of the implications for textile and apparel trade, click on the following link: Open standards to boost 'Belt and Road' connectivity.