Is clothing close to a closed loop future?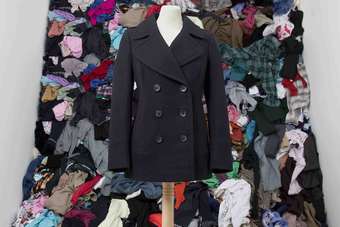 Marks & Spencer's 'Shwop Coat' is the first garment made through the closed-loop production process from recycled clothes donated by customers through its 'Shwopping' scheme.
Retailers and brands are increasingly looking at the idea of closing the loop in the apparel supply chain. Taking a garment back to its original fibre form and then using this to create something new is seen as a way for firms to become more sustainable. With Puma this week becoming the latest to launch a recyclable clothing range, Petah Marian asks: "What is the future for closed loop?"
While many apparel companies have been working in recent years to become more sustainable, the use of virgin resources in the production of clothing, particularly for products with short life spans such as fast fashion, make it an inherently unsustainable industry.
The UK government's Waste & Resources Action Programme (WRAP) last year called on consumers to use their clothes for an extra nine months, in a move that could reduce their carbon, waste and water footprints by up to 20-30%.
Yet this solution is untenable for most retailers whose business models rely on the regular sale of clothing to make a profit. So unless fast fashion firms turn their business models upside down, another solution needs to be found.
The concept of closed loop - the process of recycling a garment so that it can be used again by returning it to fibre form and spinning this back into fabric - is gaining increasing interest.
This is especially the case as more forward-looking retailers visualise a future in which rising raw material costs are the norm and an expanding global middle class puts increasing pressures on the natural environment.
But putting closed loop into practice is still very much in its nascent stages.
Brands experimenting with closed loop
Retailer Marks & Spencer has effectively offered proof of concept with a coat made using wool from unwanted clothing - and earlier this week Puma launched its InCycle range of biodegradable or recyclable shoes, backpacks and T-shirts and track jackets.
Meanwhile, other retailers are also preparing for a closed loop future, setting up clothing collection schemes in-store, like M&S's shwopping scheme, or in the case of H&M and Puma, through agreements with global recycling company I:CO.
In December, fashion retailer H&M launched a clothing recycling scheme, with a spokesperson telling just-style that the aim of the programme is to link some of the recycled textile fibres from the garments it collects to its future products.
She explained the main challenge to a complete closed loop is the "poor quality of mechanically recycled natural fibres".
Recycling natural fibres
Mechanical shredding, used for fibres like cotton or wool, means that companies are left with a very short and relatively weak fibre, which makes it difficult to spin.
"You could, if you're not careful, end up with a really nice environmental story, that you've made a cotton shirt out of recycled cotton, but that shirt does not perform to the requirements, whether that's in terms of the aesthetics or in terms of its long term durability," admits Mark Sumner, M&S's Plan A sustainable raw materials specialist.
Yet, these challenges are not insurmountable, with M&S spending two and a half years working with one of its suppliers to develop its mechanically recycled wool coats.
"There was some work done in terms of how they sort the garments, and how they took the garments back to their original fibre form. We did work with them on the spinning process, on how they can spin the yarn to make it suitable to go back into a fabric."
There are also limitations on what colours can be used. Sumner says that M&S has spent a huge amount of time and effort ensuring its products are colour fast. "That creates a problem, because when we want to recycle a product, that colour is fixed, there is no way of removing it."
This meant the company had to ensure its recycled coats were a dark colour, because if they were a pastel shade, for instance, there would have been flecks of the former colour throughout the coat.
Recycling polyester
Polyester, which can be recycled either using a chemical or mechanical process, faces different challenges, particularly around dyeability.
"What happens when you melt and extrude the polyester, is that you're changing the interior physical structure of the fibres," says Sumner, with "the result is that the dye uptake is altered." This leads to uneven dye finishes across the fabric.
With mechanical recycling of polyester there are also issues around strength and abrasion resistance.
That said, a number of suppliers are now able to provide recycled polyester that is fit for purpose. While Sumner says recycled polyester is not as good as virgin polyester, it is good enough to be used in fabrics like fleece where you would not be able to see the differential dye uptake.
"It's fit for that purpose, but if you wanted to do a beautiful polyester satin for a night gown, you'd have to be very careful about the particular polyester you use for that product."
Sumner emphasises that brands and retailers need to buy into the idea that closed loop is not a pipe dream, but "something with opportunities for us in the long term".
He believes that M&S's efforts show that it is possible in the long term, with shwopping linking up with its stores, Oxfam, their shredding operations and companies in Europe.
However, "to achieve these opportunities, there are also a lot of technical questions that need to be answered," he adds.
Create sourcing plans that work
Find new apparel sourcing destinations, assess trade flows and manage tariffs. All in one place.
Oops! This article is copy protected.
Why can't I copy the text on this page?
The ability to copy articles is specially reserved for people who are part of a group membership.
How do I become a group member?
To find out how you and your team can copy and share articles and save money as part of a group membership call Sean Clinton on
+44 (0)1527 573 736 or complete this form..