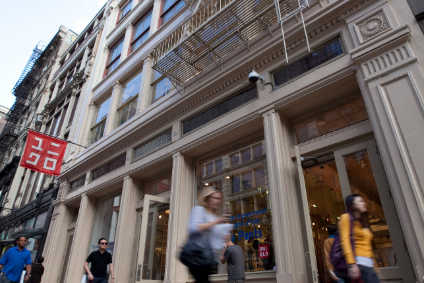 Japan-based clothing brands have protected themselves in advance against exposure to US-China trade turbulence by decreasing their reliance on China-based manufacturing facilities in recent years.
This sourcing diversification occurred initially because of rising costs in China, and means the impact on Japanese textile and apparel companies from any US tariffs imposed by the Trump administration on China-made exports would be "slight," according to the Japan Apparel Fashion Industry Council (JAFIC).
Yuji Hasegawa, JAFIC managing director, explains that Japanese textile and apparel companies have been developing production bases in Southeast Asia in search of lower costs since 2010, noting that China-owned competitors have followed suit.
Fast Retailing Co, which operates the Uniqlo casual clothing chain, produced almost all of its Uniqlo products in China until 2016 when expansion into five new markets – Singapore, Vietnam, the Philippines, India and Malaysia – prompted the need for production sites in closer, more affordable Southeast Asian countries. It currently has partner factories in Vietnam, Bangladesh, Cambodia, Indonesia and India.
With an expanded production base, Fast Retailing's production in China is falling as a percentage of its total production in Asia, despite rising production volumes in China year-on-year, a spokesperson told just-style. The company recently disclosed all factories supplying garments its Theory, PLST and other brand factories as well as Uniqlo and GU.
The company also exports from China to about 50 US stores. And while the cost of many China-made clothing and textile products has risen, the spokesperson says that so far it has witnessed "almost no impact" from the US-China tariff war. She adds, however, that the company is "closely watching progress" on this issue.
Reducing reliance on China
Similarly, Adastria, an apparel company that owns Global Work and other clothing brands, has reduced its production volume in China from 100% to 70-80% since the acquisition of a Southeast Asia production site in 2013, to reduce reliance on the country.
According to Kei Lui, investor relations manager at the company's Tokyo office, the reasons for its "gradual movement of production to Southeast Asia" are to reduce labour costs, gain greater access to local materials and mitigate the risk of doing all production in China.
However, due to the increased costs of shipping and other logistical challenges from production bases in Vietnam, Cambodia and Myanmar, the company "has not seen significant cost savings" and has no plans to shift any further production from China, she says.
Trade consultations
In the meantime, Japan's ministry of economy, trade and industry (METI) is advising Japanese textile and apparel companies with production bases in China ahead of a possible hike in US tariffs on Chinese goods.
Carried out through the Japan External Trade Organisation (JETRO), the consultations are part of METI's efforts since 2018 to keep domestic companies up-to-date on worsening US-China trade friction.
Asuka Murayama, international affairs officer in the lifestyle industries division of METI's manufacturing industries bureau, told just-style that METI continues to monitor the situation due to the possible impact on Japanese textile and apparel companies.
Though companies increasingly operate via global supply chains, which are less susceptible to bilateral trade tensions, she says "it would not be easy for companies [affected by a tariff hike] to quickly move their bases to Asean [Association of Southeast Asian Nation] countries after investing significantly in their supply chains."