Kering integrates EP&L into key sourcing decisions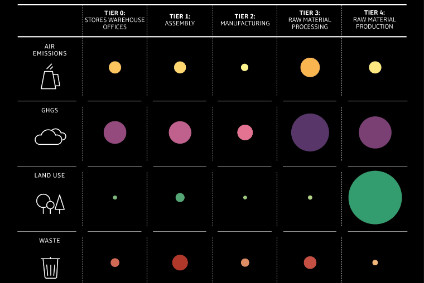 92% of Kering's total environmental impact falls within the supply chain
French luxury and sportswear group Kering is starting to use its annual environmental profit and loss (EP&L) report as a tool to drive decision-making in the design, sourcing and manufacturing of its products.
The group behind brands such as Gucci, Saint Laurent, Stella McCartney and Puma, recently released its third EP&L report, in which it puts an estimate on the cost that its business and supply chain activities impose on the environment.
And the results show that despite revenues rising by 4.6% in 2015, its environmental impacts edged up just 1.03% to EUR811m (US$905m) year-on-year. On top of this, its EP&L impact in 2015 was EUR77 for every EUR1,000 of revenue ­– a reduction of 2.5% compared with the year before.
But the company also found that, as in previous years, 92% of its total environmental impact falls within the supply chain: in particular the production and processing of raw materials, which together represent 73% of the total.
Leather, the material that Kering uses most, continues to be the major driver of impacts, followed by textiles from synthetic fibres, plants, metals and animal fibres.
Over the past year, increased production volumes contributed to an EP&L gain of EUR11m, and shifts in production locations, particularly in the Far East, added EUR5m in manufacturing impacts.
But changes in sourcing locations and quantities of raw materials purchased led to a EUR15m drop in raw material production and processing impacts.
Asking the right questions
While Kering concedes "leveraging change across the supply-chain is a long-term process and in many cases will not yield immediate results," it is starting to use the EP&L to provide brands with the data necessary to explore the implications of different choices in real time. The company has even developed a new tool called 'Demeter' to run the scenario analyses.
"Decisions made throughout a product's development can have an influence on the scale of impacts generated; from a design lead's choice of materials to development cycle, to how a buyer sources these materials and the production team's choice of manufacturing methods," it explains.
At the product design stage, for example, the choice of materials has one of the biggest impacts. Taking the example of a wool jacket, Kering says the higher impact options – which might mean using wool from Argentina as the main material, silk from India as the inner lining, and manufacturing in Asia – could lead to an EP&L impact of EUR48.48.
In contrast, lower impact options – using wool from New Zealand as the main material, organic cotton from Turkey as the inner lining, and manufacturing in Europe – could lead to an EP&L impact of just EUR12.64.
And for a pair of formal shoes, the higher impact options – such as using alligator leather from the US as the upper material, Indian cotton for the laces, synthetic rubber from China for the soles, and manufacturing in Asia – could lead to an EP&L impact of EUR41.79.
At the other end of the scale, pig leather from Spain, cotton from the US or organic cotton from China for the laces, natural rubber from Thailand for the soles, and manufacturing in Europe are among the lower impact options with a combined EP&L of EUR3.46.
Even within the same type of material, the use of sustainable production systems can make a dramatic difference, the company adds. For example, the impacts of organic cotton in India are a quarter of those of standard Indian cotton. Organic cotton is grown in areas that are naturally suitable to the crop and so require less irrigation or use of synthetic additives.
For leather, the impacts are also linked to the quality of grazing lands available. Lower quality grazing not only means more land is required, putting pressure on natural ecosystems, but it also often results in higher methane emissions from the animals' digestion.
Manufacturing processes
The choice of manufacturing locations and technologies also has a part to play.
At the most basic level is the type of electricity that powers the grid: the impact of drawing 1 MWh from the grid in China, Italy and France is EUR130, EUR39 and EUR10 respectively.
The efficiency of production also differs significantly across locations depending on the type of technology – and is one reason for the big difference between the Asian and European manufacturing estimates for the jacket and shoe.
For Kering the manufacturing of its luxury brands is centred around Italy, France and Switzerland, a decision largely driven by quality considerations – but one that also yields lower impacts.
There are still improvements to be made though. Through the company's 'Clean by Design' programme it has been working with spinning, weaving and dyeing suppliers to drive efficiency improvements in electricity, fuel and water use.
By 2019 it expects the suppliers to be saving 22,000 MWh every year across electricity, natural gas, fuel and LPG consumption. In 2016 the EP&L savings for Kering will only be EUR280,000, but over the next ten years the project should yield EP&L savings of EUR5.7m.
Further development
Kering currently considers the production and processing of more than 200 types of raw material in more than 120 countries through its EP&L tool – with the most recent additions enabling it to compare the estimated impacts for regenerated nylon (EcoNyl) and bioplastic (Apinat) against traditional synthetic fibres and plastics.
But other goals include improving the methodology behind the EP&L's 'Land Use Change' (LUC) indicator to better track impacts on biodiversity and ecosystems (BES). Land use represents almost a quarter of the group's total environmental impacts, mainly through the production of raw materials by agriculture or mining activities.
The release of its third environmental profit and loss (EP&L) report also coincides with the publication of the Natural Capital Coalition's 'Natural Capital Protocol', a standardised framework to help businesses to identify, measure and value their direct and indirect impacts and dependencies on natural capital such as water, biodiversity and soil.
The publication is a collaborative effort between business leaders, academics, conservationists and policy makers and aims to harmonise the many different approaches to natural capital approaches that currently exist.
Kering was one of ten corporations who carried out a deep-dive pilot and implemented the Protocol across its brands via its EP&L account.
Earlier this year, the group said more collaboration is required if standards and practices are to improve across the supply chain.
Create sourcing plans that work
Find new apparel sourcing destinations, assess trade flows and manage tariffs. All in one place.
Oops! This article is copy protected.
Why can't I copy the text on this page?
The ability to copy articles is specially reserved for people who are part of a group membership.
How do I become a group member?
To find out how you and your team can copy and share articles and save money as part of a group membership call Sean Clinton on
+44 (0)1527 573 736 or complete this form..