Logistics bottlenecks pose major problems for clothing supply chains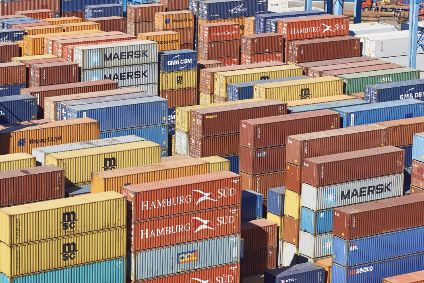 Logistics bottlenecks are posing major supply chain problems for European and US clothing retailers
Severe and unprecedented bottlenecks in the availability of shipping containers between Asia and the rest of the world are continuing to frustrate apparel retailers in Europe and the US with logistics delays and soaring costs.
High levels of demand, port congestion and container shortages have been pushing up logistics costs – with shipping rates for the Shanghai-Rotterdam and Shanghai-Los Angeles routes in January up 296% and 153% year-on-year respectively, according to UK-based maritime consultancy Drewry.
Some rates have risen even more steeply. As 2020 drew to a close, exports from apparel powerhouse Vietnam faced a US$7,200 price tag for a 20-foot container to the UK, compared with US$1,420 just two months earlier.
A Los Angeles-bound container from Vietnam, which had cost US$700-US$1,000 in October, went for US$5,000 in November, the Vietnam Maritime Administration told the VnExpress news publication.
This has compelled the Vietnam Maritime Administration to urgently remind container shipping lines of the country's Decree 146, which bans profiteering and unreasonable prices that may disrupt the country's shipping market.
Meanwhile, air cargo capacity is low after pandemic-related travel restrictions meant many passenger flights were discontinued, which in normal times carry the bulk of overall air cargo. Also, China's so-called New Silk Road rail cargo routes to European markets are running into bottlenecks at the border between Belarus and Poland, says Gebrüder Weiss, an Austria-based logistics company that has 19 branches in China.
Costs and delays
All of this highlights the twin concerns of western apparel brands: high transportation fees on the one hand, and lengthy delays on the other.
"Our members are mostly small-and-medium-sized apparel brands designing in Germany and producing in China, and they are now in the unfavourable situation of paying much more to get the apparel onto the shelves and competing with larger importers for container space," Tanja Croonen, press officer of apparel industry association GermanFashion (Modeverband Deutschland), told just-style.
"While last year's apparel collections have in many cases not yet been completely sold due to the lockdown, the logistics bottleneck makes the delivery of the new spring collections more expensive, although this is not passed on to the customer, instead reducing producer margins," she adds.
Croonen urges the German government to develop a dedicated Covid-19 aid package for apparel retailers, which would mirror the proactive package it has been offering the country's hospitality sector.
Hans-Hermann Bergmann, key account manager at German fashion logistics company Meyer & Meyer, observes that the few available ships in Asia are now increasingly being routed, for example via Singapore, to consolidate their cargoes, including by loading the containers from one ship to another. This extends the delivery time, which lengthens shipping time to Europe by up to 20 to more than 40 days.
"Fashion must be put on the shelves according to the weather, and the delays are now messing up the forecasts needed to adjust the orders," Bergmann says.
"I have been in the fashion logistics business for 27 years, but it is the first time I am seeing the supply chain in such a precarious situation," he adds.
Policy impact
In the US, Satish Jindel, president of ShipMatrix, a Pennsylvania-based shipment technology provider, says ship movement forecasting has been made more difficult by government actions fighting Covid-19.
The initial lockdowns saw stores shut down, which compelled US retailers to order less apparel and accessories. The government then implemented major cash handout programmes, which caused millions of Americans to embark on spending sprees, including for apparel.
"At the same time, if there was one Covid-19 case in a logistics facility, the whole staff had to stay home until they tested negative, which ultimately led to dwell time for containers in LA Long Beach to grow from three days to the current 9.2 days," Jindel explains.
Another policy causing delays is the US government lowering import tariffs for online direct orders, for which apparel is shipped directly to the consumer from ports instead of via stores or fulfilment centres. The increase in this trade has increased the per-unit demand for shipping "as those orders must be packaged in a way that takes up more space in the containers."
Jindel argues that a shift to air freight may be the only current practical solution to the apparel supply chain's seasonality dilemma, as a "premium of 40-50 cents on a US$40 shirt would not stop anyone from buying, especially at a time Americans are getting ready for another cash handout programme."
Disruption to drag
In the UK, Philip Damas, head of supply chain advisers at Drewry, observes that with supply constrained mainly by an acute shortage of empty containers in Asia, the region's container manufacturers are not able to produce enough new ones to fill the gap in demand.
Indeed, some ocean carriers are buying 15-year-old 40ft containers for very high prices to try and narrow the gap. With transport prices at the current stratospheric levels, carriers can pay back the cost of buying a new container in just one trip, according to Damas.
"The shortage situation is expected to last at least until March and is having a big impact on international supply chains," Damas says. "Exporters and importers are prepared to pay unprecedented shipping costs to get their products to destination."
In Shanghai, Benjamin Cavender, an industrial analyst with Shanghai-based China Market Research, thinks that disruptions to normal ocean freight activity are likely to continue well into 2021 and it may be later in Q3 or Q4 this year before the situation begins to settle.
"If vaccine deployment goes smoothly, which seems unlikely, we might see the situation normalise sooner. But I wouldn't bet on it," Cavender says.
For its part, UK-based EV Cargo Global Forwarding expects intense shipping disruption to continue until Chinese New Year, which starts 12 February. The company currently recommends that an additional 21 days is added to its clients' current lead-times.
ShipMatrix's Jintel adds: "Chinese apparel factories are now rushing their shipments out to be done with it before their staff goes into the Chinese New Year holiday break and before the American worker gets the next cash handout."
Create sourcing plans that work
Find new apparel sourcing destinations, assess trade flows and manage tariffs. All in one place.
Oops! This article is copy protected.
Why can't I copy the text on this page?
The ability to copy articles is specially reserved for people who are part of a group membership.
How do I become a group member?
To find out how you and your team can copy and share articles and save money as part of a group membership call Sean Clinton on
+44 (0)1527 573 736 or complete this form..