Machinery trends confirm China's textile leadership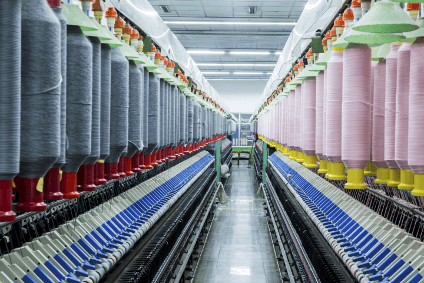 More than 200 textile machinery manufacturers have shared details of international shipments in 2017
China looks set to continue its dominance of the global textile industry, with new data showing the country remained by far the world's largest investor in spinning, texturing, weaving and knitting machinery last year.
Overall, double-digit growth was seen in global deliveries of new short-staple spindles (up 21%), long-staple spindles (up 46%), and open-end rotors (24%) from 2016 to 2017, according to the 40th annual International Textile Machinery Shipment Statistics (ITMSS) just released by the International Textile Manufacturers Federation (ITMF).
The number of draw-texturing spindles and shuttle-less looms that were shipped increased by 23% and 13%, while those of new electronic flat knitting machines and finishing machines in the 'fabric discontinuous' category each rose by 44% year-on-year.
In contrast, deliveries of circular knitting machines stagnated in 2017, rising by just 0.12%, and finishing machines in the 'fabrics continuous' category fell by 2%.
The survey was compiled in cooperation with more than 200 textile machinery manufacturers.
Spinning machinery
Shipments of new short-staple spindles increased for the first time since 2013, rising by around 1.65m spindles. Most of the new short-staple spindles (95%) were shipped to Asia, where growth was up by almost 24% year-on-year. China, the world's largest investor in short-staple spindles, saw a jump of 34%, while deliveries to Bangladesh and Vietnam fell by 33% and 39%, respectively. Shipments to Indonesia surged 135% year-on-year.
The six largest investors in the short-staple segment in 2017 were China, India, Uzbekistan, Bangladesh, Pakistan, and Indonesia.
Global shipments of long-staple (wool) spindles rose by 46% from around 114,000 in 2016 to nearly 165,000 in 2017. Deliveries to Iran soared by 445% from 11,000 in 2016 to 59,000 in 2017. The majority of long-staple spindles (68%) were shipped to China, while 30% went to Europe.
Shipments of open-end rotors rose by 24% to over 788,000 rotors in 2017. Some 85% of there were destined for Asia, meaning deliveries to the region increased by 15% to nearly 674,000 rotors. That said, China, the world's largest investor in open-end rotors, increased its investments by only 6% in 2017, whereas countries like Iran, Brazil, Uzbekistan and Japan saw two to four times more deliveries compared to 2016. The world's second and third largest investors in 2016 were Turkey and India.
Texturing machinery
Global shipments of single heater draw-texturing spindles – which are mainly used for polyamide filaments – fell by 87% from nearly 8,500 in 2016 to 1,060 in 2017. With a share of 50%, Asia is the region where most of the single heater draw-texturing spindles were shipped, followed by Eastern and Western Europe with a share of 36% and 8%, respectively.
In contrast, global shipments of double heater draw-texturing spindles – mainly used for polyester filaments – saw a rise of 27% on an annual basis to 340,000 spindles. Asia's share of the total amounted to 90%, and China remained the largest investor accounting for 66% of global shipments.
Weaving machinery
In 2017, worldwide shipments of shuttle-less looms increased by 12% to 95,400 units. Within this the biggest growth was seen in air-jet (up 18% to almost 27,000), water-jet (up 14% to 36,200), and rapier/projectile shuttle-less looms (up 7% (to 32,000).
Again the main destination of shipments of all shuttle-less looms (air-jet, water-jet and rapier/projectile) in 2017 was Asia with 91% of worldwide deliveries, of which 48% were water-jet looms, 31% rapier/projectile looms, and 28% air-jet looms.
The share of rapier/projectile shuttle-less looms shipped to Europe and the Americas reached 65% and 37%, while the share of water-jet looms was 2% and 25% in the same regions respectively.
Circular and flat knitting machinery
Global shipments of large circular knitting machines rose slightly by 0.12% to a level close to 28,000 units in 2017. Asia was the world's leading investor in this category, accounting for 84% of the total. With 39% of worldwide deliveries, China was the single largest investor. India and Vietnam ranked second and third with 5,100 and 2,000 units, respectively.
Deliveries of electronic flat knitting machines soared by 44% to around 202,000 machines in 2017 – an all-time high. Again Asia received the highest share of shipments (96%), with China by far the world's largest investor with a global share of 76% and a year-on-year increase from 101,550 units to 154,850.
Finishing machinery
In the segment of continuous fabrics, shipments of mercerising-lines, singeing-lines, and stenters increased in 2017 by 54%, 11%, and 2% respectively.
In the discontinuous fabrics segment, shipments of air-jet dyeing and overflow dyeing machines increased by 35% and 72%, respectively, whereas those of jigger dyeing/beam dyeing machines fell by 7%.
Facts behind the figures
Trends in upstream spinning, weaving and knitting machinery investments are an important indicator of future sources of textile production – and the latest figures suggest China, already the world's largest supplier of fibre, yarn and fabric, is not going to relinquish the top slot anytime soon.
The numbers also imply that leading apparel exporters like Vietnam and Bangladesh still have some way to go on developing significant capacity for making the textiles that are much-needed by their own garment making industries. Indeed, there are concerns, recently covered on just-style, that Vietnam's local governments are refusing to license textile and dyeing projects over pollution fears.
China's stranglehold on world textile trade is undisputed. In 2016, the country produced more than half (54.8%) of the world's fibre and fabric, its textile exports were worth US$106bn and accounted for 37.2% of the global total.
During the same year, China also exported apparel worth US$161bn, giving it a 36.4% share of the world market – and the top share in the world's three largest apparel importers: the US, EU and Japan.
Much of this strength is due to the size of its supply base, its range of skills, its quality levels, its product variety – and the completeness of its supply chain from raw materials through to fabrics, dyeing, finishing and final products.
But the country's textile sector has also benefited from rules of origin under regional free trade agreements, as well as more integrated and efficient textile and apparel supply chains in Asia.
And separate figures show how heavily these less-developed low-wage apparel production bases rely on imported yarns and fabrics from China.
For example, measured in value, 47% of Bangladesh's textile imports came from China in 2015, up from only 39% in 2005. It's a similar story for Cambodia (up from 30% to 63%), Vietnam (up from 23% to 50%), Pakistan (up from 32% to 68%), Malaysia (up from 25% to 49%), Indonesia (up from 26% to 40%), and Sri Lanka (up from 15% to 38%).
Much of this growth has been helped by investment into upstream textile plants where new, modern equipment is driving better efficiency and quality, along with lower production costs – as well as enabling China's mills to offset the pressure of increasingly stringent environmental regulations.
Recent initiatives from the Chinese government such as 'Made in China 2025' and the 13th Five-Year Plan for the Textile Industry (covering the period from 2016-2020) are also putting a strong focus on value-added manufacturing and automation, which in turn supports investment into upstream textile plants.
But Chinese export capacity is coming under increasing pressure. So the Five-Year Plan also encourages the textile industry to leverage the Belt and Road Initiative, and expand raw material production and processing overseas in order to ensure stable supplies and tap into lower labour and energy costs.
In 2016, the foreign direct investment (FDI) of the Chinese textile industry hit a record high, up 89.3% year-on-year to US$2.66bn. According to statistics from the Ministry of Commerce, by the end of 2014 more than 2,600 Chinese companies had opened textile and apparel production facilities in more than 100 countries and regions, with most investment going to Asia. A knock-on from this means that much textile investment around the world is still being funded by Chinese firms.
China's role in the global textile supply chain is shifting in other ways too.
While the country remains by far the world's largest manufacturer, exporter of textiles and clothing, its apparel market share measured by value fell from 38.6% in 2015 to 35.8% in 2016. Its share of the US, EU and Japanese markets has also shown a clear downward trend in the past five years.
This is partly due to rising apparel demands from growing consumer markets in nearby Asian countries.
But China is also one of the world's largest consumer markets – and the majority of garments bought in China are made in China from fabric knitted or woven in China. Which means that much of its current and future textile machinery investment is likely to focus on meeting demand from its own domestic customers – and may lead to competition for the export production capacity demanded by Western brands and retailers and other Asian suppliers.
Create sourcing plans that work
Find new apparel sourcing destinations, assess trade flows and manage tariffs. All in one place.
Oops! This article is copy protected.
Why can't I copy the text on this page?
The ability to copy articles is specially reserved for people who are part of a group membership.
How do I become a group member?
To find out how you and your team can copy and share articles and save money as part of a group membership call Sean Clinton on
+44 (0)1527 573 736 or complete this form..