ANALYSIS: Mauritius emerges as sustainable sourcing hub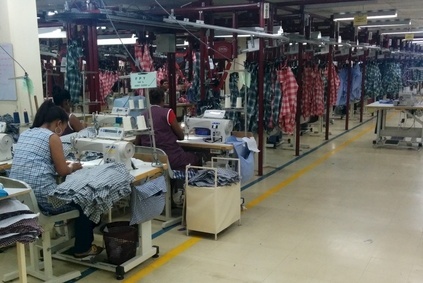 The Mauritius textile & apparel sector has come a long way from being a producer of basic products
Strategically located along the trading route between Asia and Africa, Mauritius is a major sourcing hub for textile and apparel products. Despite low-cost competition from Asia, the sector has successfully navigated its way through a number of challenges in the last few decades to emerge as a now high-tech, dynamic, and vertically integrated sector. Michelle Russell takes a closer look.
For any visitor to Mauritius, the acres of sugar cane fields that dominate the view as you journey along the newly constructed highways give the impression the country's economy is firmly based in the trade of this commodity. Drill a little deeper and it soon becomes apparent the nation is working hard to diversify its economic base. Changes in regulation and increased international competition have forced Mauritius to do so, and textile and apparel now account for around 55% of exports, compared to 12% for sugar.
The sector has come a long way from being a producer of basic products to a now vertically integrated supplier of design-led garments. Its major products include T-shirts, lingerie, sportswear, shirts, trousers, denim, suits and pullovers, produced by around 250 manufacturers for export.
Trade promotion organisation Enterprise Mauritius is a collaborative partnership between the industry and Government to help these businesses expand into regional and international markets, as well as develop their internal capability to meet the challenges of increasing international competition.
Chief executive Dev Chamroo tells just-style: "Mauritius has a long history in the garment and textile industry. We had seen, in the initial stages, buyers with large quantities and huge orders coming to Mauritius. Then, in came competition from China, Bangladesh, and Sri Lanka. So we've shifted our production from mass to more and more value-added production."
Sector confidence
Indeed, textile and apparel manufacturers have invested heavily in modern technology in order to climb the value chain and avoid being crushed by competition from these Asian countries.
The Government has also been keen to offer a helping hand. Particularly given the sector registered marginal export growth of just 0.07% in 2013.
"The Government is spending a lot of money to support the developing sectors," says Malick Badjie, director and head of investment solutions for UK-based investment management company Silk Invest. "They are putting a lot of money into the textile industry through benefits and loan arrangements that are much more positive. As a result, the decline has stabilised and now they're looking at an upward trajectory."
Badjie also points out that Mauritius has now become a regional hub for blue-chip corporates and has plans to become a duty-free island.
"They've had close to 12,000 off-shore companies already put roots there and their GDP has been rising steadily. It has been at around 5-6% annually." In 2012, this was at $20.20bn, one of the highest in Africa.
The sector exports to the major markets of the world, namely Europe, the US and South Africa, employing around 44,000 staff.
While the majority of the country's manufacturers will not be drawn on the labour and safety issues currently plaguing Bangladesh and Cambodia, and their position as a result, they are, however, keen to show visitors what they have worked hard to achieve and what they can offer potential buyers interesting in sourcing from what has become an incredibly compliant and ethical industry in Mauritius.
The Mauritius Export Association (MEXA) says the industry's success is now based on reliability, loyalty to buyers, quality merchandise, quick and efficient delivery, being price competitive, and high social responsibility.
"We are a country producing high quality goods," says MEXA director Lilowtee Rajmun. "We are a highly socially compliant country, ensuring that credibility to our buyers. We treat our people well. We are also able to supply our buyers in short lead times and we have good customer loyalty in terms of working relationships, which is very important to us."
High-tech investment
It becomes clear, having visited a large number of these factories, that owners are placing a strong emphasis on investment in new technology in order to compete more effectively and attract new buyers to the sector.
Esquel (Mauritius) Ltd, a company that produces 100% cotton shirts for the US market, tells just-style: "If you want to be competitive and drive productivity, you have to invest in technology and machines, and grow/invest in automation. This is crucial for efficiency and it is giving us good results."
The company counts Tommy Hilfiger, J Crew, Abercrombie & Fitch, and Eddie Bauer amongst its customers, producing around 100,000 pieces per month.
Others busy investing are FM Denim and Sky Jeans. Both have spent large amounts on laser engraving machines. The three Tonello laser robots and GFK twin laser robot are equipped with two laser beams that give precise and constant patterns, depending on the customer's requirements.
Both companies are keen to stay ahead of the game in terms of innovation, sustainability, as well as reducing lead times. Such technology will help the firms stop the use of potassium permanganate spray in the near future, a chemical set to be banned by the EU in the next two years, Sky Jeans managing director, Simon Seebaluck, says.
The company produces 61m pieces per annum for customers including Burton, Polo, and VF across South Africa and Europe. FM Denim, a vertically integrated company from cotton source to finish, produces for Tommy Hilfiger, Levi Strauss, and Calvin Klein.
Sustainable practices
There is no doubt sustainability is becoming an increasingly important aspect of Mauritian textile and apparel manufaturers' operations. The desire to appear "greener" and more ethical is critical if it wants to attract the right buyers. In that respect, other investments have included new wash and dryer machines, designed to cut the use of energy and water.
RT Knits is one company with a particularly strong ethical and ecological heritage. It uses key yarns including organic and fairtrade cotton, bamboo and African cotton. Its facilities are one of the most sustainable on the island.
"Investing in renewable energy is important because when you look at energy consumption per person, it has exploded," says executive director Kendall Tang. "The percentage of imported energy is increasing and Mauritius has no resources. So we have to find ways to use renewable energy."
And indeed it has. The company has invested heavily in the use of solar panels for heating water and producing steam, and it uses natural wind on its knitting floor to control dust and filter the air.
Firemount Group, owner of FM Denim, is another such company with strong sustainability credentials. It is working to reduce its use of chemicals, water and energy, recently investing EUR2.5m (US$3.4m) in new washing equipment, in addition to a laser machine, and dryers.
The company also has ambitions to build a "green" factory in India as part of its expansion plans.
General manager, Soma Sekharan, adds: "There is a plan to become greener. We are constantly monitoring our consumption of water and energy to see how we can reduce it. As well as trying new dyes and chemicals. We are trying our best to reduce our impact."
The Mauritian textile and apparel industry is one being built not on price but on quality, and that includes being as ethical and sustainable as it can afford to be. Manufacturers are keen for existing and potential buyers see this.
Click here for part two of our analysis on the Mauritian textile and apparel industry.
Sectors: Apparel, Fibres & fabrics, Finance, Footwear, Manufacturing, Retail, Social & environmental responsibility, Sourcing, Technology
Companies: Calvin Klein Inc, Eddie Bauer, Esquel Group, Tommy Hilfiger Group, J Crew Inc, Levi Strauss & Co
Create sourcing plans that work
Find new apparel sourcing destinations, assess trade flows and manage tariffs. All in one place.
Oops! This article is copy protected.
Why can't I copy the text on this page?
The ability to copy articles is specially reserved for people who are part of a group membership.
How do I become a group member?
To find out how you and your team can copy and share articles and save money as part of a group membership call Sean Clinton on
+44 (0)1527 573 736 or complete this form..