ANALYSIS: Mauritius makers upbeat for AGOA renewal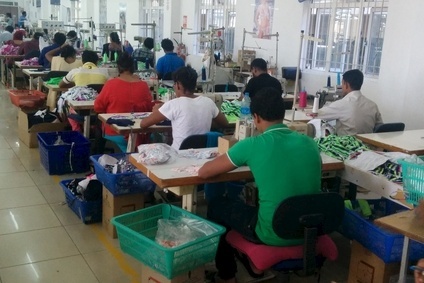 Mauritius is one of the leading beneficiaries of the AGOA provisions
In little over a year, the AGOA trade preference programme is due to expire. The programme, which provides duty-free entry into the US for certain goods, has been particularly effective for Mauritian textile and apparel manufacturers, most of whom are optimistic the deal will be renewed. Michelle Russell reports.
The African Growth and Opportunity Act (AGOA) was signed into law on 18 May 2000. The purpose of the legislation was to assist the economies of sub-Saharan Africa and to improve economic relations between the US and the region.
The programme provides trade preferences for certain goods imported into the US. Most notably, AGOA expanded market access for textile and apparel products into the US for eligible countries, though many other items are also included.
Mauritius, in particular, is one of the leading beneficiaries of the AGOA provisions, which offer the country's textile and apparel products duty and quota-free access, subject to rules of origin criteria which require the yarn, fabrics and garments to be made in a qualifying country.
The US offers Least Developed Countries (LDC) additional benefits for single transformation under the Third Country Fabric Rule. Mauritius has been granted these benefits up to October 2015. This is particularly significant for the country as it is the fourth-largest exporter under AGOA, exporting primarily apparel products under the preference programme.
Reaping benefits
Indeed, the trade deal has helped Mauritius grow its exports to the US. It is the country's second largest export market behind the UK, accounting for around 18% of textile and apparel exports in 2013.
For many Mauritian manufacturers, the US is not only an important customer but in some cases accounts for their total business.
One of those is Aquarelle (New Island Clothing), part of the Ciel Textile Group. The company, which is positioning itself as "the best alternative to China", has a turnover of around US$300m and a capacity of 9m pieces per year. It produces men's casual and formal shirts, as well as ladies' and kids' shirts. Its main customers include J Crew, Jos A Bank, Gap, and Eddie Bauer.
General manager Elvis Cateaux says the benefits Mauritius gets from its EU trade deals are "more challenging", with duty set at around 10%. This, he says, means companies have to "go more upmarket". He suggests the benefits Mauritius has through the AGOA deal make the US a more appealing market to trade with.
"The US is a market of probably 300m consumers of shirts," he tells just-style. "Today we are producing 100% non-iron shirts for the US. 100% of our exports are to the US."
In order to maintain its position, the company has invested GBP1.5m in more modern equipment to finish non-iron garments. "The competition is certainly fierce but the opportunities are there," Cateaux says.
Another Ciel Textile company, Floreal Knitwear, is also looking to capitalise on the benefits of the AGOA deal. The pullover producer, whose main markets are Europe, Australia and South Africa, has recently signed a deal with its first US customer.
Non-renewal risks
While the majority of Mauritian manufacturers have customers outside of the US, the non-renewal of AGOA would likely have a detrimental effect on the country's textile and apparel industry.
To date, there have been heightened discussions both by African and US policymakers on the post-2015 commercial relationship between the US and African countries. These have largely focused on whether to extend the current legislation, and if so, for how long, and what elements of the current legislation should be changed.
A report by research firm Brookings suggests that without an extension, there will be declines in exports from many AGOA-eligible countries. "There remains a strong case for continuing or expanding the current preferences," authors noted.
Confidence
The Mauritius Export Association (MEXA) and the country's manufacturers are all confident AGOA will be renewed.
MEXA director Lilowtee Rajmun tells just-style she has begun a lobbying campaign in the US for its renewal.
"The US Deputy Director of African Affairs was in Mauritius [recently] and he clearly stated that AGOA will be renewed. When President Obama was in South Africa he also stated that. That doesn't necessarily mean because Obama said it we will get it...but we are confident from all the reports coming back from the States that AGOA will be renewed."
Esquel (Mauritius) Ltd, a company that produces 100% cotton shirts for the US market, is also hoping for renewal.
Director Hemraj Ramnial concurs with Rajmun. "There is a strong lobby going with the [Mauritian] Ambassador and the two industries. They are all working together and they will push for renewal. [AGOA] has provided opportunities, jobs and enhanced the lives of people. We want it renewed as it is."
A new AGOA?
And so the question is, what form will the new AGOA take, if indeed it is renewed?
The consensus from the Mauritian textile and apparel industry certainly appears to be conclusive: that should AGOA be renewed, it should be done so in its current form. In addition, all manufacturers would like to see it renewed for a long enough period - at least 15 years - to ensure the predictability necessary to support trade and investment decisions.
Anything shorter, Rajmun suggests, would not provide enough certainty to enable the industry to make capital intensive investment decisions necessary to attract textile investors or affect long-term sourcing partnership decisions.
"If it is short-term, no investor will make that investment in a spinning mill or fabric mill. Garments are different. You can just come in and put up a premises, but if you want to go into vertical integration, investing in spinning, yarn and fabric, that is a high capital investment and you won't be able to recoup that investment and start making profit for seven years.
"Give us that chance. Give us at least 15 years, then you will see a difference."
Skepticism
A recent US Government report was produced following calls from US policy makers to investigate the effectiveness of the trade programme. It found AGOA has had minimal impact - except in apparel and footwear.
The report, released by the US International Trade Commission (ITC), found that AGOA has had a positive impact on foreign direct investment (FDI) inflows, particularly in the textile and apparel sector in Kenya, Lesotho, Mauritius, Swaziland, and Botswana.
Overall, the programme's trade benefits and eligibility criteria appear to have motivated AGOA beneficiary countries to improve their business and investment climates, it noted.
Authors estimate AGOA has raised beneficiary country exports of apparel to the US by a substantial 42%. They also concluded the programme was responsible for 35% of the total growth in apparel exports.
Aside from the effectiveness of the programme, the authors offer a number of recommendations to policymakers on how AGOA could be improved
Three major recommendations were made: improving supply capacity, including seeking out foreign direct investment and capacity-building assistance; making AGOA permanent and binding; and improving the business climate of beneficiary countries. This could include improved rule of law and protection of intellectual property rights.
Rajmun is hopeful. "15 years is what we want. I think we can make it. Africa is the second largest producer of cotton in the world and all that cotton is just going out. We could have that vertical integration in Africa, but we need more time for it to happen."
Oops! This article is copy protected.
Why can't I copy the text on this page?
The ability to copy articles is specially reserved for people who are part of a group membership.
How do I become a group member?
To find out how you and your team can copy and share articles and save money as part of a group membership call Sean Clinton on
+44 (0)1527 573 736 or complete this form..