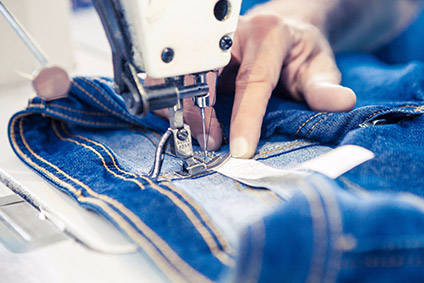 The freshly-inked US-Mexico-Canada Agreement (USMCA) or NAFTA 2.0 will strongly benefit Mexican denim and jeans makers, with overall exports potentially jumping 10% this year, executives say.
"Denim exports are going to come up and up and up," enthuses Jaime Barba, president of the semi-annual Intermoda sourcing fair in Guadalajara, Mexico. "The industry is making 30 million jeans monthly for all the big US brands including Levi's, Diesel and Ranger and they could grow 5% to 10% this year."
Barba was speaking to just-style on the fringes of the fair's spring edition, which took place earlier this month.
He says Mexico's biggest denim manufacturers – such as Compania Industrial de Parras and Siete Leguas have invested $5m to $7.5m to modernise their production, including the installation of new laser and other more environmentally-friendly finishing machines.
The USMCA, which updates the North American Free Trade Agreement (NAFTA) between the US, Canada and Mexico, "has been very good" for Mexican suppliers, bringing much-needed stability and clarity to the rules governing its trading relationship with its biggest trading partner.
The pact passed the US Senate earlier this month, and will eventually offer qualifying textiles and apparel, travel goods and footwear originating from the USMCA region duty-free access to the US and Canadian markets.
Groups representing US apparel retailers and importers, are urging President Trump to sign the bill into law and implement the agreement quickly. However, as Canada has yet to ratify the USMCA and Mexico must still approve recent revisions made by the US, it is not likely to take effect until mid-2020 at the earliest.
Exports to grow 5%
Amid this backdrop, Barba claims Mexican textile and apparel shipments (denim fabric is also expected to lead gains in textiles) could grow 5% to around $4bn in 2020 – rebounding from a 6.4% decline in the past two years amid uncertainty surrounding NAFTA negotiations and presidential elections.
The value of US apparel imports from Mexico in 2018 totalled US$3.62bn (down 3.7% from 2017), of which US$3.11bn or 87% utilised NAFTA.
Latest data from the US Department of Commerce's Office of Textiles and Apparel (OTEXA) shows shipments of blue denim apparel from Mexico to the US reached US$817.6m in 2018, a rise of 3% on the previous year.
However, for the first 11 months of 2019, blue denim apparel exports have slipped 0.62% to US$753m. In volume terms, exports are down 5.25% to 6.75m doz in the same period.
The higher number of foreign stands at this year's Intermoda also shows suppliers' growing optimism for conducting trade north of the border, Barba asserts.
"We had 110 international buyers and 1,500 stands in this edition, all of them looking to buy or sell fabric or apparel or hire Mexican maquiladoras to use their fabric to loop back clothing to the US."
Key Mexican shirts and T-shirt products, as well as basic women's wear, are expected to continue to grow under the new trade agreement – but denim is seen as making the greatest gains.
However, some say Barba's export forecast is too optimistic.
"I see exports growing around 3% as Mexico's situation is still a little difficult," says Fernando Munoz, president of the Yucatan State branch of industry association Canaive.
He says it's imperative for the industry to find new markets, both in the US as well as in Europe and other regions, as more nimble Asian rivals continue to steal its US market share.
To that end, Yucatan State and Canaive recently inaugurated a new textiles innovation lab to make more value-added apparel. The lab will also house what is billed as Mexico's first digital printing machine for linen and cotton, made by Israel's Kornit Allegro division.
"This is the first machine to come to Mexico and we are getting many designers interested in manufacturing in Yucatan," enthuses Munoz, who adds the technology will significantly boost economies of scale for clothing makers keen to reach higher-priced markets.
Before the system arrived, "I needed 1,500 metres of fabric to work a [product] sampling or a collection," Munoz explains. "Now I can do this with just 350 to 400 metres. The printing process is also much more instantaneous and with zero toxicity" as it uses less water than older machines and biodegradable dyes.
Cracking the US market
Munoz notes Yucatan clothiers will be able to lift shipments of more fashionable guayaberas – a tropical, Cuban-style men's summer shirt – to US stockists at greater volumes and prices. Currently, the shirts retail at around $150 in markets such as Miami or Los Angeles.
There are also plans to boost the region's main port in the city of Progreso to ship more goods to the US, adds Munoz, who owns uniform company Unifer, selling to markets in Dominican Republic, Jamaica and Brazil.
Despite Yucatan's expansion, Emilio Penhos, owner of women's wear brand Shyla, says it's becoming harder to export clothing to the US, mainly because leftist President Andres Manuel Lopez Obrador recently shuttered the US office of leading export lobby ProMexico.
"There are many barriers for Mexican brands to enter the US such as getting recognised in an extremely competitive market with very good brands with strong local relationships," Penhos explains. "We need the government to host promotional events so that we can take our collections to more markets" and depend less on full-package or maquila orders.
Labour wages, standards
Meanwhile, Mexico's commitment to improve workers' wages and labour standards under the USMCA is under way, executives say.
Munoz says Yucatan-area sewers and other national workers will likely get at least a 5% salary increase when the industry and workers unions begin discussing new wages in coming weeks. That would follow Obrador's order that Mexico's minimum wage increase by an unprecedented 20%.
"Textile workers make more than the minimum wage so they won't get a 20% increase but they could get 5% or another similar increase depending on where they work," says Munoz.
Sixto Mercado, president of Canaive's Guadalajara chapter, says the industry is working to rapidly implement the USMCA's labour provisions in Mexico, which has been flagged for harbouring low pay and sweatshop-like conditions.
"We are very conscious of the need to increase wages as well as improve standards, not just social security and other benefits but hygiene and security ones," says Mercado.
He notes Mexico's government will likely step up factory raids to 60 annually from around 30 to 40 now, at least in Jalisco State where Guadalajara is located and that that 50% increase can be extrapolated to other parts of the country.
Mexico may also see the first major sanctions against apparel firms that flout employment law, including the widespread practice of failing to pay social security contributions to the state but deducting them from workers, observers say.
Lax compliance
A source at US-based trades union AFl-CIO in Mexico, says textile operators make MXN225-250 (US$12 to US$12.3) daily versus MXN150-200 for workers in other industrial sectors, backing views that their pay won't rise sharply.
Mexico City is making progress in ensuring maquila owners meet social security laws but faces big challenges to improve conditions and workers' free right to form unions.
"Mexican factories have made mutually-beneficial contracts with corrupt unions [widely referred to as 'Sindicatos Charros' in Mexico] to keep workers down for years and that's unlikely to change anytime soon," the insider says, adding: Mexican mills, which have long ignored labour laws, will face significant expenses to transform their enterprises into more compliant businesses.