Mexico makers bullish on Trump's proposed tariffs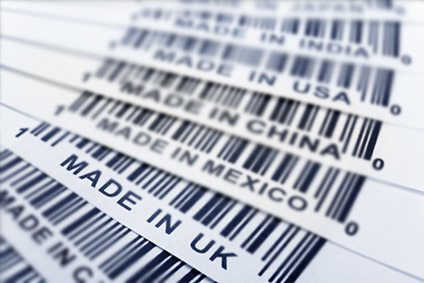 Trump may unwittingly provide an opportunity for Mexico makers to move into new markets
While Mexico's apparel makers are outlining their concerns at US president-elect Donald Trump's proposal to tear up the North American Free Trade Agreement (NAFTA), potentially slapping a 35% tariff on Mexican goods, some also suggest the move could have unexpected benefits too.
"Let them build a wall!"
That is how Miguel de la O, sales director at Mexican sewing machine supplier Casa Diaz, reacted when asked how his industry will cope with US president-elect Donald Trump's proposal to tear up the North American Free Trade Agreement (NAFTA), potentially slapping a 35% tariff on Mexican goods.
"A US factory operator charges three times what we do in Mexico," says de la O. "Labour costs are going to impact directly on [garment] prices and the US market won't stand it."
Trump's anti-globalisation drive is seen hurting Mexico most because NAFTA has fuelled a five-fold surge in textile and apparel exports north of the border since it was signed in 1994.
For this reason, de la O says any new duties should also be imposed on other Latin American and Asian countries. "If it's on Mexico, then it should be on everyone else including Guatemala, Brazil and Europe. This is something no country can survive."
Trump's mission to impose tariffs and build a giant $20bn wall bisecting the US-Mexico border to stem unwanted immigration has sent Mexico's peso tumbling and prompted credit ratings agency Moody's to lower its 2017 GDP forecast to 1.9% from 2.5%.
Billions at stake
For textiles and apparel, a 35% duty could undermine $1.6bn of Mexican exports to the US, at least when measured against $4.5bn shipped last year of which $3.5bn was clothing and $1bn textiles, according to clothing industry trade association Canaive.
Conversely, the US shipped $6.5bn of apparel and textiles to Mexico in 2015 – $4bn of fabric and $1.2bn of apparel parts, showing it has reaped greater benefits from NAFTA than its much poorer southern neighbour.
American flows could also be suppressed if Mexico launches reciprocal duties, something executives say is not far-fetched, given both countries' worsening relations. Nationalist PRD party Senator Armando Rios Peter has called for a retaliation law to seize American assets in Mexico if things get out of hand.
Mexican NAFTA negotiator Jaime Serra Puche also raised headlines early last week by warning the US would "shoot itself and the region in the foot" if it upends NAFTA, noting that integration and joint manufacturing have spurred $1.6bn of daily trade, with the US reportedly sending $236bn in 2015 and Mexico $320bn.
"A 35% tariff would take us completely out of the market and consumers won't accept it," warns Carlos Sarmiento, Mexico and Central America sales director for French technology supplier Lectra. "The industry has to get together with Canaive, Concamin [another industry association] and the government to fight against this."
Echoing other observers, Sarmiento says a 10% duty would be the maximum Mexico would be able to handle without engaging in trade war with the US.
"That is still feasible but anything beyond that will make people jump," he notes.
He hopes Trump won't be so drastic when the negotiations between the US, Canada and Mexico begin over NAFTA, expected soon after he takes the White House on 20 January.
"Trump is a businessman. He understands some things are not good for the US," Sarmiento says, backing Canaive officials' view that the property mogul's bombastic campaign pledges may not translate into actual presidential policies.
'Will Fight'
Meanwhile, Arturo Vivanco, president of Canaive's subdivision in Jalisco State, says the group is working to assess the damage Trump's duties could bring – and is willing to fight hard to ensure the industry isn't severely harmed.
"We can't forget our rights [under NAFTA] and we will fight for them," Vivanco charges, adding that Trump's voice is not absolute and will need to win Congress approval, although both the chambers are Republican dominated.
Sarmiento and de la O, who spoke to just-style during a Mexico City denim industry conference, say Mexico must boost manufacturing efficiencies, response times and product versatility. Seeking new markets in Europe and Latin America will also be crucial to survive Trump.
"They need to look at the entire manufacturing chain and see how they can cut costs, especially in fabric, which accounts for 70% of a garment," Sarmiento says, adding that Lectra's new Vector ix9 machine eliminating the fabric "buffer" or gap involved in cutting denim, can help to sharply save costs.
The technology can roughly save $100,000 off the fabric bill to make 1m pair of jeans, slashing 86 denim layers of 11oz each, Sarmiento boasts.
Lectra gave a presentation on how apparel brands can better target millennials through new technologies during the annual Denim Seminar organised by Mexican industry research group Cedetex.
The firm is engaged in a heavy marketing effort to sell the machines to Mexico's top jeanswear makers Kaltex, which manufactures Levi's, Guess and True Religion; as well as for Rio Sul and Siete Leguas, which make Wrangler, Lee and $5-basics for Wal-Mart and Target.
De la O says factories must deliver faster and with greater versatility to take on Asia and Central America, whose cut-throat competition have nearly halved Mexico's US exports in a decade. Automation, currently present in just 20% of the industry, is key as is incorporating other technology and software.
"Companies have to modernise their equipment and be much faster than everyone else," De la O says, adding that improving versatility is crucial to tap US fast-fashion buyers.
"The power to change from one style, do more operations in less time and to adjust delivery speeds is essential," De la O explains. While this requires more machinery and additional investment, the increased versatility will help firms win customers, offsetting the capital expenditures, he adds.
Look to Europe, Latin America
Market diversification is equally imperative, particularly to Europe, which De La O says is easier to enter than Asia or even Latin America. Mexico and the EU have a free trade deal that is little-used because of Mexico's heavy reliance on the US, where it sells 90% of production.
"Europe has one single currency so you don't have to worry about sending merchandise to Spain, Germany or Switzerland," De la O says, adding that Mexico is well poised to sell basic yet relatively fashionable merchandise to the likes of Inditex, H&M or C&A, already familiar with Mexico because of their expanding retail operations.
Gustavo Bojalil, president of Canaive's Puebla State chapter, says Mexico has a great opportunity to sell apparel to the Pacific Alliance bloc, of which it is one of four Latin American members along with Colombia, Peru and Chile. He also sees opportunities in Spain, where efforts are already underway to strike deeper alliances with Zara owner Inditex or Mango.
"There are many niches that can be explored, especially in Europe and Latin America but we need to change the way we are treating our customers; we have to be more formal and dependable," Bojalil concludes, adding that Inditex recently brought up such concerns when negotiating a contract to manufacture clothing in the Tehuantepec apparel hub, home to VF Corp and Polo Ralph Lauren suppliers, among many others.
Historic opportunity
Juan Antonio Barragan, a lawyer with Intrade Consultores in Mexico City, says Trump could unwittingly provide a lightning rod for Mexico to finally sever its dependence on its northern neighbour.
"If Trump forces Mexico, for the first time in history, to enact a real industrial and commercial policy to cut our US dependence, take us out of our comfort zone and develop trade with other countries, this might be the right time because the world is changing," he muses.
"We don't know how to export. Our government has not developed a policy to let us exploit all commercial relations with the world, to understand the logistical challenges, the supply chain costs and opportunities," he says.
Finally, Mexican makers must also improve quality controls, adds Miguel de Martino, manager at global certifier Bureau Veritas, adding that only 10% of Mexican firms have a third-party production certification processes to meet international health and safety regulations.
"The large ones serving US customers like Wal-Mart or JC Penney have them but the others use their own labs which are often partial to their needs with no independent verification," de Martino concludes.
An analysis on just-style earlier this week took a closer look at how would end of NAFTA might affect the US apparel industry. And it concluded that far from bringing back 'Made in USA' manufacturing, withdrawing from the pact would hurt US textile exports and do little to curb apparel imports.
Create sourcing plans that work
Find new apparel sourcing destinations, assess trade flows and manage tariffs. All in one place.
Oops! This article is copy protected.
Why can't I copy the text on this page?
The ability to copy articles is specially reserved for people who are part of a group membership.
How do I become a group member?
To find out how you and your team can copy and share articles and save money as part of a group membership call Sean Clinton on
+44 (0)1527 573 736 or complete this form..