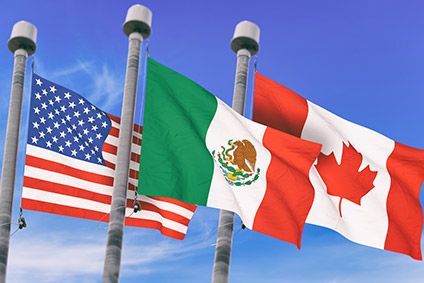 Yesterday (1 July) should have been a day to celebrate in Mexico as its newly revamped trade deal with the US and Canada – the US-Mexico-Canada Agreement (USMCA) – swung into effect. But instead of hosting a fiesta over the extension of a pact to export textiles and apparel duty-free to the world's biggest market, the Aztec nation is counting its losses amid tumbling shipments to its key northern neighbour.
The event caps years of thorny negotiations to update the 25-year-old North American Free Trade Agreement (NAFTA), fuelled by US President Donald Trump's efforts to 'Make America Great Again.'
But latest figures from the Department of Commerce's Office of Textiles and Apparel (OTEXA) show that in the four months from January to April, the value of Mexico's apparel exports to the US is down 29.7% year-on-year to US$733m, while volumes have fallen 24.6% to 209m square metres.
"People are not talking so much about the T-MEC [Tratado entre México, Estados Unidos y Canadá, as Mexico calls the treaty] but about Covid-19 and our exports, which fell 70% in April, which is a lot," Raul Garcia, a leading textiles consultant and former president of apparel trade association Canaive, tells just-style. "Today we are returning to normal [as some retailers reopen after three-month shutdowns] but we aren't really. There is still 'no normal'."
Adds Garcia: "Even if we had the best re-negotiated treaty that would have allowed us to maintain our [more competitive] rule of origin or removed China barriers, our production and exports continue to fall. Consumers are not buying here or in the US so we just have to wait for the recovery."
That wait likely feels like an eternity for Mexico's maquilas, which have been losing market share to more nimble players in China and Asia, as well as Central America, for years.
Hopes are rising that US orders could start perking up in September amid a reopening economy – though the second wave of the coronavirus currently ripping through America may delay that process.
Even then, gains are seen as miniscule.
"We are expecting some short orders in low volumes to replace inventories without risk," says Garcia. "There won't be orders for new collections. Basic items will come first as people look to replace underwear or panties or a white shirt or socks. But we don't think people will be buying fashion or outerwear."
Mexico's maquilas, many of which are based in La Laguna in Durango State, in Puebla State or around Mexico City, remain mostly idle except for those making personal protective equipment (PPE).
China hope
In a glimmer of hope for the future, Garcia says the US's worsening relationship with China could bring business to Mexico.
"We need to take advantage of that," Garcia continues. "We know how to export. We never lost our edge."
However, Latin America's second economy and the rest of the world must first beat the virus before any gains can be enjoyed. "It's great that we could gain business from China, but right now this is really like having meat on Easter Holiday. It's there but you can't eat it."
Implementation challenges?
Garcia contradicts some views that USMCA faces implementation challenges in Mexico, particularly related to tariff preference levels (TPLs) allowing it to import raw materials that don't originate in the area – such as wool for suits or super-fine thread from Italy to make dress shirts – or surrounding labour regulations.
"What's negotiated is negotiated and we will benefit from it," he says, adding that Mexico's TPL virtually stayed unchanged in common with those of Canada, though the industry was relieved they were not removed as Washington sought initially.
"Short supply is important but doesn't make that much of a difference," says the expert, who also acts as an adviser to Canaive. "We still have the rule of origin which means we still have to source materials yarn forward. Had the rule of origin been removed, then we would have had a big advantage."
Maquila salaries to rise
Garcia notes Mexican maquilas are set to increase operators' salaries by around 20% in coming months. However, this depends on the severity of the virus-fuelled crisis (GDP is seen plunging up to 9% this year), especially along Mexico's border with the US, where the USMCA has forced automobile manufacturers to sharply increase workers' wages.
While labour advocate organisations are reportedly preparing lawsuits over rights violations across Mexican industries, Garcia says the for-export garment sector meets all regulations.
"If you work for Levi's or JCPenney you have to do what they say in labour terms," he says. "Normally, these brands' requirements are much stricter than Mexico's federal laws or any other maquila in the country."
That may be so, but workers' activists continue to criticise Mexico over poor conditions, adding that many maquilas and sub-contracting firms are hard to track.
Election woes
Other experts are less convinced T-MEC won't face growing pains.
"Some areas remain a bit grey and we don't know how they will be implemented," says industry consultant Arturo Rodriguez, noting that short-supply rules may be harder to apply in practice than in theory. "There is going to be a trial and error period but there are lingering questions around short-supply and labour."
Another source of worry is the upcoming US elections in November, which could throw the country into a deeper recession as a new government takes its seat in Washington. Mexico's unpopular President Andres Manuel Lopez Obrador is due to meet with Trump next week to discuss trade and diplomacy between the two countries in what will be a closely watched event south of the border.
Current sentiment contrasts with predictions earlier this year that Mexican denim would be a big winner from the USMCA trade pact.
However, the group representing US apparel and footwear retailers, brands and importers, says the USMCA provides much-needed certainty for supply chain operations.
"With the USMCA entering into force, American businesses are excited to continue to work with supply chains in the North American region," says Steve Lamar, president and CEO of the American Apparel & Footwear Association (AAFA). "Ensuring predictability and lowering trade barriers are always important, but even more so now, as we recover from and safely restart our economy in light of Covid-19."
For a closer look at the pact, click on the following link: Why USMCA is a balanced trade deal for textiles and apparel.