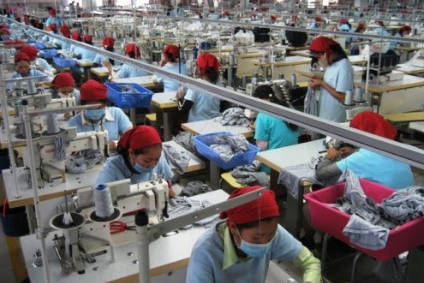 Changes in minimum wage rates are likely to be of significant concern to apparel brands and retailers sourcing from Southeast Asia in 2019, with pay in many countries continuing on an upward trajectory.
For some governments in the Association of Southeast Asian Nations (ASEAN) region, raising the minimum wage serves as a populist measure – for instance by Thailand's military government, whose supporters will face an election this year. While for others, an annual review is a statutory requirement, for example, in the Philippines.
So while minimum wages are expected to gradually rise across the region, the quantum of increase – and consequently the impact on garment makers – varies from country to country.
In Laos, minimum wage earners have seen their monthly salaries rise in eight rounds by a total of 76.7% to LAK1.1m (US$129) between 2013 and the latest rise in May 2018. But there will be no changes in 2019.
The Association of Lao Garment Industry had argued for a milder wage raise to the equivalent of only US$121 per month in 2018, warning that it would otherwise cause some factories decide to close down. But the government decided otherwise, with low wages continuing to accelerate the exodus of Lao workers across the Mekong River to better off Thailand, leading to a shortage of labour – and a reduction in garment exports.
According to the association, a statement broadcast in December by the US-based Radio Free Asia said that because of labour shortages, a lack of raw materials within the country and higher transportation costs inflated by the fact that landlocked Laos has no direct sea routes, the number of garment factories has fallen from 92 in 2015 to 78 currently.
Upward cost of living upward pressures on Laos' minimum wages are moderate, with an average inflation of 2.5% year-on-year in the whole of 2018, according to the Asian Development Bank (ADB).
Myanmar
Similarly in Myanmar, which saw minimum wages more than double between 2013 and the latest rise in May 2018 to MMK144,000 (US$91), there will be no changes this year.
Unlike Laos, Myanmar is under strong pressure to raise wages, amid year-on-year inflation averaging 6.2% in 2018, according to the ADB.
Since last May, Myanmar workers have been entitled to overtime pay in addition to the minimum wage, and employers have been required to pay at least 75% of the minimum wage during a probation period of three months. However, this applies only to businesses with ten or more employees, irrespective of the location or type of work.
Notably, a report by the International Labour Organization (ILO) published last May found that for women in Myanmar, while the wage gap between intermediate and basic level education holders is 48.6%, moving one step higher to advanced level does not significantly boost wages – unlike for men.
Philippines
Some ASEAN countries have differing minimum wage rates – for instance, the Philippines has two different minimum wages for its regions.
Between 2013 and the latest rise in October 2018, Philippines wages (for all sectors) grew by a rate of between 9.9% and 20.8% to between PHP7,840 and PHP14,336 (US$145 and US$266), according to data researched by Cambodia-based AEC News – a south-east Asian news wire.
Although consumer price inflation has been fast in the Philippines, averaging 5.2% in the whole of 2018, only the capital region, namely Metro Manila, has seen a minimum wage raise this year, to the equivalent of US$280, representing a rise of 5.3%.
This, however, has not alarmed export-oriented entrepreneurs. "The wage increase is just commensurate to the inflation rate vis-à-vis garment FOB prices," said Robert Young, president of the Foreign Buyers Association of the Philippines (FOBAP), speaking to just-style.
Thailand
Thailand, too, has different minimum wages for its regions. Between 2013 and the latest rise in April 2018, wages grew in two rounds by 28.5% and 37.6% to THB9,240 and THB9,900 (US$264 and US$304) respectively, with no changes in store for 2019.
Inflationary upward pressures on minimum wages are mild at 1.1% in the whole of 2018, but the country's military government is under pressure to raise wages amid persistent income disparity.
Indonesia
And Indonesia – with its 922 inhabited islands – also, unsurprisingly, has provincial minimum wages. These are also under review, with Indonesia's manpower ministry in October announcing plans to raise provincial minimum wages by 8.03% in 2019. The country's 34 provincial governments responded with increase announcements, with most hikes coming into force on 1 January.
For example, Jakarta's monthly minimum wage rise from IDR3.9m (US$274), up from IDR3.6m (US$253). Indicating how Indonesian rates vary significantly, the monthly minimum wage for East Kalimantan rose on 1 January to IDR2.7m (US$190) from IDR2.5m (US$175).
The increases clearly have not satisfied all workers, with demonstrations being staged in November in Jakarta calling for better pay. A statement from Indonesia's trade union confederation – Konfederasi Serikat Buruh Sejahtera Indonesia (KSBSI) – said: "With an increase of 8.03%, workers have not received the right to proper wages and are not in accordance with the survey of decent living needs," although it noted business leaders were happy.
Vietnam
Vietnam, however, operates a different system. It has two different minimum wages, one each for its developed and remote regions.
Between 2013 and August 2018, wages grew by between 66.2% and 69.3% to VND2,780,000 (US$118) and VND3,980,000 (US$171) respectively.
For 2019 wages were raised to VND2,920,000 (US$125) and VND4,180,000 (US$180) respectively, amid strong inflationary upward pressures on minimum wages, with year-on-year inflation averaging 4% in the whole of 2018.
From the garment manufacturers' perspective, the fact that as a "low-end" sector it offers one of the least competitive wages among all manufacturing sectors in Vietnam, is a real problem – raise pay and lose competitiveness internationally, or keep pay down and lose quality staff.
A recent study from the ILO shows that garment workers in Vietnam only earn around US$248 per month, much lower than US$583 per month of the national average.
"The dilemma facing the Vietnamese garment factories is that not increasing the wage makes it harder to attract and retain workers," said Dr Sheng Lu, an associate professor at the Department of Fashion and Apparel Studies, at the University of Delaware in the US.
"On the other hand, a wage hike would also make Vietnam's apparel exports less price-competitive in the already intensely competitive market," he added.
According to Saponti Baroowa, associate director of business intelligence at Dezan Shira & Associates, in Vietnam's Ho Chi Minh City, in the countries where wages are the lowest in the region, such as Laos and Myanmar, any further increases in the coming years are unlikely to impact investor decisions or force garment makers to relocate elsewhere.
By contrast, minimum wage increases in countries such as Thailand and the Philippines might prompt some manufacturers to shift production lines to neighbouring Cambodia or Vietnam.
"Vietnam recently had the lowest average increase in its monthly minimum wage in ten years at 5.3%," Baroowa said. "The country, despite its annual statutory minimum wage hikes, is likely to retain its competitive advantage as a garment manufacturing powerhouse, especially in the light of its free trade agreement with the EU."
Cambodia
This dichotomy – trading off the risks of increasing or not increasing minimum wages – is also all too apparent in Cambodia, another key clothing manufacturing hub.
Cambodia's new minimum monthly wage of US$182 took effect on 1 January this year, but garment and textile sector unions remain unhappy, saying this is well below their goal of US$200 per month.
"The increase does not reflect the current cost of living in the country," Ath Thorn, president of the Cambodian Apparel Workers' Democratic Union, told just-style. The latest amount is a 7% increase from the earlier wage of US$170 that came into effect in January 2018.
The union is determined to continue its demand that this rises to US$200 in the coming 12 months. In Cambodia, the minimum wage is set by a tripartite committee representing employers, unions and the government and the latest limit was decided in October 2018.
Malaysia
Meanwhile in Malaysia, a National Wage Consultative Council comprising the government, employers and trade unions authorised a new minimum wage at MYR1,100 (US$267) per month starting January 2019, up from the earlier amount of MYR1000 (US$242).
However, Malaysia Trade Union Congress (MTUC) secretary general, J Solomon, told just-style that his organisation still wants a much larger rise to MYR1,800 (US$437).
Since Dr Mahathir Mohamad became the country's Prime Minister in May 2018, in Malaysia's first ever transfer of power between party blocs following an election, unions are hopeful of better working conditions, according to Solomon.
The new Pakatan Harapan (PH) government has announced plans to amend the Employment Act 1955. Amendments are still under discussion but are due to be tabled in Parliament in March, he said.
Meanwhile, representatives from global union IndustriAll, ILO, MTUC and others met in January to suggest amendments that would further strengthen the legal position of trade unions.
Malaysia's minimum wage is reviewed every two years, with the next review due in January 2021 – so change in 2019 is unlikely.
David Welsh, country director for Malaysia at US-based global workers' rights group The Solidarity Centre, told just-style that all parties involved in setting wages need to work towards a "living wage rather than a minimum wage."
After all, it's the "same international supply chain that reaps millions on the back of these people" whether it is Malaysia, Indonesia or any other country.
With additional reporting by Poorna Rodrigo.