NAFTA border security and TPP-11 bite Mexico makers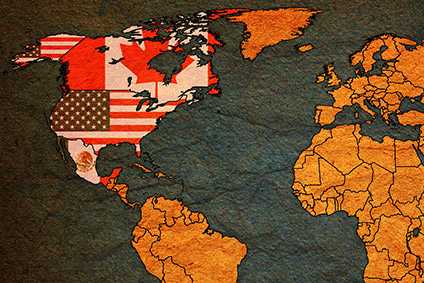 One key NAFTA issue that has emerged lately is border security
Mexico's apparel association Canaive is undergoing a management shake-up amid mounting challenges linked to NAFTA border security and the possibility that Vietnam will gain competitive strength in the fledgling Comprehensive and Progressive Agreement for Trans-Pacific Partnership (CPTPP).
The Mexico City-based group has put suit-making entrepreneur Victor Rayek at its helm, replacing Samuel Gershevich who left after three years in the post. Gershevich is credited with unifying the group with textile peer Canaintex to hammer out a more common agenda, in addition holding joint annual meetings.
The body also named Janet Moreno as its general manager, replacing Jose Manuel Martinez, who had been in the post for over 10 years.
Industry observers say Martinez left following management disagreements with Rayek, who owns the Trajes Internacionales men's and boy's clothing maker. However, a Canaive spokesperson denies any problems, saying the appointments stemmed from statutory staff rotations.
Whatever the reason, the new arrivals at Canaive are much needed as the struggling body continues to face criticism that it has done very little to bring change to the industry at a time when Mexican exports to the US continue to flounder.
"We are very worried," says Arturo Vivanco, the former president of Canaive's Guadajalara city chapter, who is to be succeeded by Sixto Mercado. "We have to lobby the government to act against Vietnam. We are seeing a lot of things we didn't know before, like the fact that they make millions of shoes when they said they did not make shoes in the past."
Vietnam's TPP-11 threat
The industry is fretting that Vietnam will gain greater power in the CPTPP or TPP-11, further eating into its US export share and triangulating cheap Chinese apparel into Mexico, hurting its local industry.
Consequently, it has asked the government of Enrique Pena Nieto (who stands for re-election in July) to roll out duty-free exemptions on apparel from Vietnamese and Malaysian apparel. If it does not do so, 30% of Mexico's textiles and apparel sector could disappear, taking 150,000 jobs with it, Rayek said recently.
It is unclear whether lead populist candidate Jose Manuel Lopez Obrador will hear the industry's pleas. However, he is expected to become a fierce Trump opponent, eclipsing Pena Nieto who was criticised for failing to stand up for Mexico during Turmp's NAFTA and wall threats.
Despite the Trump-Obrador rhetoric, US, Canadian and Mexican officials say they are close to a breakthrough agreement to hammer out a basic NAFTA-2 agreement early next month. The move appears timed to close the key negotiations before the Mexican elections and US mid-term congressional elections in November, which could scupper any gains made so far.
Border security to the fore
One key North American Free Trade Agreement (NAFTA) issue emerging lately is border security, with Trump lashing out against Mexico earlier this month for doing "very little, if nothing" to secure its border and stem illegal immigration and narcotics from flowing into the US. He rehashed previous warnings that successful NAFTA renegotiations would hinge on Mexico making greater efforts to secure its border side.
Observers say textile and clothing cargoes are being used to funnel narcotics and weapons between the two neighbours, on top of growing containers of contraband and fake goods stealing billions from industry across both borders.
It is estimated that six of 10 garments sold in Mexico, Latin America's second-biggest economy, are contraband.
No free lunch
"There has been no radical change in customs enforcement," says Javier Tarin, founding partner of Tijuana-based customs and immigration law firm Garcia And Tarin. "Apparel and other commercial cargoes are still carrying drugs, weapons and laundered funds."
To assuage Trump and win some NAFTA concessions (mainly the TPL prevalence), Mexico is offering to toughen customs enforcement and deepen US collaboration to forge some sort of bilateral enforcement deal, the country's top textiles negotiator Jose Cohen told just-style last month.
However some US trade lobbies slammed the idea of Mexico using border security as a weapon to win NAFTA breaks.
"The National Council of Textile Organizations would not be supportive of making concessions in return for better Mexican customs enforcement," says an NCTO spokesperson. "Adequate customs enforcement of NAFTA or any other trade agreement should be expected as a condition of participation."
NCTO is urging US, Mexico and Canada customs officials to meet regularly to reconcile import and export data for goods, claiming NAFTA benefits as an ideal mechanism to bolster enforcement.
For instance, "if the United States is claiming more exports to Mexico under a particular tariff line than Mexico is claiming in imports (or vice versa), customs officials in both countries should be alerted to a potential problem," the spokesperson adds.
"In NCTO's view, such data reconciliation on NAFTA imports and exports would be a launching point to better deter customs fraud and would have the added benefit of encouraging the reshoring of textile and apparel production to the NAFTA region."
An NCTO insider agrees contraband remains a big headache for both countries' industries. "Customs enforcement and the drug trade are interlinked and clearly NAFTA trade is being used to launder drug money from the cartels," says the source.
Textile and apparel-related import duties totalled $13.5bn last year, according to the NCTO which would not disclose how much cross-border smugglers steal from this sum.
Custom briberies or 'mordidas'
Mexico could do more to halt illegal commerce in its border, both by hiring more customs officers and raising salaries to avoid rife "mordidas" or briberies encouraging impoverished border staff to break the law, Tarin says.
This, however, would require big structural investments to change the country's random inspection system, which Tarin describes as a "coin flipping" arrangement where individual vehicles get stopped though most don't. While cargo shipments are more heavily scrutinised, the random checkups have enabled thousands of individuals to earn an income from smuggling both new and increasingly used clothing south of the border.
This activity has fuelled Canaintex's anger, with Cohen recently urging the government to do more to staunch the used and off-price clothing trade which accounted for $700m in imports last year.
Create sourcing plans that work
Find new apparel sourcing destinations, assess trade flows and manage tariffs. All in one place.
Oops! This article is copy protected.
Why can't I copy the text on this page?
The ability to copy articles is specially reserved for people who are part of a group membership.
How do I become a group member?
To find out how you and your team can copy and share articles and save money as part of a group membership call Sean Clinton on
+44 (0)1527 573 736 or complete this form..