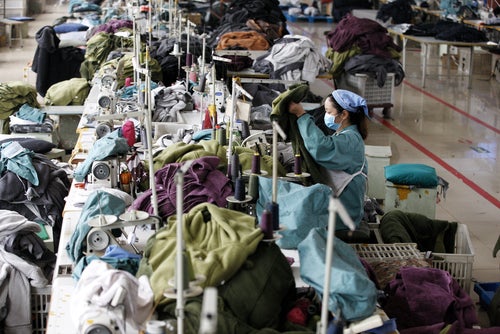 The 'Fashioning a Beautiful Future?' report was commissioned to gather insight directly from those who work in the Leicester garment industry to inform the purpose and scope of the Trust, which was formed earlier this year.
The survey was carried out by the University of Nottingham's Rights Lab and De Montfort University. The findings are based on 116 garment workers that filled in an anonymous questionnaire between November 2021 and March 2022.
Key findings
56% of respondents said they were paid below minimum wage
55% said they received no holiday pay
49% said they received no sick pay
32% were not issued a work contract
21% felt they were treated unfairly due to their gender or ethnicity
23% said they were not given their wage
19% felt emotionally abused
13% said they were prohibited from taking breaks
Boohoo Group provided GBP100,000 to set up the Garment & Textile Workers Trust (G&TWT) and a further GBP1m to fund its first year of grants. The body, which is led by an independent board of trustees, is intended to provide support, remedy and advocacy for workers across Leicester's garment and textile industry.
The fast-fashion e-tailer found itself embroiled in a media storm following damning press coverage in 2020 regarding its supplier factories in Leicester, which were alleged to be underpaying workers and making them work in unsafe conditions.
Since then, the company has been taking steps to repair its reputation, including publishing its international factory list detailing 1,100 factories, launching its own manufacturing facility in Leicester, an in-house Textile & Apparel Laboratory to give the business and its suppliers better visibility of product performance, and a new Supplier Hub system aimed at increasing resilience and control which was announced as part of the final report under the Boohoo Agenda for Change (A4C) programme conducted by Sir Brian Leveson.
A spokesperson for Boohoo told Just Style: "The principal motivation for boohoo providing the GBP1.1m of start-up funding for the Trust was to support the aim of the Trustees in empowering workers to help eradicate any driver of exploitation. The independent research that they have commissioned has provided real-time post-pandemic insight into the lived experience of the those working in and around Leicester's textile industry. We are fully behind the Trusts objectives which do not replace or replicate the responsibility and progress that we have made in strengthening standards and oversight in our own supply chain in the city.
"The Boohoo Group sources from around 50 suppliers in the city of Leicester, all of which are fully audited and transitioning to Fast Forward. That's why we publish the details of our approved manufacturers on our PLC website and work with Leicester City Council and government agencies such as the Gangmasters and Labour Abuse Authority, the Labour Market Enforcement Office, Low Pay Commission and others. Through the Apparel and General Merchandise Public Private Protocol, the boohoo Group is also working with a small number of retailers and the Trade Union Congress to facilitate discussion between manufacturers and trade unions."
Report recommendations
Improve worker access to English language provision, both at work and in community settings, with sessions available at different times of the day to enable the attendance of part and full-time workers.
Provide a single 'front door' contact point for workers wishing to make a complaint to enforcement agencies and offer ongoing support and case management for those who raise issues. Link this unified contact to the Single Labour Market Enforcement Body, once established. Ensure that successful outcomes are communicated to raise levels of confidence.
Establish trusted support to advocate for workplace rights. This should engage with existing trades union initiatives but should also explore additional options for representation of worker voices, drawing on the experience of organisations that have experience in representing migrant workers.
Connect workers with sources of community-based legal advice and support, available in a range of community languages. This support should cover immigration, housing and welfare rights in addition to workplace rights.
Improve access to local educational services for workers and their families, particularly related to further education, and language support for younger children.
Connect workers with sources of employment support, training, information and advice to enable them to access different types of work.
Continue to engage closely with employers to create high-quality jobs that are accessible to a wide range of workers (including those with caring responsibilities or limited transport options).
Explore further ways to promote sustainable practices in businesses. This should include establishing forums for further dialogue with small manufacturers.
Establish locally-based multi-sector and multi-agency partnership arrangements to co-ordinate ongoing action and review progress against short, medium and long-term objectives.
"Garment workers told us that they want to build a beautiful future for the next generation in Leicester, but there are currently many constraints that stop them from accessing fair pay and conditions. Our report has added to the existing knowledge about these issues, but importantly also points to solutions suggested by workers themselves. We hope that the interventions outlined in our report can help to guide both local and national-level action in the years ahead," says Dr Alison Gardner, lead researcher, Rights Lab.
Kevin McKeever, chairman of the G&TW, adds: "It's crystal clear that there's only so much companies, individuals, trade unions and civil society can do to tackle labour exploitation in Leicester and beyond – it's time for the government to step up and form – and fund – their long-promised single enforcement body.
While Tim Nelson, CEO of Hope for Justice and founding Trustee, notes: "It is clear from this research that greater coordination is required from those accountable for protecting the rights of workers employed in the garment industry. Businesses, charities and individuals can all play their part, but to truly rebuild this country's proud textile heritage and to protect the sector's workforce, we need the Government to act. The creation of a single, properly funded labour market enforcement body, with the powers and staff it needs to protect workers, is a vital first step."