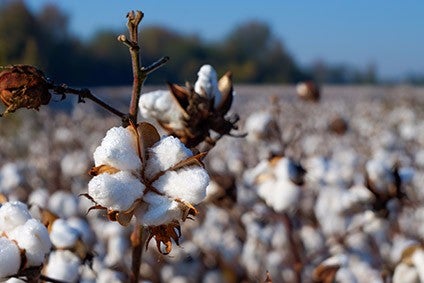 Big household fashion names are "coasting and doing nothing" when it comes to sourcing sustainable cotton, one international coalition has said, with the industry unlikely to make progress in this area if more brands don't get on board.
Despite the signatures of industry power players like Adidas, Burberry, H&M, Kering, Ikea, Levi Strauss and Nike to the recent so-called Sustainable Cotton Communiqué, a new study has found the vast majority of the world's cotton buyers are doing next to nothing to promote the uptake of sustainable cotton in their supply chains.
According to the latest Sustainable Cotton Ranking, an annual report that the World Wildlife Fund, the Pesticide Action Network, and Solidaridad compile every year, only 11 of the world's 75 top buyers of cotton have established time-bound commitments or targets for increasing their use of sustainable cotton.
And while cotton produced through sustainable practices is expected to comprise 15% of the global supply for the 2016/17 season, only 21% of it is actually sourced by brands and retailers as sustainable. The rest, the report's authors note, is sold as conventional cotton.
"This situation is problematic," Keith Tyrell, director of the Pesticide Action Network, told attendees at the recent Textile Sustainability Conference in Washington DC, organised by Textile Exchange. In order for sustainable cotton to continue to grow, he adds, "you have to show that you are buying sustainable cotton, that you're committed to it."
Tyrell bemoaned the "big household names who are coasting and doing nothing." Forget the "fabled tipping point," he added. "Unless they start getting involved, we're not going to get where we need to get [with sustainable cotton]."
Contentious crop
Few natural fibres are as contentious as cotton, the production of which supports the livelihood of more than 350m people. It takes 2,720 litres of water to grow enough cotton create a single T-shirt, according to the Textile Exchange, which notes that soaring temperatures and unpredictable rainfall, exacerbated by climate change, are likely to increase water shortages in some areas while encouraging the spread of pests and disease.
Conventional cotton production is particularly fraught. Although cotton crops cover 2.4% of the planet's cultivated land, they use 6% of the world's pesticides, "more than any other single crop," the Pesticide Action Network says. There is also mounting evidence that exposure to agricultural chemicals or even physical proximity to chemical-based farming communities can increase a person's risk of developing diabetes, thyroid disease, asthma and cancer.
As Inka Apter, facilitating manager of fabric research and development at Eileen Fisher, asked: "What would be the benefit of not using sustainable cotton?"
The womenswear label primarily employs organic versions of the fibre. "When we look at the benefits of using organic cotton – benefits to the community, benefits to the workers, benefits to the soil – for us it's the clear choice," Apter said. "We don't talk about financial benefits; we look at it as a contribution that we can make as part of our movement to create positive change."
Eileen Fisher doesn't have far to go to fulfil its sustainable-cotton pledge by 2020. Currently, 94% of the cotton it uses is certified organic. What is preventing it from achieving the full 100%? Fulfilling minimum quotas for yarns and fabrics, for one. "As a fashion brand sometimes it's hard to commit to these huge quantities," Apter said.
The sustainable buy-in
Getting C-suite executives to buy into the price premium that sometimes accompanies more sustainable cotton can also be a hurdle, added Zachary Angelini, environmental stewardship manager at Timberland.
Capitalising on sustainable cotton's marketing potential is one way to approach the problem, he said.
"What we see from our own consumer insights is that our customers want to know how we're protecting the environment, but they want to hear about it through human stories," Angelini said. "And using the lens of the farmer is a really valuable opportunity for us to do that.
By incorporating sustainable agricultural practices into its overall strategy, a brand can crow about not only mitigating the worst of the industry's social and environmental impacts but producing "net positive benefits," as well, he added.
"At the agricultural stage, for example, you can actually sequester more carbon than you're emitting; I think that's really exciting," Angelini said. "And the marketing you can do around that more positive angle is really different. Because in sustainability, a lot of times we're talking about eliminating the negative, but if you can talk more about the positive impacts it resonates with consumers a lot more."
Timberland knows what it's talking about. In August, the outdoor-clothing company, the Smallholder Farmers Alliance, and Haiti's Ministry of Commerce and Industry announced the reintroduction of cotton as an anchor crop in Haiti after a 30-year hiatus. The initiative is designed to lift the economy, improve crop yields, and restore the environment through a complementary reforestation scheme.
Besides contributing financially to the five-year programme, Timberland has also committed to purchasing up to one-third of the Haitian farmers' annual cotton supply.
"It's this win-win-win-win scenario," Angelini said. "The potential crops you get are cost-competitive with really stable pricing. And the farmers get more value because you're engaging with them directly."
No more excuses
Brands still dawdling over the decision to shift to more sustainable cotton may find themselves out of excuses come 2018. Forum for the Future, in collaboration with the cross-industry partnership that is Cotton 2040, is poised to release a sustainable-cotton sourcing guide that breaks down each of the myriad industry standards, including Better Cotton, Cotton Made in Africa, Fairtrade Cotton, and the Global Organic Textile Standard.
"Because we've heard again and again that that's a real barrier: It takes a lot of work to find out what each of these standards have to offer and decide what your strategy should be," said Charlene Collison, associate director of sustainable value chains and livelihoods at Forum for the Future. "But from 2018 there will be no excuse. You won't have to do the background work you had to do before."
And after that? "The next level is linked to actually delivering the results because ultimately the journey will only be sustained if we keep showing results," said Lena Staafgard, chief operating officer at the Better Cotton Initiative. "We need to keep providing evidence that through sourcing more sustainable cotton, through engaging with your consumers, that ultimately farmers lives are better and the environment is in a better state."
Collaboration is obviously key. For sustainable cotton to become a standard business practice, brands and retailers will have to work with farmers, with governments, with non-governmental organisations, and indeed with other brands and retailers.
"What drives my sense of optimism, which can be tested on occasion, is the fact that there are so many good people doing good things who are struggling with the same problems," said Justin Mundy, director of the Prince of Wales's International Sustainability Unit. "It's about how we build partnerships and synergies between those people doing good things in different sectors."
With burgeoning population growth, increased consumption, and the ever-looming spectre of climate change, the widespread adoption of sustainable cotton simply cannot wait, Mundy said.
Not that there hasn't been progress. According to Textile Exchange's latest Preferred Fiber & Materials Market Report, released during the conference, organic and other preferred cottons now account for 47% of the cotton used by 95 reporting companies.
This is no time for complacency, however.
"Given where we are and understanding what we do, it's not that we should congratulate ourselves for doing the good that we are doing, it's about asking everybody else why aren't they doing it, too?" he added. "There is now no excuse not to do this. Once you know the risk, you're not applying fiduciary responsibility if you do not then take remedial action to address it."
Click on the following link to read more announcements from Textile Exchange's latest annual industry event: