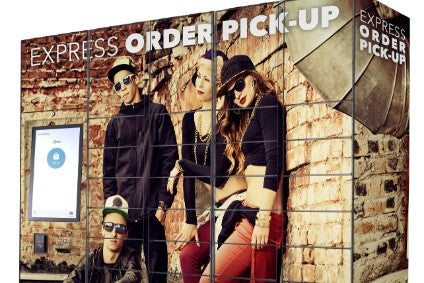 Retail's 'Big Show', the National Retail Federation's Annual Convention & Expo, which took place in New York this week, is an annual opportunity for retailers to tap into the latest technologies for improving everything from customer analysis to inventory management. Here we highlight some of the latest launches and developments.
APEX automates smart locker solution
Supply chain solutions firm Apex has introduced the Axcess Click & Collect Solution. An automated smart locker solution, it provides a large, industry-leading configurable touchscreen monitor with dynamic graphic user interface (UI) while expanding the variety and flexibility of compartment sizes and configurations for retailers. The lockers are connected to a robust cloud-based technology platform called Apex Cloud. They easily integrate with and connect with an organisation's existing e-commerce, point-of-sale systems (POS), mobile apps, Mobile Wallet, Enterprise Resource Planning (ERP) and warehouse management system (WMS). Its actionable data gives retailers a view of their customer's pick-up preferences, order processing, compartment utilisation, across the enterprise or at a store level.
Samsung reinvents the customer experience
Samsung Electronics America used the NRF show to feature its latest retail innovations to help brick-and-mortar retailers reinvent the in-store experience for customers. The Wall is Samsung's next generation display technology with slim depth, a flush surface, and a modular, large-format functionality that can extend to hundreds of inches in size. MagicINFO Analytics turns displays into a platform to deliver business insights. It allows users to optimise and automate store promotions and campaigns based on real-time integrated data. While, the Samsung Flip 2 digital interactive display is the newest addition to the Flip line-up, transforming the traditional pen and paper collaboration into a digital experience. Tailored to meet display demands in retail, corporate, education, sports and hospitality, the Flip 2 helps business owner and managers bring ideas to life by allowing them to write, design and share their ideas dynamically and digitally.
Bamboo Rose, True Fit partner for hyper-personalisation
Multi-enterprise platform Bamboo Rose has partnered with True Fit, a data driven personalisation platform for fashion apparel and footwear, to bridge the gap between consumer purchases and product development. The partnership connects product manufacturing and design data developed within Bamboo Rose's Multi-Enterprise Platform to True Fit's connected data set, the Fashion Genome, personalising the shopping experience for consumers. By combining data, consumers are presented with a hyper-personalised selection of products when shopping online. In addition, the partnership connects consumer and product feedback to the product development process. The partnership unlocks the capability for point of measure (POM) and bill of material (BOM) data to inform and aid in the consumer shopping and purchasing decision.
Adroit and OptiCrib revolutionise storeroom management
Vision technology company Adroit Worldwide Media has partnered with OptiCrib to "revolutionise" storeroom management, powering seamless and friction-free inventory management within the industrial and commercial supply space. AWM Frictionless provides convenience to consumers by enabling them to shop as normal and then check out by simply walking out of the store. In the business-to-business (B2B) space, the OptiCrib storeroom management solution utilises ruggedised high-definition optical sensors combined with precise weight-sensing technology to automate intelligence into on-the-shelf inventory levels, providing an accurate and continuously-available (24/7), total-accountability solution for the efficient management of durable and consumable materials.
PlumSlice Platform improves speed-to-market
PlumSlice Labs has developed an innovative solution designed to bridge complex business processes around the product lifecycle. The Product Platform provides consistency, real-time workflow and alerts, automation, analytics and reporting across the organisation. All elements of this platform are focused on ease of customer shopping. It combines the power of modern Product Experience Management with enterprise-grade business process workflow throughout the entire product lifecycle providing speed to market, channel consistency and brand integrity.
Infinite Peripherals shows "smallest" RFID scanner
Enterprise mobility solutions firm Infinite Peripherals has developed a mobile hand-held device for Oracle Retail Xstore Point of Service customers. Infinite Peripherals MaglinQ UHF RFID reader enables retailers to outfit their store associates with the smallest, hand-held mobile UHF RFID reader available. Oracle Retail Xstore Point-of-Service can extend the sales and returns processes to include RFID data and pass this upstream through services to supporting RFID enabled inventory systems.
First Insight enhances voice analytics platform
First Insight has launched a major expansion of its Voice of Customer Analytics platform. The new capabilities build on its enterprise-grade digital product testing solution to enable scale and data security for companies introducing high volumes of new products each year. The enhancements also deliver a deeper understanding of the products customers will buy and why they buy them, including attribute-level analytics and tools to assess the interaction between items within an assortment. Enhancements include aggregated dashboard analytics and tagging, compliance with data security standards, enhanced attribute analysis, and interactions analysis.
Toshiba's 'Frictionless Store' offers peek into future
Toshiba's 'Frictionless Store' employs multi-layered shelf sensor technologies and computer vision with real-time true edge computing, powered by its microservices software platform. The 'Frictionless Store' demonstrates how retailers may evolve toward the store of the future at their own pace while solving immediate business challenges like item recognition at self-checkout to optimise throughput and prevent shrinkage. Capabilities include a path to frictionless: from store to cloud-connected commerce; activating intelligence: from data to actionable insights; optimising throughput: from transactions to front-end transformation; and point-of-sale (POS) and printers designed for retail.
iPickup solution simplifies retrieval
Logistics fulfillment and asset tracking firm Position Imaging showcased their iPickup single zone solution in the NRF Innovation Lab. iPickup leverages computer vision technology to securely track and manage items awaiting customer pickup in-store. The flexibility of the open shelving unit makes it easier for store associates to stage items when compared to package lockers. Staging items for pick up used to take minutes but now takes seconds. iPickup can be "self-serve" using intuitive light and audio guidance to direct customers to their items for pick up. Its convenient location at the front of the store allows customers to easily pick up their items and go.
Medallia arming retailers with "social" insight
Experience management firm Medallia is hoping to arm retailers with powerful insights to "create world-class customer experiences". An innovative capability in Medallia Social, Social Rival Intelligence, helps retailers and other location-based businesses understand what customers are experiencing and sharing about the competition on review sites. New self-service capabilities empower everyone from store managers to CX professionals to configure and benchmark their customer experiences using insights about their nearest competitors or other company locations.