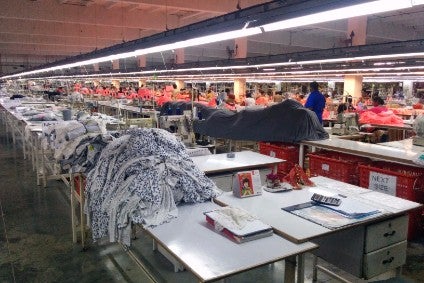 Clothing and textile companies are grappling with new good practice guidance in supply chain management in the garment and footwear sector, which was released by the Organisation for Economic Development & Cooperation (OECD) in May last year.
An OECD Forum on Due Diligence in the Garment and Footwear Sector was staged in Paris last month, attended by governments, businesses, trade unions and non-governmental organisations (NGOs) working within or having an impact on the apparel sector.
They discussed how to implement and develop the OECD's 'Due Diligence Guidance for Responsible Supply Chains in the Garment and Footwear Sector,' which was approved in January 2017.
The forum, said Roel Nieuwenkamp, chair of the OECD working group on responsible business conduct, "had the objective of pushing the implementation of due diligence and also to skill up due diligence efforts."
Representatives from Euratex; Leiterin Technologie und Umwelt (the Swiss textile federation); Hennes & Mauritz (H&M); the Sommilito Garments Sramik Federation (SGSF), Bangladesh; the Walt Disney Co; and ITKIB – the Istanbul Ready Made Garments Exporters Association, were among those that took part at the event, which was held under Chatham House Rules, preventing direct quotation of speeches.
Nieuwenkamp noted that the OECD council – its ruling body – had adopted a formal recommendation last May to promote this guidance actively, ensuring that it is implemented in an aligned way and encouraging OECD member governments to promote its principles in emerging market countries, many of whom are key garment and footwear exporters.
The reach of the system may be limited by the fact that many major garment and textile producing nations, such as Cambodia and Bangladesh, are not OECD members
Nevertheless, despite this pledge, the UK-based Ethical Trading Initiative (ETI), which also took part in the forum, is worried that the reach of the system will nonetheless be limited by the fact that many major garment and textile producing nations, such as Cambodia and Bangladesh, are not OECD members.
Ben Rutledge, ETI senior advisor for business and human rights, told just-style that the "roll-out could be strengthened if the OECD was able to sign partnership agreements to intensify cooperation to promote responsible business in such supply chains and countries."
He highlighted a January memorandum of understanding signed between the China National Textile and Apparel Council (CNTAC) and the OECD where both sides promised to boost co-operation and promote responsible business in global textile and apparel supply chains.
Universal approach
The need for a more universal approach outside the OECD's 35 developed country members is accepted – and practiced by the OECD (for instance in its initiatives on tax transparency and fairness). Indeed, in an OECD paper released last year on promoting sustainable global supply chains through standards, due diligence and grievance mechanisms, the think-tank said a "greater uptake by all G20 countries of these tools and mechanisms is needed to effectively drive sustainability through global supply chains."
This is important, noted the ETI, which has stressed that the OECD apparel and footwear initiative is a "guidance only and by definition is not enforceable" although it "accepts and understands" this approach as being a practical way forward.
Zurich, Switzerland-based based global sustainability company BSD Consulting has said what matters more is how supply chain reforms are achieved on the ground.
"Due diligence should be ongoing, proactive and reactive, applied with flexibility and not lead to a "tick the box" approach. It stressed that due diligence policies needed to ensure that manufacturers and brands should identify, prevent, mitigate and account for actual and potential adverse impacts caused by the business activities.
In a briefing given before the event, Nieuwenkamp said that a key goal of the forum was to try and ensure supply chain sustainability and ethics initiatives worldwide dovetailed and did not duplicate or conflict with each other's work.
He said it was important that such initiatives were aligned so that multinationals did not assume that they were following UN or OECD good practice on responsible supply chain practice by signing up to one independent set of ethical standards.
As a result, he was happy that representatives of the EU, China, India, and other important markets and production centres were present at the forum to discuss how best to "incentivise due diligence and how to work together an foster a level playing field in this area."
Carrot and stick approach
One important element of the scheme is an 'alignment assessment tool' which was launched at the forum last month, designed to enable companies and sectoral initiatives to benchmark their principles and practice against OECD standards.
The ETI fully agreed with the need to "provide incentives and adopt a carrot and stick approach." For this, legislative leadership is required, Rutledge said.
The UK government, for example, could publish a list of all companies covered by the Modern Slavery Act and enact penalties for companies that fail to comply with its basic labour rights standards, he suggested. And other governments could introduce similar legislation or policies requiring companies to conduct due diligence, and to report on how they are preventing abuse from occurring in their supply chains.
"Incentives could include export licences tied to monitoring of improvements in labour conditions in garment factories." Manufacturers in Cambodia, for example, have to participate in the International Labour Organization's Better Factories Cambodia programme to earn an export license, which has helped create a level playing field among manufacturers there, he noted.
"Investors can incentivise responsible business conduct by factoring environmental, social and governance considerations into their decision-making process. Initiatives such as the Corporate Human Rights Benchmark, an initiative led by investors and civil society organisations and other public benchmarking tools can be used to help guide investors here.
Moreover, consumers too have a role to play, according to Rutledge. "They can do their bit to incentivise responsible business conduct by buying goods and services from companies that demonstrate sound ethical practices," he noted.
Other issues
Other topics that forum participants grappled with included:
How small-and-medium-sized enterprises could engage with this OECD system;
How to incorporate supply chain due diligence into supply chain contracts;
Ensuring traceability in the leather supply chain;
Integrating workers into the supply chain improvement process in a meaningful way, and getting feedback from employees;
Helping financial institutions such as investors and banks use their influence to improve ethical and sustainable practice in supply chains; and
Developing guidance on responsible purchasing practices.
Reflecting concerns about SMEs highlighted by Nieuwenkamp, the ETI said it was uneasy about how the OECD guidance is designed primarily for multinational enterprises, saying the global think-tank needed to hone practical guidance better tailored to specific to smaller companies working within supply chains.
Nieuwenkamp argued that the OECD principles were the only international standards that address this last issue, stressing that "this is not a finger pointing exercise; the big brands pointing to the factories in Asia that they should do better; it's not the factories in Asia that point to the brands that they should pay more; everybody has to play their part…"
With additional reporting by Poorna Rodrigo.